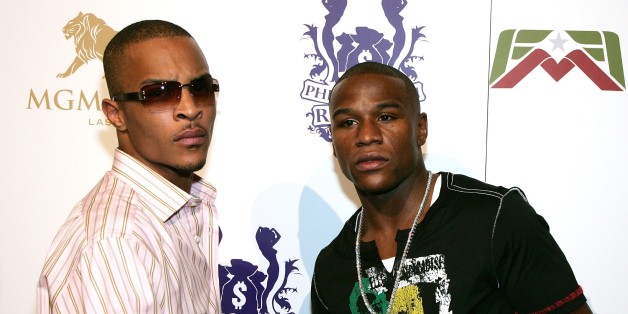 Floyd Mayweather Jr. may be an undefeated welterweight champion, but that didn't stop rapper T.I. from picking a fight with the boxing star over the weekend.
According to TMZ, T.I. instigated a fight with Mayweather early Sunday at a Las Vegas eatery, which quickly turned into a loud "chair-tossing brawl."
Police said an employee of the restaurant was "slashed during the fight" but refused treatment, per the news site.
Mayweather told celebrity news site NecoleBitchie.com that the fight had been sparked by a misunderstanding over an Instagram photo posted a few weeks ago by T.I.'s wife, Tameka "Tiny" Harris.
The photograph, which featured Mayweather posing with Harris and several other women, had apparently rubbed T.I. the wrong way, the boxer said.
"I been knowing Tiny before T.I.," Mayweather told the site. "I've never slept with her, I never kissed her, never touched her in no inappropriate way."
In one video of the brawl, Mayweather can be heard yelling at T.I. to "control your bitch."
Mayweather said, however, that he regrets that comment. "Only person I wanna apologize towards is Tiny," Mayweather told NecoleBitchie. "I don't want to say that about Tiny… she cool people, man. She cool."
Both Mayweather and T.I. have made headlines in the past due to their violent behavior. Last month, T.I. was involved in a "violent fight" at a Los Angeles club, per TMZ.
In 2012, Mayweather served jail time after brutally attacking his former girlfriend.
BEFORE YOU GO
PHOTO GALLERY
Floyd Mayweather Jr. Career Highlights