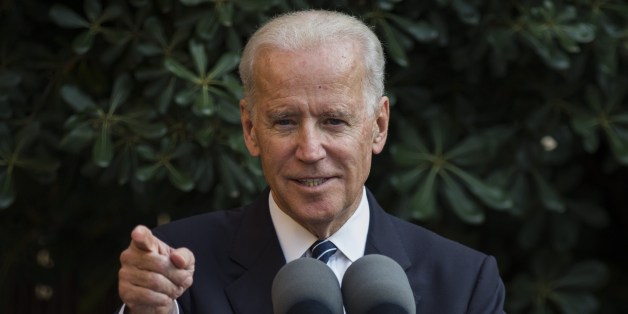 Vice President Joe Biden offered veterans an important piece of advice Monday, apparently culled from his years of unscripted remarks: "Assume every microphone is on."
Biden spoke at the kickoff for the Ride 2 Recovery Memorial Challenge, where cyclists ride from Washington, D.C. to Virginia Beach to raise money for wounded veterans.
According to CNN, the speaker introducing Biden noted the vice president's propensity for off-the-cuff remarks, referencing Biden describing the 2010 signing of the Affordable Care Act as a "big f--king deal."
"For those of you who don't know, Joe is famous for some of his one liners," the speaker said. "There was a bill signing at the White House... and he said it was a big f-ing deal. And that was a quote... If I may say, sir, Ride to Recovery is a big f-ing deal."
"Piece of advice about that BFD stuff: Assume every microphone is on," Biden said to the crowd. "I just want you to know, I didn't intentionally say that... Thank God my mother was gone or I'd have been one dead vice president."
During the Memorial Day event, Biden also referenced the recent troubles facing the Department of Veterans Affairs.
"That is a sacred obligation, and we're behind right now," Biden said. "The VA is having problems, and we've got to get to the bottom of it."
He continued, "This is a long-term commitment this nation has to make, so it seems to me on this day we as Americans have to recommit ourselves not just with words but with deeds."
BEFORE YOU GO
PHOTO GALLERY
Joe Biden Makes Faces At VP Debate