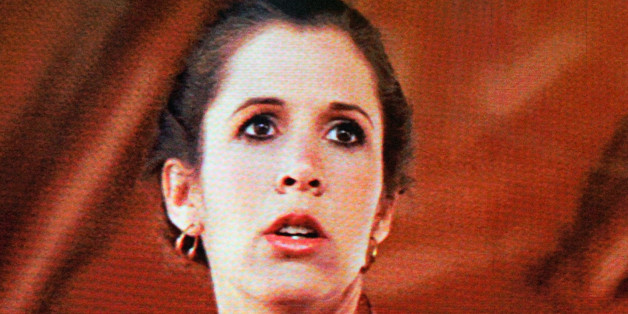 Carrie Fisher spoke to "Star Wars" fans at the Hay Festival of Literature and the Arts last weekend, and revealed that killing Jabba the Hutt in "Star Wars: Episode VI - Return of the Jedi" was one of the most fun moments of her career.
"They asked me on the day if I wanted to have a stunt double kill Jabba. No! That's the best time I ever had as an actor," Fisher said (via The Hollywood Reporter). "And the only reason to go into acting is if you can kill a giant monster."
Fisher famously offed Jabba while wearing a gold bikini, an outfit that launched a thousand cosplayers. During the event, one fan asked the 57-year-old actress if she still has the costume in her possession.
"Why would I keep a stupid outfit like that, so that years later I could say to you I have it?" Fisher said, before joking that she wears it on special occasions. "I've got it on underneath this," she said (via The Guardian). "I wear it always, for luck."
Fisher reprises her Leia role for "Star Wars: Episode VII." The actress told Hay festival attendees that she had nothing substantial to say about the new project, which director J.J. Abrams has kept under a cone of secrecy for more than a year. In an earlier interview, however, Fisher said she lost roughly 35 pounds before taking the role.
"Episode VII" is out in theaters on Dec. 18, 2015.
For more on Fisher, head to The Hollywood Reporter.
BEFORE YOU GO
PHOTO GALLERY
Celebrity News & Photos