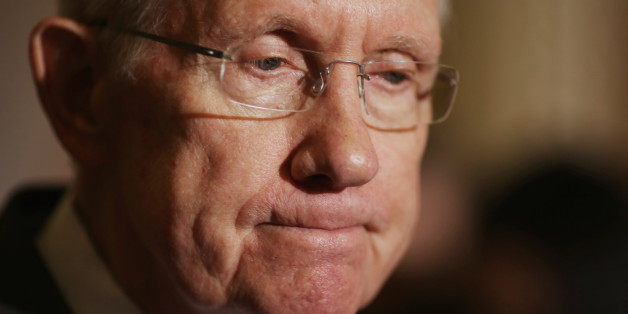 When Federal Communications Commission Chairman Tom Wheeler's plan to allow Internet service providers to charge for a "fast lane" to online content was revealed last month, the congressional responses came fast and furious.
House Minority Leader Nancy Pelosi (D-Calif.) raised her "serious concerns" that Wheeler was betraying net neutrality -- the principle that all web traffic should be treated equally. House Speaker John Boehner (R-Ohio) and Senate Minority Leader Mitch McConnell (R-Ky.) also hated the plan, but for different reasons: They said it went too far in contemplating broadband regulation.
Only one congressional leader was conspicuous in his silence: Senate Majority Leader Harry Reid.
Now, during an intense period of lobbying over the FCC's open Internet plans, the Nevada Democrat's office has reaffirmed his general support for net neutrality -- but it won't comment on the one step advocates said could actually enforce it.
"As you know for years, Senator Reid has been a strong supporter of net neutrality," spokesman Adam Jentleson said in an emailed statement after the FCC's May 15 vote on an open Internet plan. "He supported the FCC's efforts to implement strong net neutrality rules in 2010, including by defeating a Republican challenge to those rules, and he continues to encourage the FCC to implement strong net neutrality rules today."
Pelosi got specific on Wheeler's fast lanes. Boehner and McConnell rejected the idea that the FCC might reclassify broadband companies as public utilities.
But where does Reid stand on Wheeler's plan? And does he support reclassification, which after a series of adverse court rulings may be the only way to actually get "strong" net neutrality?
"I don't have anything to add to the statement I sent you before," Jentleson wrote in another email, sent last week.
Like Boehner, Reid has received far more in donations from net neutrality foe Comcast than supporter Google in recent years. Comcast is the No. 2 donor to Reid's campaign committee and leadership political action committee, to the tune of $116,800 since 2009. Google is way back at No. 63, with $39,100. Reid's chief of staff, David Krone, is also a former Comcast executive.
The congressional jockeying is crucial during the 120-day comment period over Wheeler's plan that extends until Sept. 10. If Wheeler were to endorse reclassification, he would need plenty of congressional cover. Republicans in the House have already made angry noises about opposing FCC regulatory "socialism."
Reid is the only Democrat who actually controls a chamber -- and thus the only one in place to block House action on net neutrality. But for now, and unlike many of his colleagues, he's mostly keeping quiet.
BEFORE YOU GO