A coalition of Chicago aldermen on Wednesday introduced an ordinance that would increase the minimum wage for many workers in the third-largest U.S. city to $15 an hour.
The ordinance calls for corporations with more than $50 million in annual sales to increase worker pay to at least $15 an hour with a year of the law's effective date. Smaller businesses would be allowed more than five years to raise pay. Twenty-one of the council's 50 members have signed on as cosponsors, Crain's Chicago Business reports.
The current minimum wage in Chicago is $8.25 an hour, a dollar more than the federal minimum wage.
Several aldermen joined low-wage workers at a press conference at City Hall on Wednesday, before the meeting where the ordinance was filed. Home care worker Darlene Pruitt, a 55-year-old mother of three and grandmother of 22, said she earns $10.65 an hour after five annual raises of a dime an hour working for the Help at Home agency. It's not enough, the West Side resident told The Huffington Post.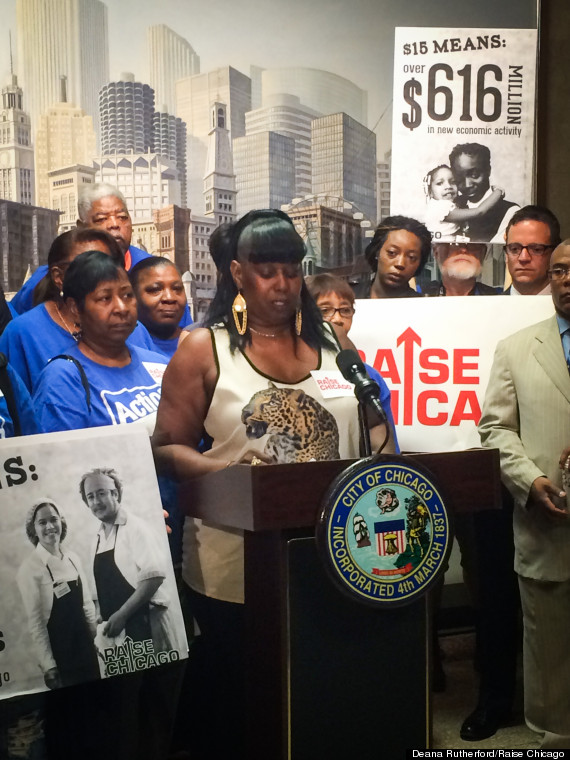 Darlene Pruitt speaks at a Wednesday morning press conference at City Hall.
Pruitt said she has sometimes turned to a food pantry to make sure her family has enough to eat. "It's hard out there," Pruitt said. "The cost to live in Chicago and meet your basic needs -- rent, utilities, food, medication, clothes -- is high."
Pruitt said she is not afraid of retribution from her employer from speaking out because she is optimistic her efforts will help other workers like her who are in a similar position. If she earned more money, much of it would go right back into her community, she said.
The Center for Popular Democracy, in partnership with Raise Chicago, an advocacy group pushing for the higher wage, released a study Wednesday claiming the higher wage would decrease worker turnover and stimulate the local economy.
The study said the higher minimum wage would be responsible for $616 million in new economic activity and would help create 5,350 new jobs in its first phase. The higher wage also would add $45 million in sales tax revenues, but would raise consumer prices about 2 percent, according to the study.
Voters overwhelmingly backed the $15 minimum wage in a non-binding ballot question on about 5 percent of the city's ballots in the March primary election.
Business groups, however, have yet to be swayed.
Doug Whitley of the Illinois Chamber of Commerce told DNAinfo Chicago the proposed ordinance is "a ridiculously excessive reach on the part of a local government to try to instruct private-sector employers how to manage their businesses." The chamber said in a previous statement with other business groups that employers "cannot afford another minimum-wage increase" of any amount.
Mayor Rahm Emanuel has announced his support of a higher minimum wage, but for less than $15 an hour. Emanuel last week trumpeted the creation of a minimum wage "working group" tasked with creating a plan for increasing worker wages in the city and previously said he backed President Barack Obama's push for a $10.10 federal minimum wage.
BEFORE YOU GO
PHOTO GALLERY
Chicago Minimum Wage Workers At #829 Strike