 Prominent modelers debate the value of polls to early electoral forecasts. The conservative advantages shrink on self-reported ideology on economics and social policy. And most Americans want to unskew Karl Rove's comments. This is HuffPollster for Wednesday, May 28, 2014.
THE VALUE OF POLLS TO EARLY FORECASTS - Sam Wang, in an article that handicaps the election forecast models: "Today, there's a glut of forecasts out there, each one promising to be more accurate than the last….Polls tend to be scarce before Memorial Day, so early predictions of the November election outcome must rely on indirect indicators of how voters are likely to behave—what we call 'fundamentals.'...Once polls become available, they can capture the same ballpark range of November performance that fundamentals do—and with much less uncertainty. Years of polling have shown that what voters say they want 'right now' is a strong starting point for predicting, give or take a few points, how they will vote in the fall. Because of that—no matter the race—the most accurate predictions are made using polling data, when enough of it is available. The bottom line: Even at this early stage, polls are our best way to predict November outcomes. In the 2012 election, for instance, polling data available in July and knowledge of how far presidential polls tend to move in the months leading up to the election were enough to give President Obama's reelection a probability of 91 percent. That crept up to nearly 100 percent as the election approached." [Politico]
Early Senate polls almost as accurate as those in October - Wang's argument echoes findings reported by Harry Enten in April: "I took a RealClearPolitics-style average of all the polls for 107 races since 2006...I produced this chart, which shows that early polls do a pretty good job of forecasting the final vote margin. The average error between the early polls and the final results was 6.4 points. For comparison, in the 2012 Senate race, polls taken in the final month before the election still had an average error of 4.8 points. Overall, the president's party's candidate won 83 percent of the time he or she led in the early poll average and lost 88 percent of the time when he or she trailed." [538]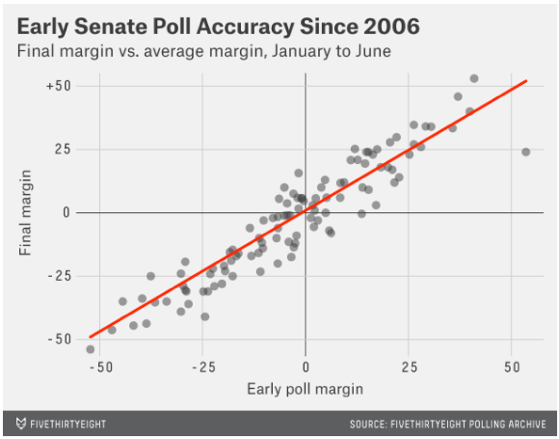 Use of polls: 'key difference' between NYT & Post models - Andrew Prokop: "The Upshot has created a model that's mostly based on polling, with fundamentals playing a supplementary role. 'The mixture of polling vs. background varies from race to race,' Josh Katz of the New York Times tells me, 'But as of today, the background model can account for anywhere from about one-third of the forecast to less than 5 percent.' Accordingly, the Upshot's results much better reflect recent polling putting Democrats ahead in several close races. The Post, by contrast, doesn't currently use polls at all — their model is entirely based on fundamentals. They lay out the broader conditions for each state's race, and make their projections based on those. They plan to add polls eventually, but they wanted to emphasize the fundamentals first. 'We wanted to take a more cautious approach and incorporate polls gradually,' says Eric McGhee of the Monkey Cage, one of the model's co-creators." [Vox]
CONSERVATIVE ADVANTAGE SHRINKS ON ECONOMICS, SOCIAL POLICY - Jeffrey M. Jones: "More Americans continue to identify themselves as conservatives than as liberals on economic and social matters. However, the conservative advantage on each dimension is shrinking from higher points in recent years, down to 21 points on economic policy and four points on social policy….The trends toward lower conservative advantages were evident as far back as 2004 on social ideology and 2007 on economic ideology, though both were interrupted in 2009 and 2010 when President Barack Obama and a Democratic Congress passed left-leaning legislation, most notably the Affordable Care Act….In recent years, Republicans' views on social issues have been steady, while Democrats have been increasingly likely to identify their social views as liberal, particularly in the past four years. This means that Democrats are largely driving the shrinking conservative advantage on social issues among all Americans." [Gallup]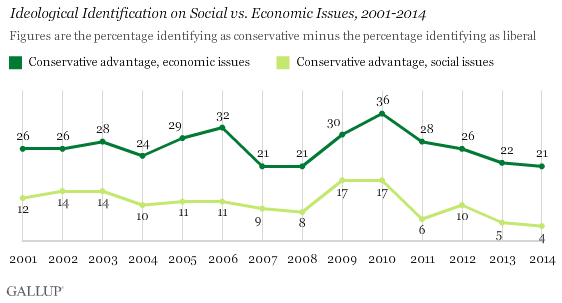 MOST DISAPPROVE OF KARL ROVE QUESTIONING HILLARY CLINTON'S HEALTH - HuffPollster: "Most Americans think Karl Rove crossed the line in questioning Hillary Clinton's fitness as a presidential candidate, according to a Washington Post/A BC poll released Wednesday. The survey found that 66 percent Americans disapproved of 'the Republican strategist Karl Rove raising questions about Hillary Clinton's age and health,' while just 26 percent approved. The survey didn't ask how many Americans had been aware of Rove's comments, or go into further detail about what they were. Partisanship factored into the responses -- Democrats were most likely to oppose the comments, with 84 percent finding them unacceptable. But some Republicans and independents who said they wouldn't support a Clinton candidacy still viewed Rove's comments negatively. Republicans, few of whom back Clinton, were about evenly split, with 45 percent approving of Rove's comments, and 46 percent disapproving. Just about half of independents supported Clinton's candidacy, while 64 percent disapproved of Rove's comments toward her." [HuffPost, via WashPost]
FTC REPORT PAINTS DETAILED PICTURE OF DATA BROKERS - Craig Timberg: "Are you a financially strapped working mother who smokes? A Jewish retiree with a fondness for Caribbean cruises? Or a Spanish-speaking professional with allergies, a dog and a collection of Elvis memorabilia? All this information and much, much more is being quietly collected, analyzed and distributed by the nation's burgeoning data-broker industry, which uses billions of individual data points to produce detailed portraits of virtually every American consumer, the Federal Trade Commission reported Tuesday. The FTC report provided an unusually detailed account of the system of commercial surveillance that draws on government records, shopping habits and social-media postings to help marketers hone their advertising pitches. Officials said the intimacy of these profiles would unnerve some consumers who have little ability to track what's being collected or how it's used — or even to correct false information. The FTC called for legislation to bring transparency to the multibillion-dollar industry and give consumers some control over how their data is used....Yet privacy advocates see little hope of action on Capitol Hill. 'There's no political pressure on Congress, really, to act. The data-broker lobby is in­cred­ibly powerful,' said Jeffrey Chester, executive director of the Center for Digital Democracy. He noted that political campaigns routinely use information collected by data brokers to tailor their election and fund-raising messages to targeted groups. 'They're not going to vote against their political self-interest,' he said." [WashPost]
HUFFPOLLSTER VIA EMAIL! - You can receive this daily update every weekday via email! Just click here, enter your email address, and and click "sign up." That's all there is to it (and you can unsubscribe anytime).
WEDNESDAY'S 'OUTLIERS' - Links to the best of news at the intersection of polling, politics and political data:
-John Dickerson says people's assessments of what they value in a candidate has little impact on their vote. [Slate]
-Americans remain split on the cause of homosexuality. [Gallup]
-Beck Kramer (R) notes that confidence in public schools as measured by Gallup remains near record lows. [POS]
-Mark Mellman (D) closes a four-column series on the relative value to campaigns of persuasion versus voter mobilization. [The Hill]
-David Hill (R) senses buyers remorse in the movement to legalize marijuana. [The Hill]
-Harry Enten finds conservatives becoming more rare as commencement speakers. [538]
-Tufts University researchers publish an extensively interactive map featuring historical trends and state level Census data on your turnout. [CIRCLE map, blog post]