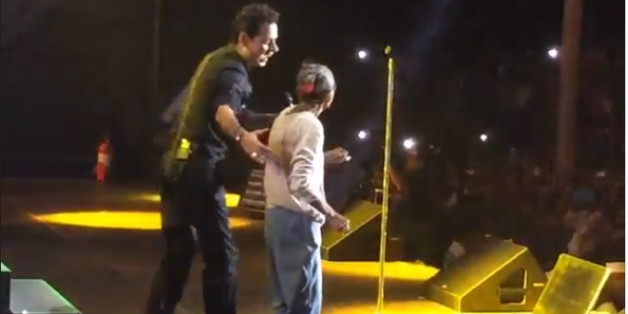 Marc Anthony may know how to put on a good show, but this 72-year-old Mexican woman knows how to steal one.
Doña Abdias was just one of the thousands who patiently waited in long lines to dance along with the Salsa superstar during his concert on Sunday night, but she was the only one that made it onto the stage. According to local newspaper Imagen del Golfo, the Puerto Rican singer was closing out the International Salsa Festival in Coatzacoalcos, Mexico when the the Salsa-loving woman in the audience caught his eye.

With the energy and rhythm of a girl a quarter of her age, Doña Abdias moved to the Salsa star's music. Marc noticed the woman and asked his team to bring her to stage to perform the final song of the night, according to Mexican newspaper.
Once on stage, even the singer could not help but smile at the happiness and energy the old woman showed as he danced along with her to his single "Valió la Pena."
Anthony's girlfriend Shannon de Lima caught the moment on video and posted it to her Instagram account.
The long wait in line was well worth it for Doña Abdias, who arrived to the venue at 1 p.m. to get a spot close to the stage. Not only did she perform with the Puerto Rican star on stage but she was also able to sit down and chat with Marc in his dressing room.
On top of stealing the show this 72-year-old woman became quite popular among his fans after meeting him.

"They asked me where Marc had kissed me and I would point to my right cheek, and so people would kiss me on that cheek as if they could steal the kisses that Marc gave me," Doña Abdias told Imagen del Golfo.
BEFORE YOU GO
PHOTO GALLERY
Marc Anthony