The National 9/11 Memorial Museum has stopped selling a cheese plate amid mounting criticism.
The platter -- designed for mundane cheese-serving purposes -- is in the shape of a map of the continental United States. Three hearts mark the spots where, nearly 13 years ago, terrorists crashed hijacked planes full of passengers into New York's Twin Towers, the Pentagon in Arlington, Virginia and a field in Shanksville, Pennsylvania.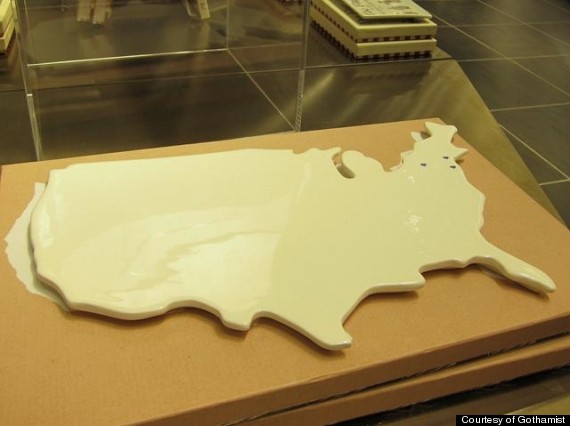 Anthony Guido, a spokesman for the museum, told The Huffington Post on Thursday morning that the item had already been removed from shelves.
"Family members on the program committee have always been vetting museum store items," Guido said by phone.
Another spokeswoman at the museum could not immediately respond to questions about how much the cheese plate cost and when, exactly, the item was pulled.
While anger over the propriety of some of the 9/11-themed kitsch has been targeted at the platter in recent weeks, the museum has caught flak for even having a gift shop.
In response, Joe Daniels, the president of the memorial foundation, told the Wall Street Journal on Wednesday that the museum would invite more people to vet gift shop items before they go on sale.
"Once the public starts coming in, you learn so much," Mr. Daniels said. "We in no way presume to get everything right. We will accept that criticism, absolutely."
Mugs, plush search-and-rescue dogs and T-shirts fill the store.
But, a $39 hooded sweatshirt emblazoned with the phrase "in darkness, we shine the brightest" seems to be drawing some of the most criticism.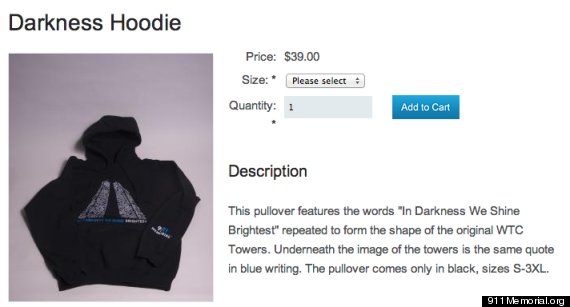 Gothamist featured a photo on its website of a sailor holding up the sweatshirt with the caption: "Can you believe this 'Darkness Hoodie?'"
Not everyone is peeved by it.
"Seems a delicate notion for a hoodie, but were offended by none of it," Brooke Gladstone, host of WNYC's "On The Media," said last week at the end of a 19-minute segment on the show. "The reality is, 9/11 was commodified long ago, now it lives in a museum and people may want a little something to remember it by."