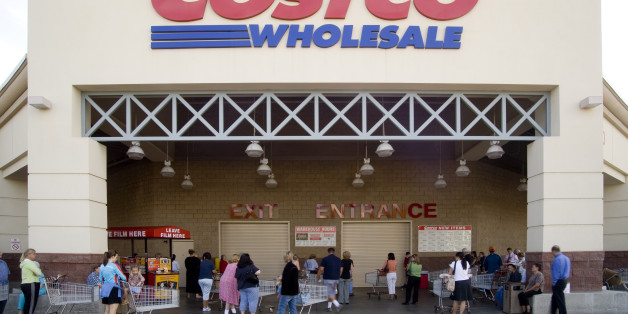 Apparently the weather is nicer at Costco than it is at Walmart.
Costco on Thursday reported a $473 million profit for its fiscal first quarter, which ended in April, up slightly from the same period last year. The warehouse giant also reported sales at its U.S. stores rose 6 percent from a year ago.
What Costco did not do was spend any time moaning and groaning about the terrible weather in the quarter, setting itself apart from Walmart and many other retail peers.
Companies ranging from Macy's to Home Depot have blamed the weather for poor performance in recent months. Walmart executives said the word "weather" at least 20 times in their conference call discussing the company's first-quarter results, by Fortune's recent count.
"Like other retailers in the United States, the unseasonably cold and disruptive weather negatively impacted U.S. sales and drove operating expenses higher than expected," Walmart CEO Douglas McMillon said in Walmart's earnings release.
It's true that the weather was particularly unbearable this past winter (polar vortex anyone?), and many economists have said the super-cold and snow was the main reason the economy shrank in the first quarter for the first time in three years.
But a handful of popular outlets, like Costco and Chipotle, managed to handle the winter pretty well. That suggests there's more going on here than meteorology.
Costco's winter survival is a hint that maybe the company's no-frills model -- which includes almost no advertising, paying workers decently and courting customer loyalty -- may just be a better way to get customers to buy stuff. Costcos generate about $1,100 in sales per square foot, on average, while Walmart and Sam's Club generate $400 and $680 per square foot, respectively, according to an analysis from Morningstar, an investment research firm.
Some of Costco's competitors also have other issues than the weather, including inventory problems and Internet competition.
Costco also has the advantage of catering to slightly higher-income customers than many of its competitors.
"I don't think you need to be an economist to understand that our demographic has probably been impacted less than the lower demographic retailers," Costco CFO Richard Galanti said on the company's earnings call. Indeed, Walmart and some of its dollar-store competitors have complained of food-stamp cuts hurting their bottom line because customers have fewer resources to spend at their stores.