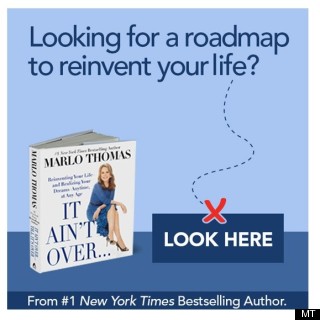 "One of the reasons I started my website is that I wanted a place for women to come together and dream. We women need to know that we don't have to hang on to an old dream that has stopped nurturing us—that there is always time to start a new dream. This week's story, an excerpt from my new book "It Ain't Over Till It's Over," is about Kristi Cunningham Whitfield, whose boyfriend proposed a business idea that she couldn't turn down. They each left their corporate jobs, and have since made a fortune off of their delicious new venture."—Marlo, MarloThomas.com
Five months after Kristi Cunningham and her boyfriend, Sam Whitfield, started dating, he proposed—a business idea, that is.
"We were cooking dinner and having one of those 'How was your day?' conversations," Kristi recalls, "when suddenly he turned to me and asked, 'What would you think about opening a cupcake truck?'" Kristi recalls.
"A cupcake truck? You're a lawyer, and I'm in transportation logistics. What do we know about cupcakes? Or trucks?"
Sam told Kristi that he and his fellow attorneys had been craving cupcakes that day but no one felt like trekking to a bakery across town to get any. "What if we started a business to bring cupcakes to customers' neighborhoods?" he asked.
"I actually thought it was a pretty great idea," Kristi says. "And my mind started whirring: How would it work, exactly? What kind of truck would we get? What flavors of cupcakes would we sell? We just started creating the business in our imaginations."
The more they brainstormed, the better the idea seemed: There was just one other food truck in all of D.C., and cupcakes seemed like a perfect "truck stop" food: easily portable impulse buys that wouldn't need a full kitchen setup onboard.
Kristi wasn't exactly looking for a new career; she was doing well in her corporate job. But after a few months of fantasizing, Kristi and Sam couldn't let the idea go.
"I remember the distinct moment when Sam looked at me and said, 'Are we really gonna do this?' I think we both understood that we weren't just talking about the business; we were also talking about our relationship. We were in love. If we did this together, how could it not be awesome? So we said, let's go for it."
Article Continues Below Slideshow
PHOTO GALLERY
Kristi Cunningham Whitfield
Since food trucks weren't common in D.C., there was no well-established playbook for how to get this off the ground. So they cobbled one together. "I was navigating the Department of Health, filling out a million forms, waiting for licenses. And the people who worked at the Department of Consumer and Regulatory Affairs practically thought I lived there."
After learning that the city required the truck to be a certain length and width, Kristi came across the perfect vehicle for sale in Florida. The couple bought a one-way plane ticket, drove the truck around the block twice, bought it, and then drove it home.
"That trip made the business real. It's one thing to fill out the paperwork to incorporate a business, it was another to fly to Florida and buy a truck!"
After that, says Kristi, "it was like filling in a Mad Libs business plan: What color should the truck be? Pink! What should the logo look like? A cupcake on wheels! Should we bake the cupcakes ourselves? No, let's hire a professional."
As the business started to take shape, some friends and family began expressing their doubts. "There were a lot of 'Are you out of your minds? How are you going to support yourselves?'" says Kristi. "We were launching at the beginning of a recession, and people assumed we'd lost our jobs. They couldn't fathom that we were quitting our careers to start this whole new endeavor."
Six months after Sam first brought up the food truck idea, the pair were ready to debut their cupcakes with a stand at the city's popular H Street Festival.

Though they made some rookie mistakes ("We charged $2.75 each, which meant we needed gobs and gobs of change—after that we raised the price to $3"), they sold out of the 600 cupcakes that they had brought. Three months later, once the truck was outfitted with a vending window and had passed inspection, Curbside Cupcakes set out on its first route.
And a few weeks after that—one year to the day after they started dating— Sam proposed again. This time, he meant marriage.
"In the beginning, it was just the two of us, plus the professional baker we hired," says Kristi. "Every morning, Sam would drive to the commercial kitchen, pick up the cupcakes, and head out in the truck, while I managed planning and marketing."
Within a couple of months, it was clear the truck was a hit. "We were a novelty, so people would see this bright pink truck and follow it just to see what it was," she says. Sam would make four scheduled stops a day, plus a "wild card" location based on the number of requests they received via Facebook and Twitter.
As Curbside Cupcakes began taking off, selling out hundreds of cupcakes each day, Kristi and Sam realized it didn't make sense to continue outsourcing the baking—it was eating up too much of their costs, and the baker wasn't always available. So, you guessed it: Kristi took over cupcake-making duties, too.
"I was nervous. I know what tastes good, but I'm not a culinary school graduate—this was a business idea. So I started in my home kitchen with one recipe—for chocolate cake. And after thousands and thousands of batches, which Sam and I taste-tested, we hit on a winning recipe." Then they tackled Curbside's other bestselling flavors, like carrot cake and red velvet.
Today, Curbside Cupcakes operates three trucks, a kiosk in D.C.'s Union Market, and has a new commercial kitchen with a small café. The business sells hundreds of $3 cupcakes a day in 37 flavors—from key lime to peanut butter cup to dulce de leche—and caters special events, like the time Ford Motor Company bought 1,400 cupcakes in one day.
And two years after they married, Kristi and Sam welcomed another addition to the Curbside Cupcakes family: a baby boy. "The first three months after Drake was born, I would wrap him up in a carrier and bake with him sitting on my chest," she says. "I'm deeply grateful to be my own boss, to be able to be with my kid and never have to explain my choices to anybody.
"Back in the early days," she continues, "when Sam and I would spend hours fantasizing about how exciting it would be to open our own business, we dreamed big. But this is bigger than anything we ever imagined."
And that's the icing on the cupcake.
To read 59 more inspiring stories, buy your copy of "It Ain't Over Till It's Over."
Click here.
Add Marlo On Facebook:
Follow Marlo on Twitter:
Sign up to receive my email newsletter each week - It will keep you up-to-date on upcoming articles, Mondays with Marlo guests, videos, and more!