Spiritual enlightenment is a great reason for a road trip this summer (as if any reason were needed). In order to help you on your path we have compiled a completely subjective list of the holiest places in America - one in each 50 states.
Which are your favorites? Let us know in the comments. And if you visit any of these sacred sites tweet us your photos at @HuffPostRelig!
Alabama
Congregation Sha'arai Shomayim / Springhill Avenue Temple, Mobile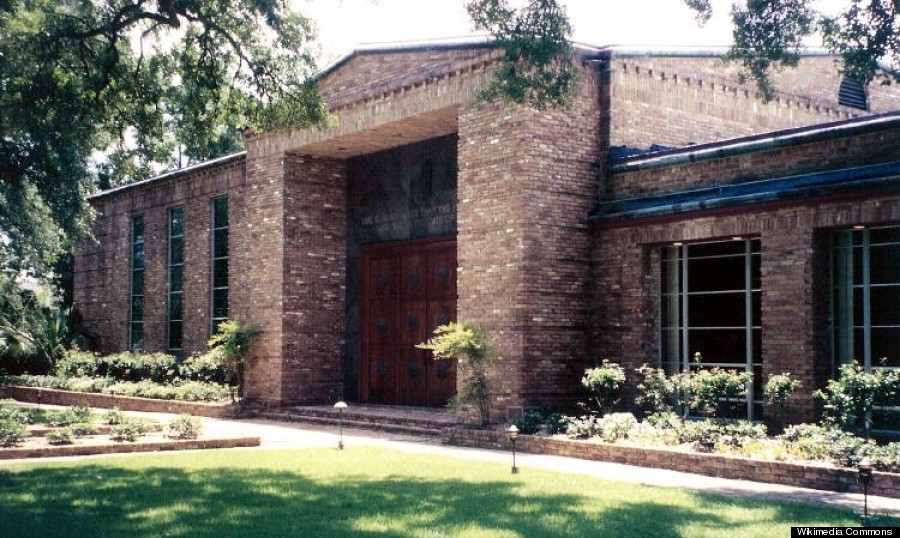 This Sephardic Jewish congregation is the oldest in the state of Alabama, and one of the oldest in the whole of the United States. It was organized in Mobile on January 25, 1844, and secured land for the cemetery in 1876. A new location on Springhill Avenue was dedicated in 1955, where the congregation resides to this day.
Alaska
Mount Denali Also known as Mount McKinley, this peak is the highest peak in North America and holds great significance within the native traditions. "Denali" is translated as "the great one" in the Athabaskan languages of the Alaska Natives living around the mountain. The mountain is part of the Tena creation myth, serving to block a spear thrown by the demi-god Yako's rival Totson.
Arizona
Chapel Of The Holy Cross, Sedona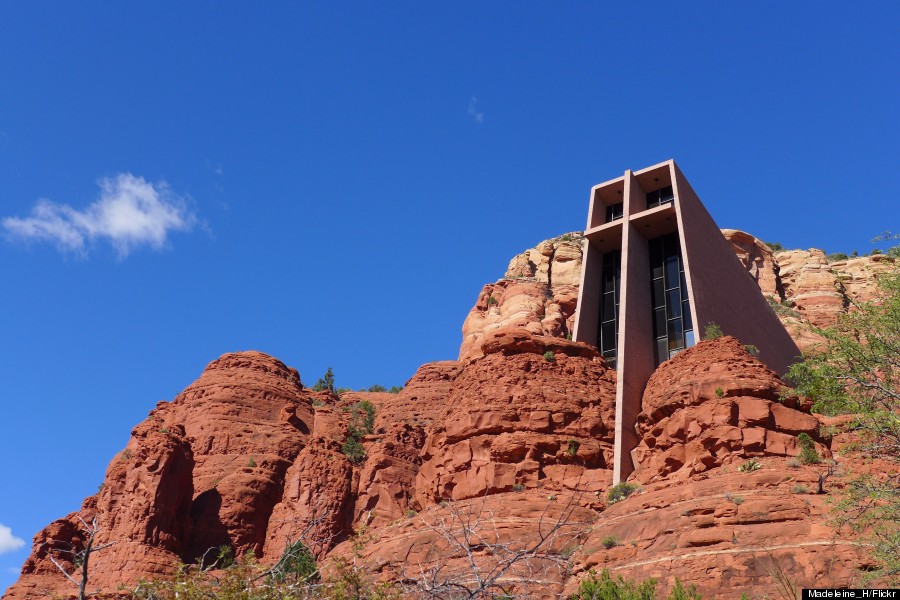 Built into the rock, this dramatic Roman Catholic chapel was the long-held dream of Marguerite Brunswig Staude, an artist and rancher who had recurring visions of a cross on the Empire State Building in New York. It won the American Institute of Architects' "Award of Honor" in 1957, and was reportedly the first contemporary structure built as a Catholic church.
Arkansas
Thorncrown Chapel, Eureka Springs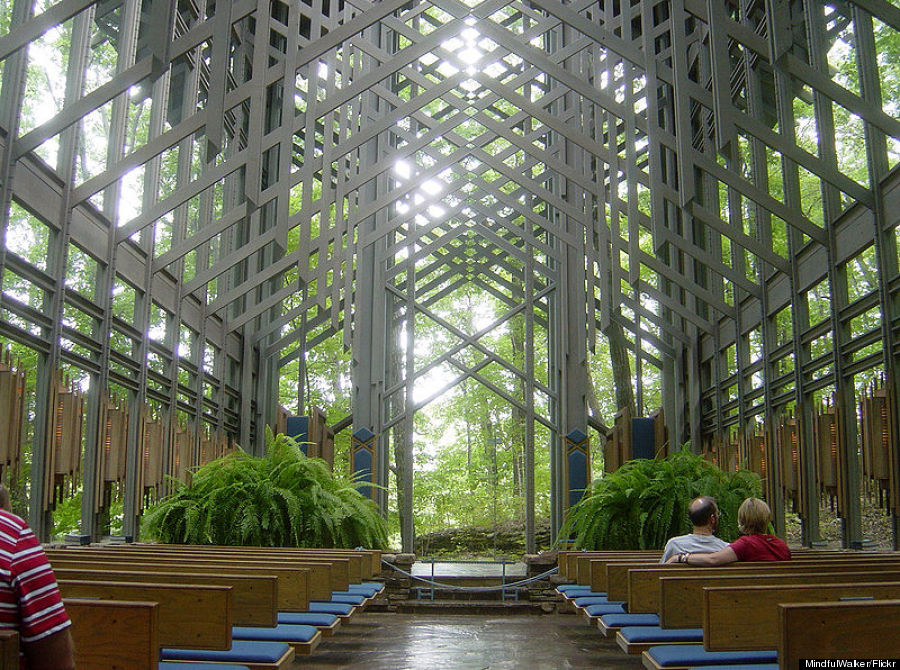 The stunning Thorncrown Chapel blends perfectly into the surrounding woods of Arkansas. Sitting atop over 100 tons of native stone and colored flagstone, it contains 425 windows and over 6,000 square feet of glass, giving visitors the sense that they are seated within the forest itself. Since it was opened in 1980, over six million people have visited.
California
Gurdwara Sahib of San Jose, San Jose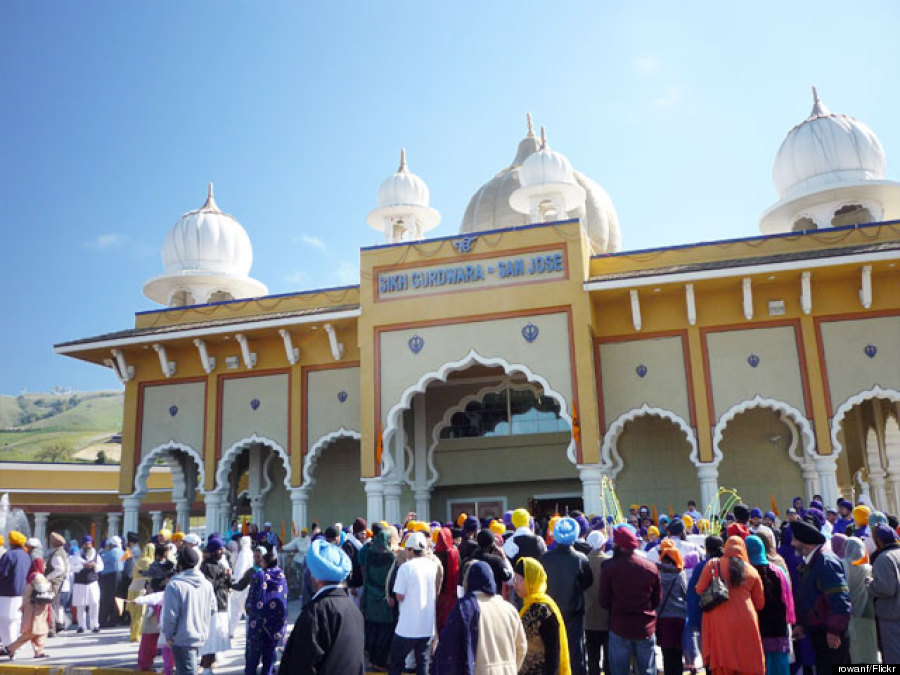 The nation's largest Sikh temple, the San Jose Gurdwara was founded in 1984. The rapidly-growing Sikh community initially met in a community center before constructing their own space. It's estimated that 20,000 people attended the opening.
Colorado
Cadet Chapel, United States Air Force Academy, Colorado Springs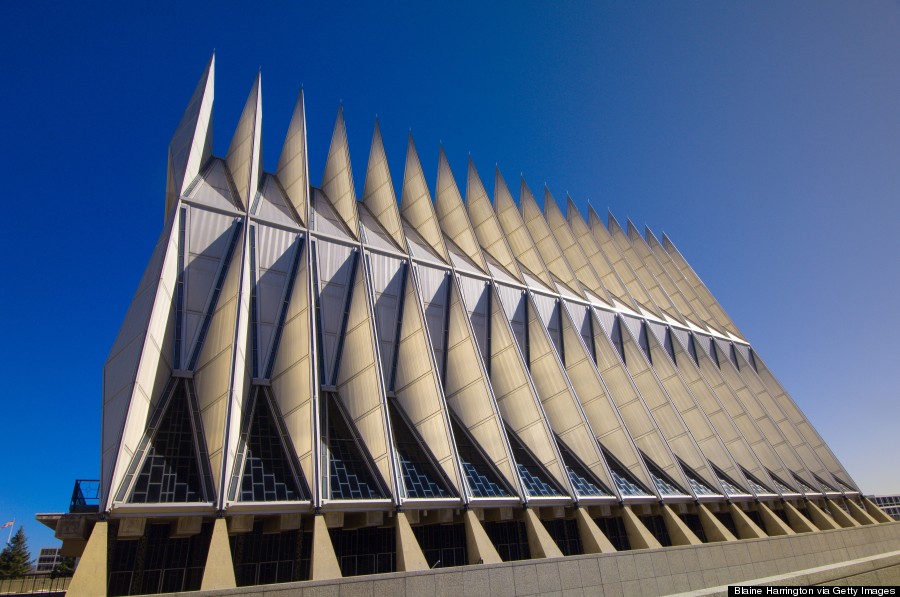 The arresting Cadet Chapel is the most popular man-made structure in Colorado, boasting over half a million visitors each year. Its principal architect and designer was Walter A Netsch, a member of the U.S. Army Corps of Engineers who was just 34 when he completed the design for the chapel. It has seventeen spires which rise over 150 feet into the sky.
Connecticut
Battell Chapel, New Haven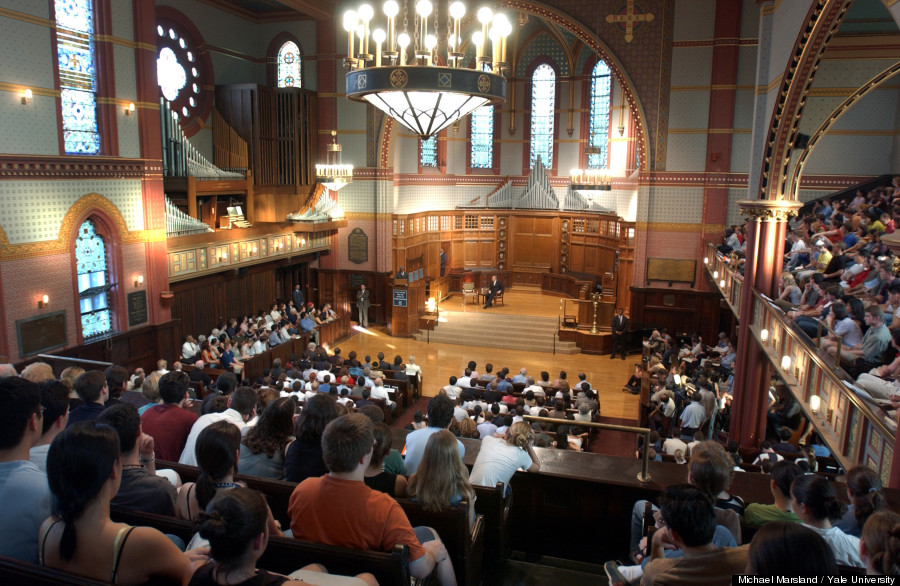 This chapel was built as a Civil War memorial in 1876, and is a part of the Yale University campus. It is the university's largest house of worship and is part of the Connecticut Freedom Trail, which commemorates places of historical importance involved in helping people escape from slavery.
Delaware
Our Lady Queen Of Peace, New Castle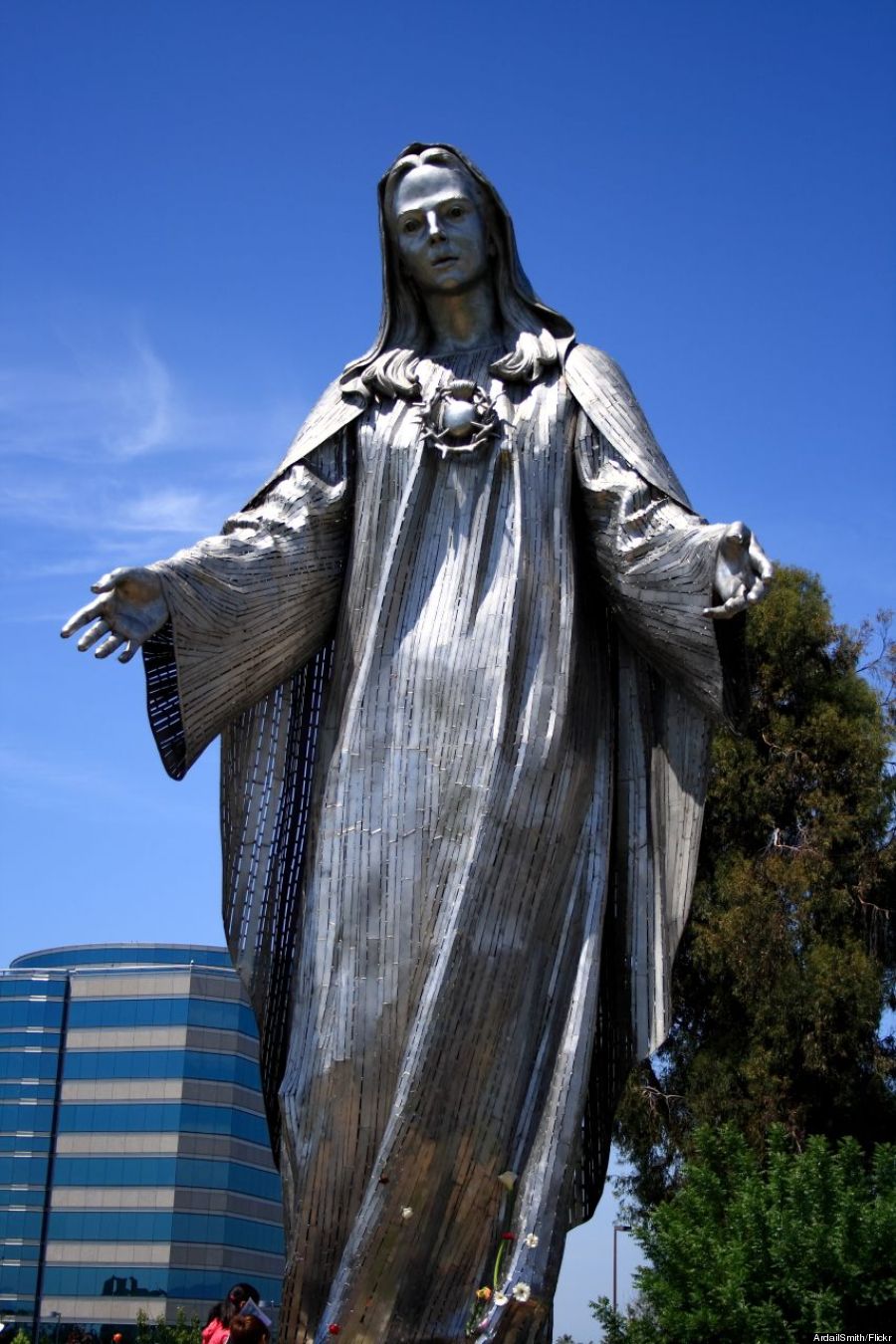 Delaware's Our Lady Queen of Peace statue is a 33-foot stainless steel sculpture of the Virgin Mary created by Charles C. Parks that looks out over interstate 295. Parks made two other stainless steel Mary sculptures at his Delaware studio which later went to Santa Clara, CA, and Chicago, IL. The people of Delaware then raised money to have a Mary of their own. Visitors reportedly leave prayer requests and rosary beads at her feet.
Florida
Holocaust Memorial of the Greater Miami Jewish Federation, Miami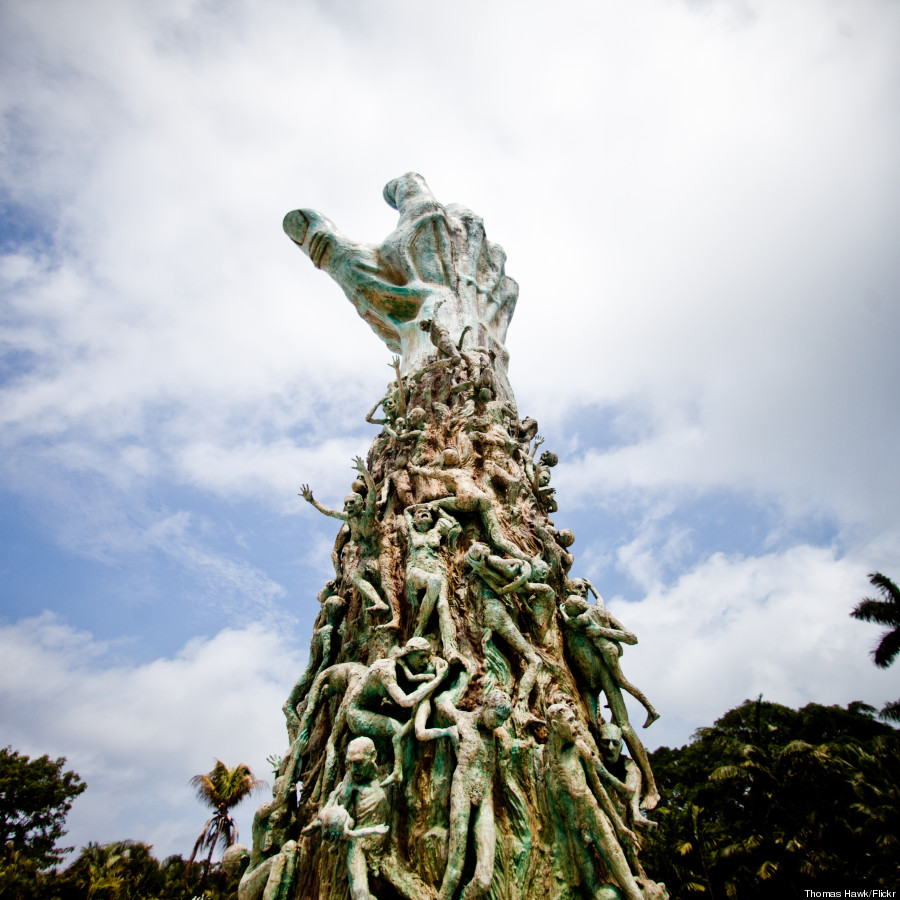 In 1985, Abe Resnick told The Miami Herald that there were 20-25,000 Holocaust survivors in the region. That's why he became a founding member of the Holocaust Memorial Committee, which was dedicated in 1990. Designed by architect Kenneth Triester, the memorial features a four-story-high outstretched arm tattooed with a number from the Auschwitz concentration camp. While critics decried it as "grotesque," committee members argued that it served as an effective memorial to the horrors of the Holocaust.
Georgia
Congregation Mickve Israel, Savannah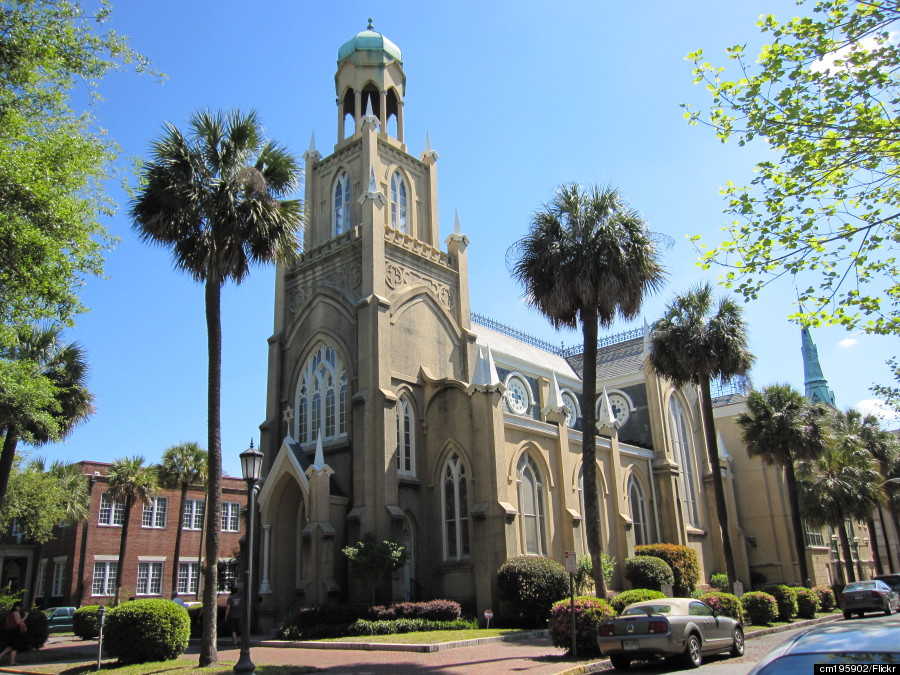 The third-oldest Jewish congregation in America, Mickve Israel was started by forty-two Jews who set sail from England aboard the William and Sarah in 1733. Levi Sheftall, president of the congregation when George Washington was elected the nation's first president, sent him a letter of congratulations, to which Washington sent an immediate response. He wrote, "May the same wonder-working Deity, who long since delivered the Hebrews from their Egyptian oppressors, planted them in the promised land, whose providential agency has lately been conspicuous in establishing these United States as an independent nation, still continue to water them with the dews of Heaven, and make the inhabitants of every denomination partake in the temporal and spiritual blessings of that people, whose God is Jehova."
Hawaii
The Great Paia Lha Bab Peace Stupa, Maui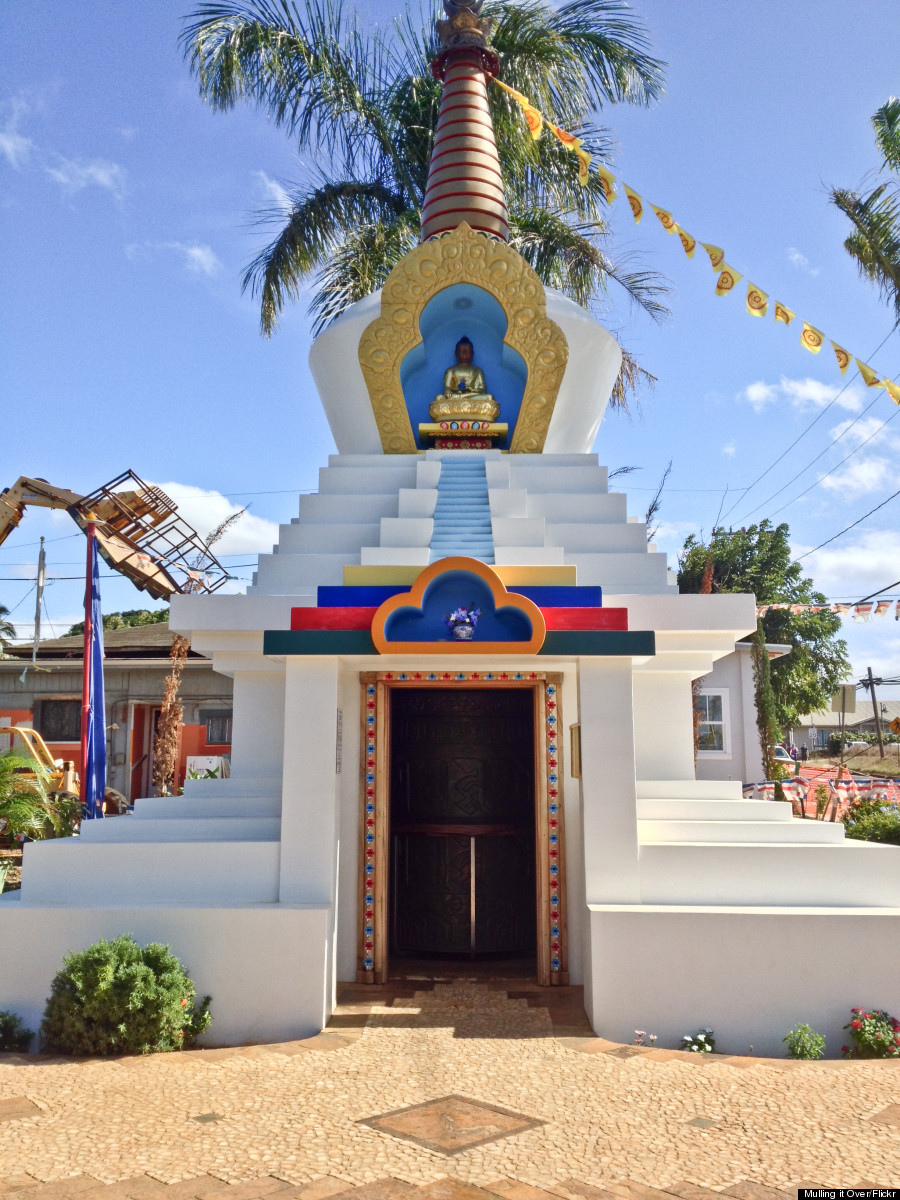 The Stupa was consecrated by His Holiness the 14th Dalai Lama in 2007. It serves as a symbol of peace and love, and is the gateway to the Maui Dharma Center.
Idaho
Idaho Falls Idaho Temple, Idaho Falls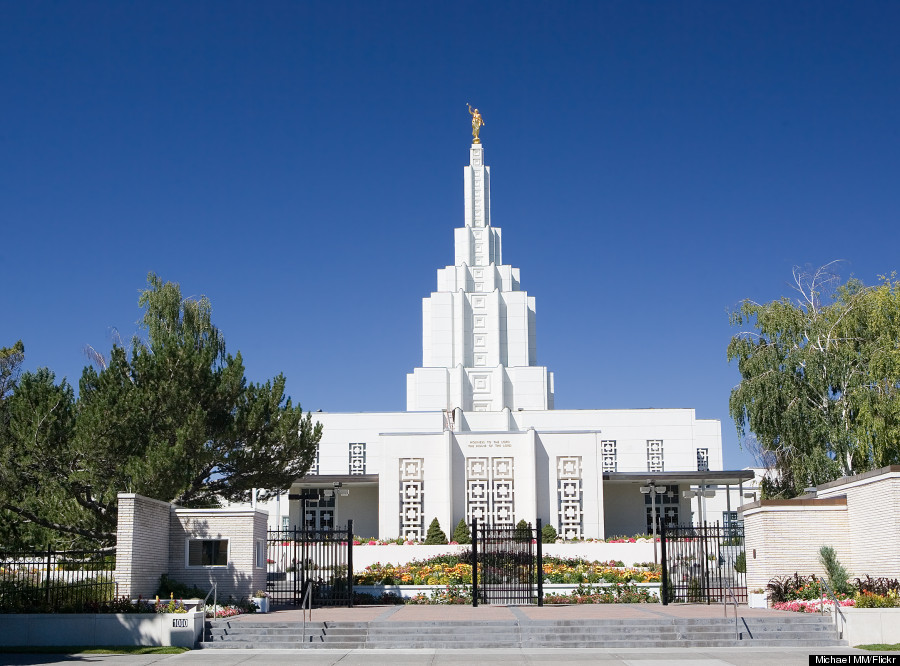 The 8th operating LDS temple, Idaho Falls Idaho Temple was dedicated in 1940. It was the first temple designed with a central spire, and was inspired by a vision of an ancient Nephite temple that architect John Fetzer saw while praying for guidance.
Illinois
Baha'i House Of Worship, Wilmette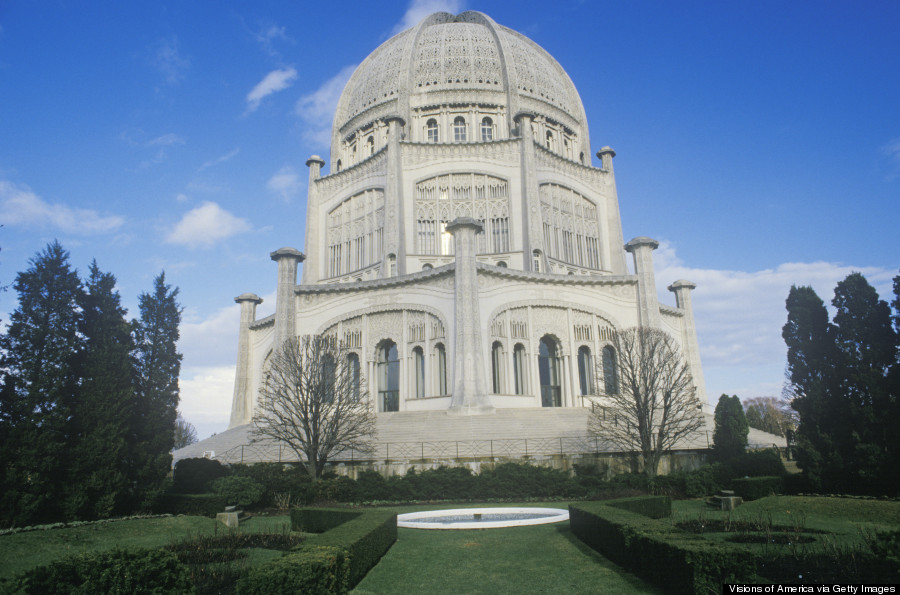 This gorgeous Baha'i house of worship is one of only seven Baha'i temples in the world today. Like all Baha'i houses of worship, it has nine sides and is surrounded by gardens and fountains. Corinne True organized its construction in 1907, and Abu'l-Baha, the son of Baha'u'llah, laid its cornerstone in 1912.
Indiana
North Christian Church, Columbus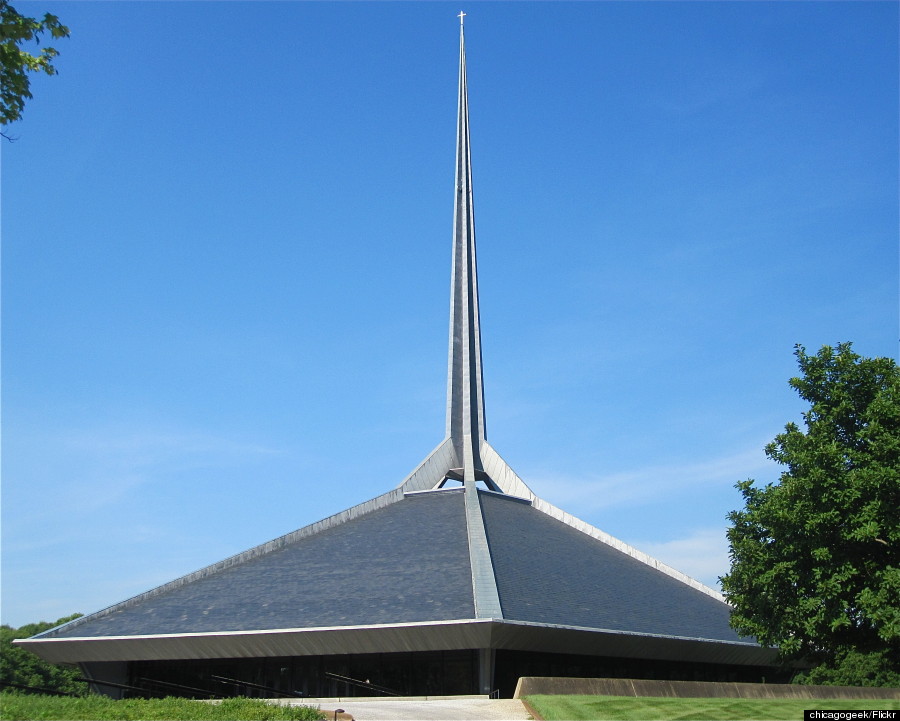 Designed by famed architect Eero Saarinen, North Christian Church is a landmark of Columbus, Indiana. Saarinen wrote about his ideas for the church in a 1962 publication, "Eero Saarinen On His Work, "I guess another reason people go actively to church is so they can worship with a group of people of like mind. They will do this in the sanctuary and they should feel they are all in unity and harmony in a special and appropriate spiritual atmosphere. As I understand the Disciples of Christ, communion is a very important act and the congregation participates in it... Whatever way we solve that, the congregation should have a positive feeling of being within the church, in a special, enclosed spiritual world."
Iowa
Grotto Of The Redemption, West Bend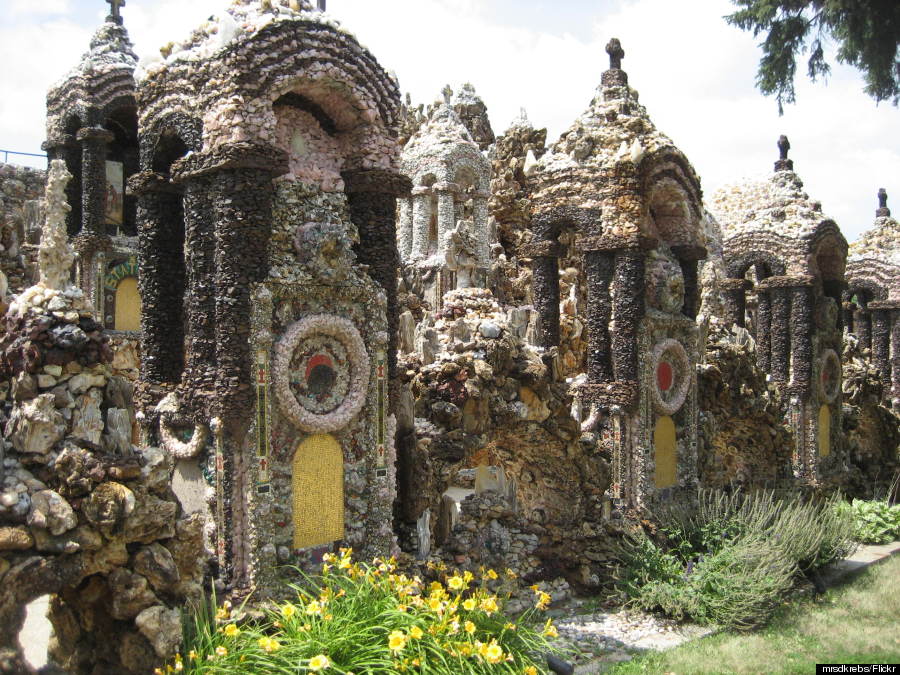 The Grotto of the Redemption is the largest man-made grotto in the world, featuring nine separate grottos that each portray a scene in the life of Jesus Christ. It reportedly contains the world's largest collection of precious stones and gems found in one location. The Grotto is a labor of love undertaken by Paul Matthias Dobberstein, who promised to build a shrine in the Virgin Mary's honor if she interceded for him when his life was threatened by a bout of pneumonia as a young seminarian. He lived, and he stockpiled rocks and gems for over a decade before beginning to build the grotto in 1912.
Kansas
Beecher Bible And Rifle Church, Wabaunsee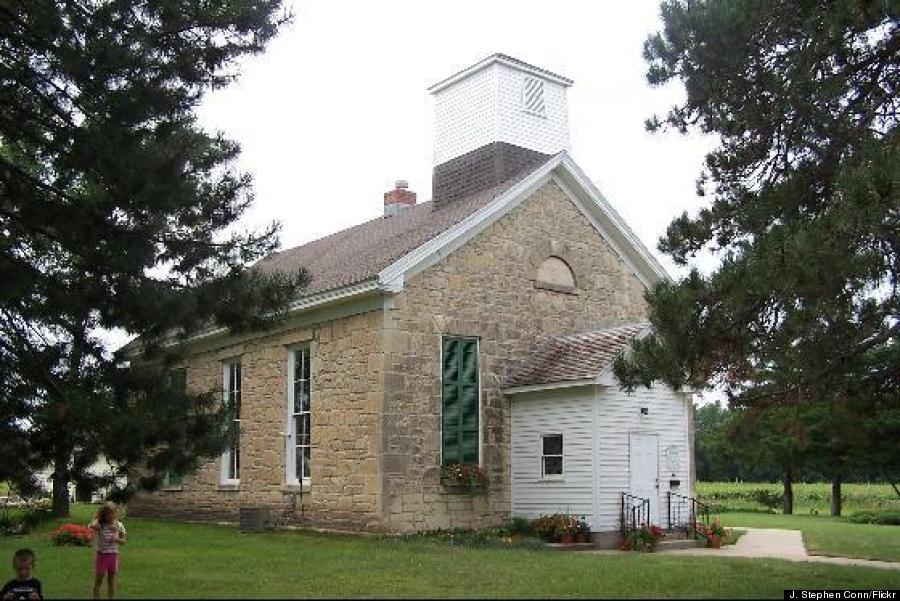 This historic church was established by a group from Connecticut in 1857, when Kansas was voting on whether to be a free state or a slave state following the passage of the Kansas-Nebraska bill in 1954. Outsiders from other states flooded in to influence the vote, one of which was a group from New Haven, Connecticut, who brought with them Sharps rifles and twenty-five Bibles provided by the congregation of Henry Ward Beecher, a minister from New York. These "Beecher's Bibles" were thought to be an important method of convincing people of the immorality of slavery.
Kentucky
Abbey of Our Lady of Gethsemani, Trappist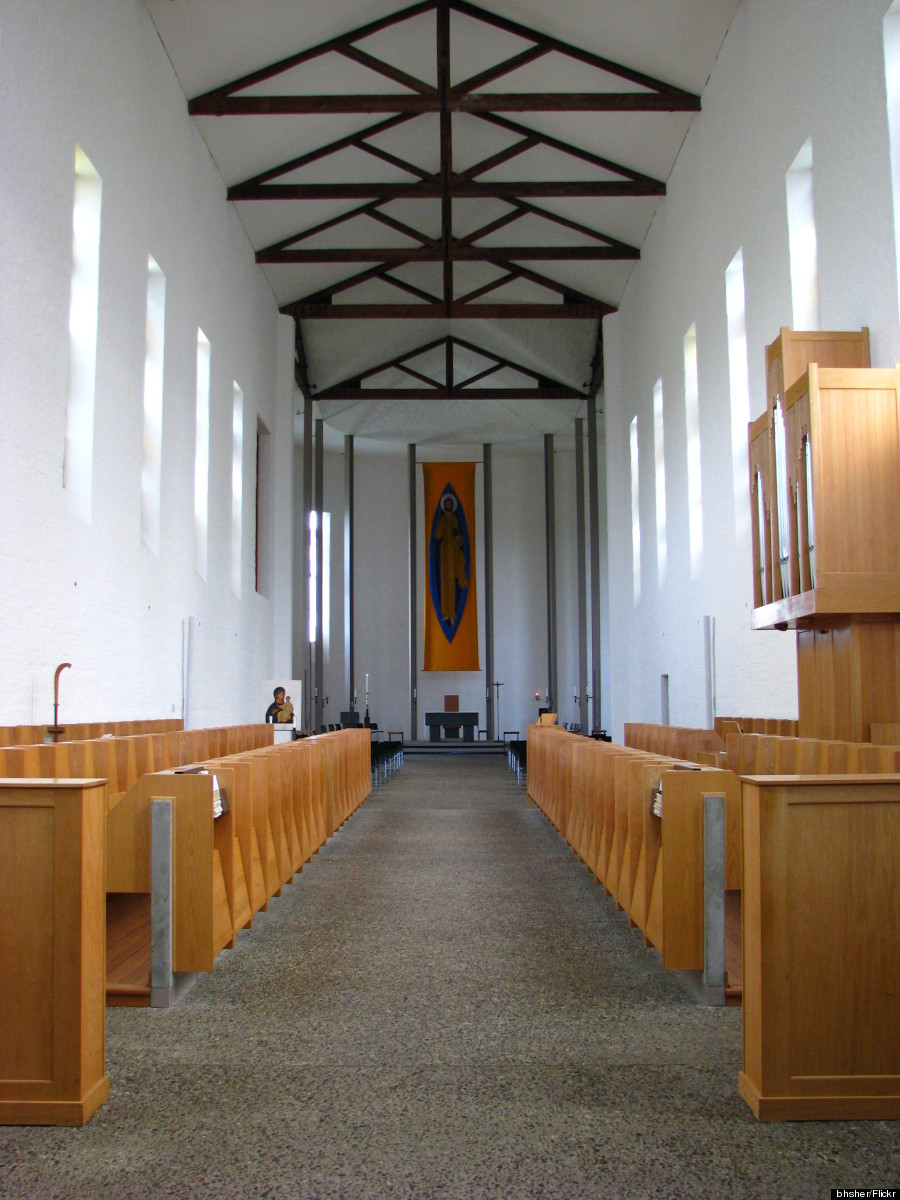 The Abbey of Our Lady of Gethsemani, established by Trappist monks in 1848, was the first abbey on American soil. A colony of forty monks emigrated from the Abbey of Melleray in Nantes, France, and travelled by river from New Orleans, Louisiana, to Louisville, Kentucky before establishing their monastery, which was later designated an abbey.
Louisiana
St. Louis Cathedral, New Orleans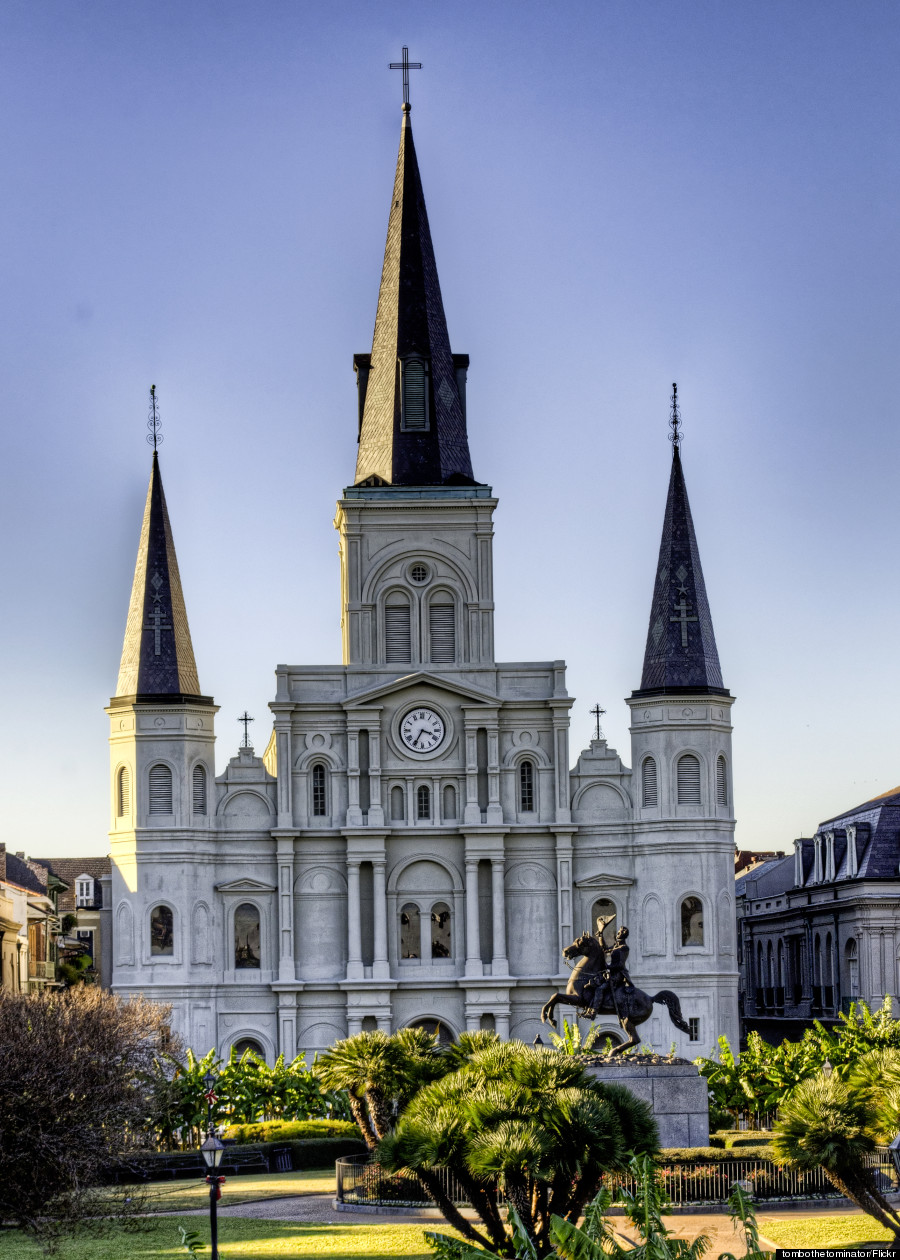 The St. Louis Cathedral is the oldest cathedral in North America, originally founded as a Catholic parish in 1720 along the banks of the Mississippi River. Its iconic triple steeples make it one of New Orleans' most notable landmarks. Pope John Paul II visited it in 1987.
Maine
Green Acre Baha'i School, Eliot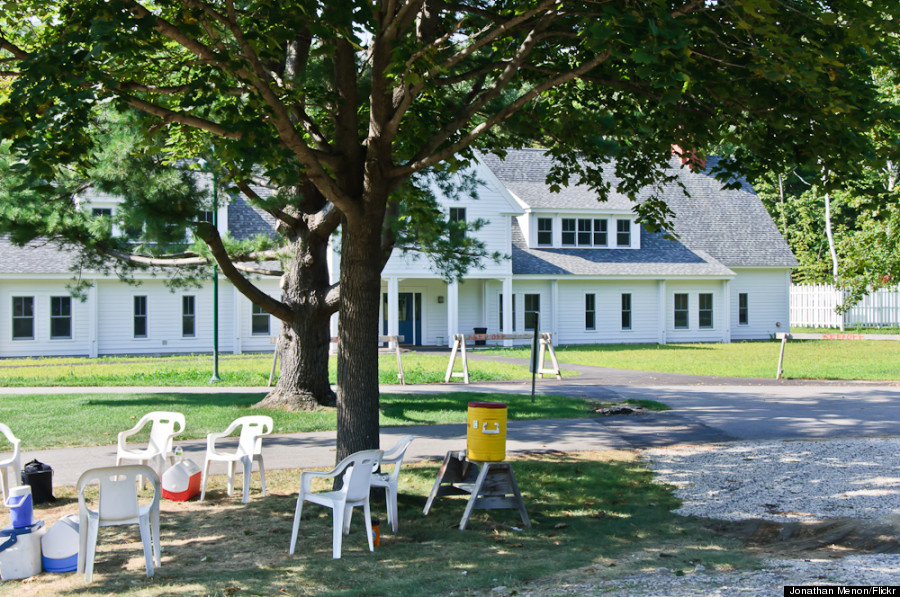 One of the leading institutions operated by the National Spiritual Assembly of the Baha'is of the United States, Green Acre was visited in 1912 by Abdu'l-Baha, the son of Baha'u'llah, the Prophet-Founder of the Baha'i faith.
Maryland
Lloyd Street Synagogue, Baltimore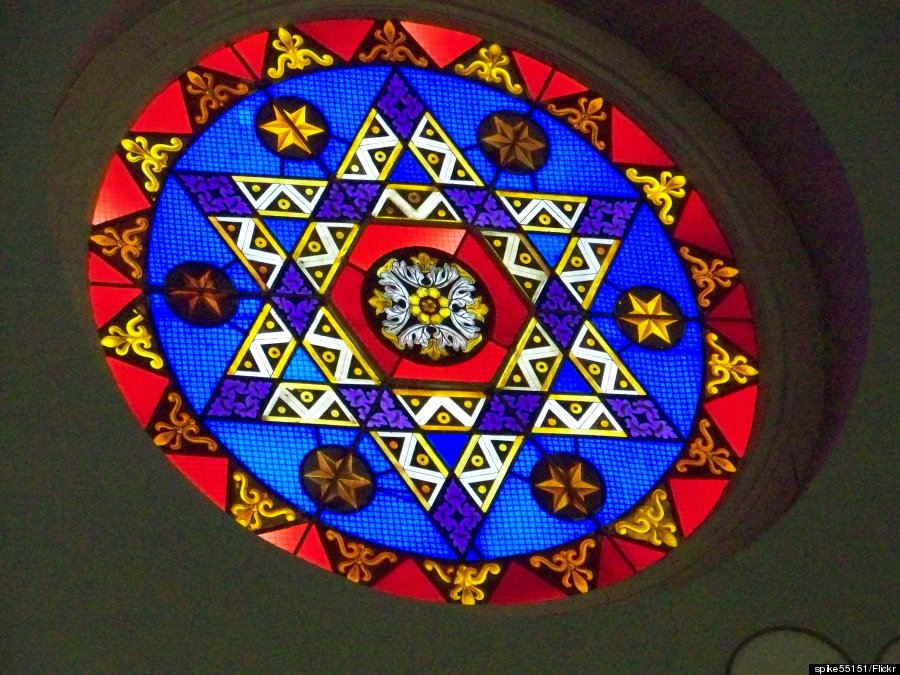 The Lloyd Street Synagogue, built in a distinctive Greek Revival style, is the third-oldest standing synagogue in America. Built in 1845 by the Baltimore Hebrew Congregation, it was restored in 1965.
Massachussetts
First Church of Christ Scientist, Boston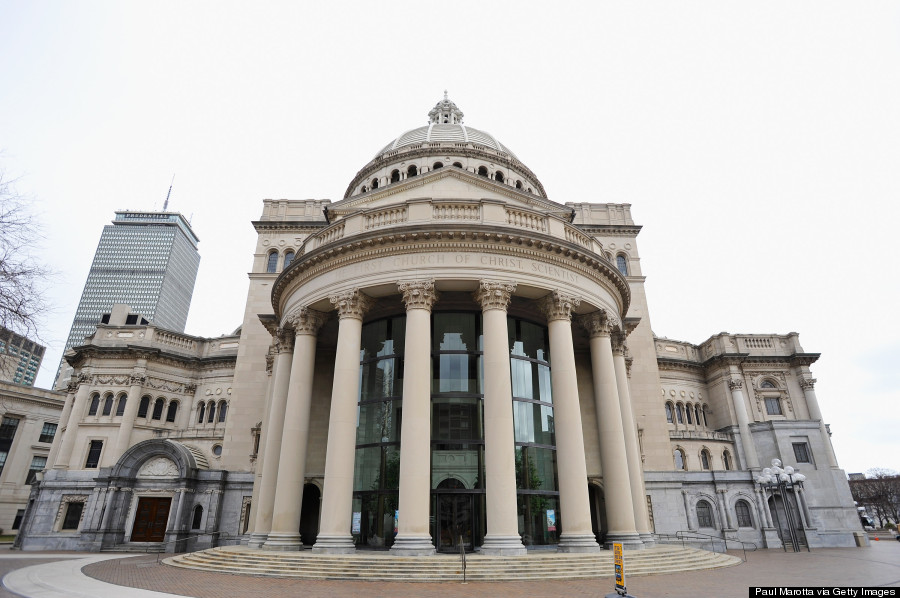 The Christian Science mother church, the First Church of Christ Science was built in 1894 and completed in just thirteen months. Extensions were added in 1906 to create the building currently in use. The organ is one of the largest in the world, containing 13,295 pipes.
Michigan
Islamic Center of America, Dearborn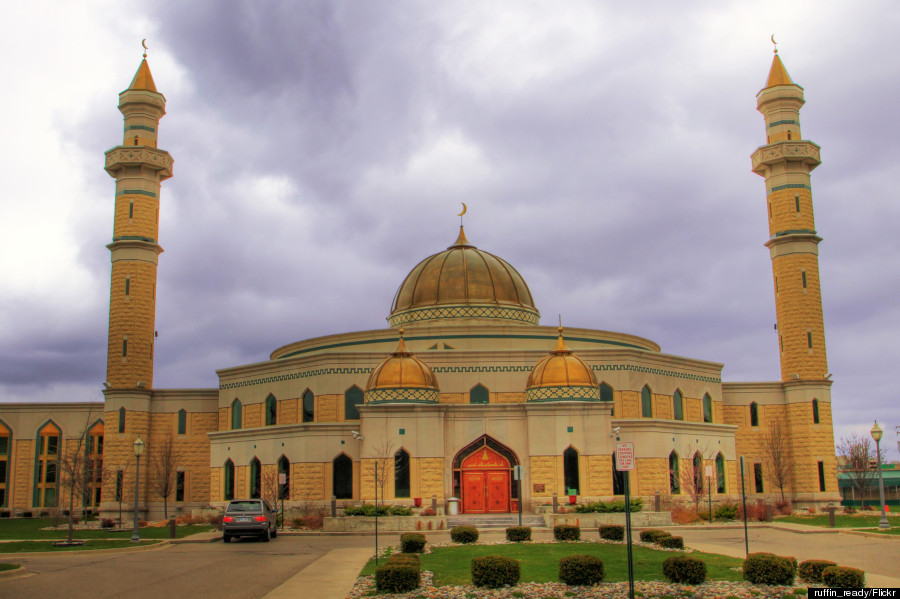 Established in 1963, the Islamic Center of America is the largest mosque in North America. Its history goes back to the 1950s, when Lebanese Americans worked with Imam Jawad Chirri to establish Michigan's first, purpose-built Shiite mosque.
Minnesota
Temple Of Eck, Chanhassen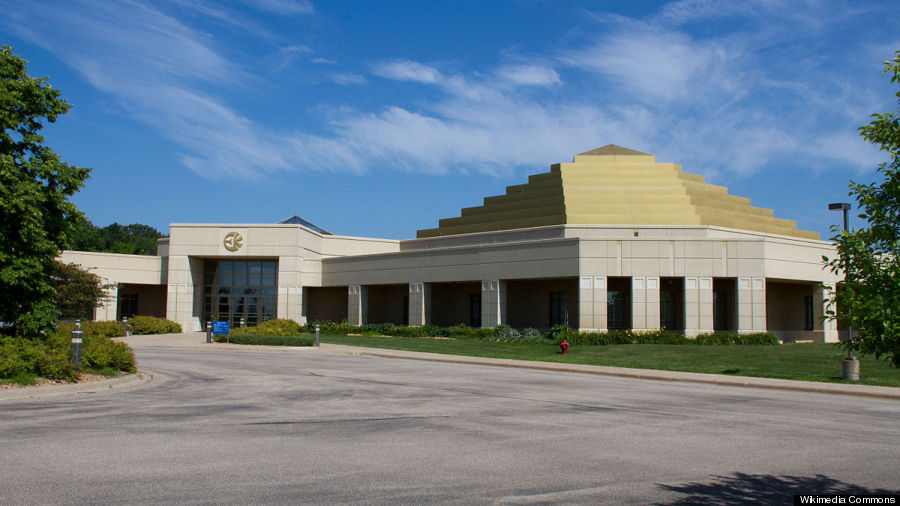 Eckankar is a spiritual movement that was popular in the 1970s and 1980s, counting up to 3 million followers at the peak of its influence. Founded by Paul Twitchell in 1965, it focuses on giving believers the personal experience of the "Light and Sound of God." Its website says that "The purpose of Eckankar is to make God an everyday reality in your life." The religion's symbol is one of those approved by the U.S. Department of Veteran Affairs to appear on a vet's tombstone.
Mississippi
St. Joseph's Church, Port Gibson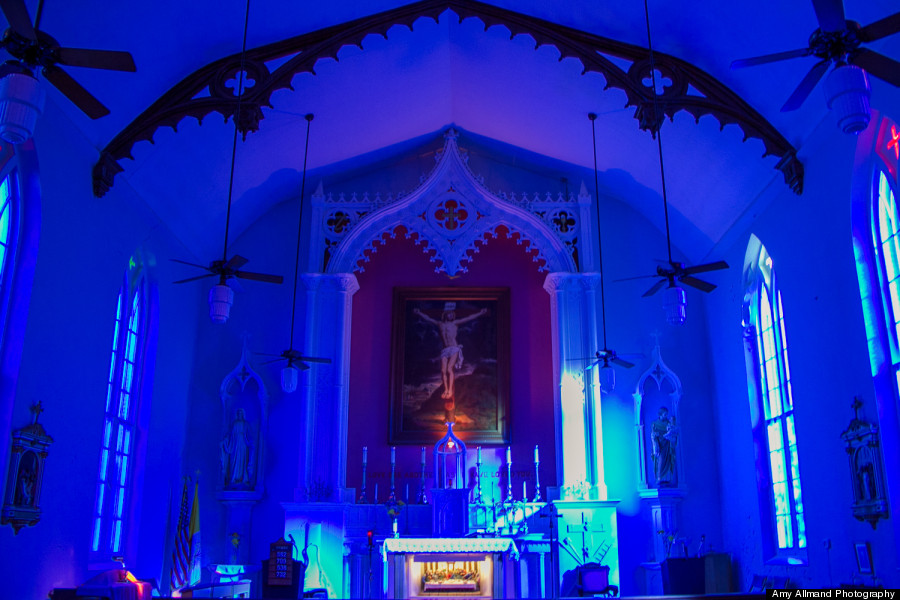 Also reportedly known as "Bowie Church" due to the the fact that it's the resting place of Rezin Pleasant Bowie, creator of the iconic Bowie, St. Joseph's is famous for its distinctive blue stained glass windows. It was built in 1849, during a time of Gothic Revival architecture.
Missouri
Saint Anselm Church, Creve Coeur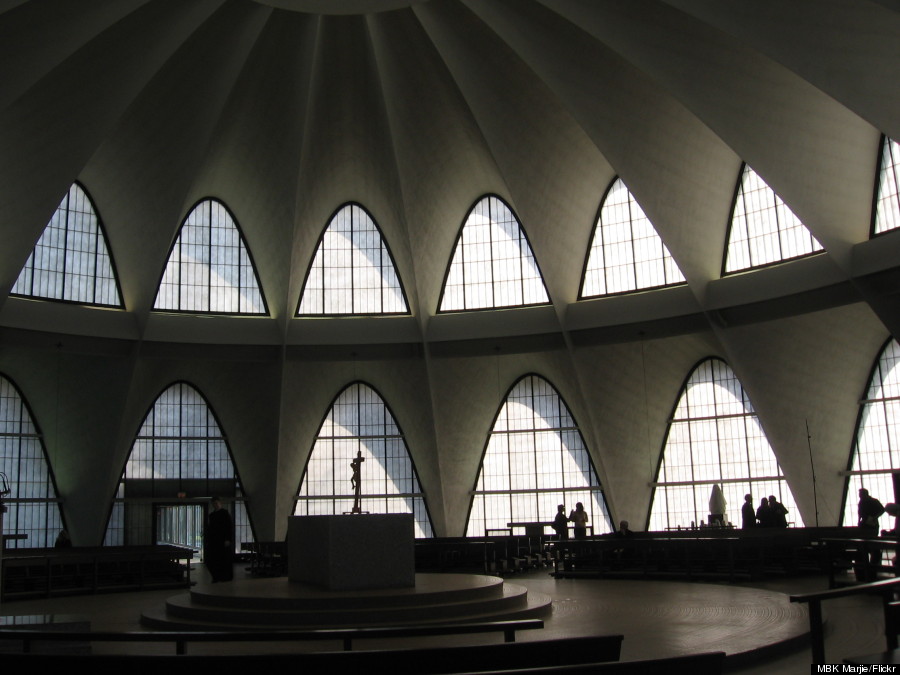 This Modernist Catholic church was completed in 1962. It was designed by Hellmuth, Obata, and Kassabaum and defies expectations about the architecture of a typical Catholic church.
Montana
Red Sun Labyrinth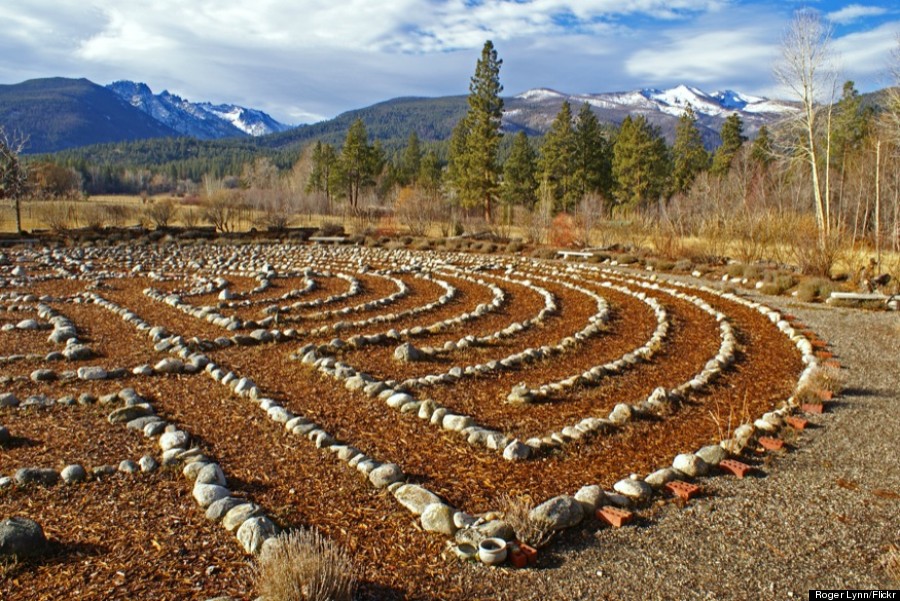 "An amazingly wonderful labor of love - the Redsun Labyrinth is beautifully made (using approximately 25 tons of fieldstones to make the pattern) and sits in a spectacularly beautiful location in the Bitterroot Valley of Montana," writes Roger Lynn. Photo by Roger Lynn
Nebraska
Hindu Temple of Omaha, Omaha Nebraska's first Hindu temple, it was established in 1993. Its membership is 98% comprised of people of Indian descent, with the remaining 2% of Nepalese descent. The temple is a member of the Lincoln Interfaith Council and they enjoy getting to know other faith communities.
Nevada
Guardian Angel Cathedral, Las Vegas The Guardian Angel Cathedral is known for its beautiful stained glass windows, created by Isabel and Edith Piczek.
New Hampshire
Cathedral Of The Pines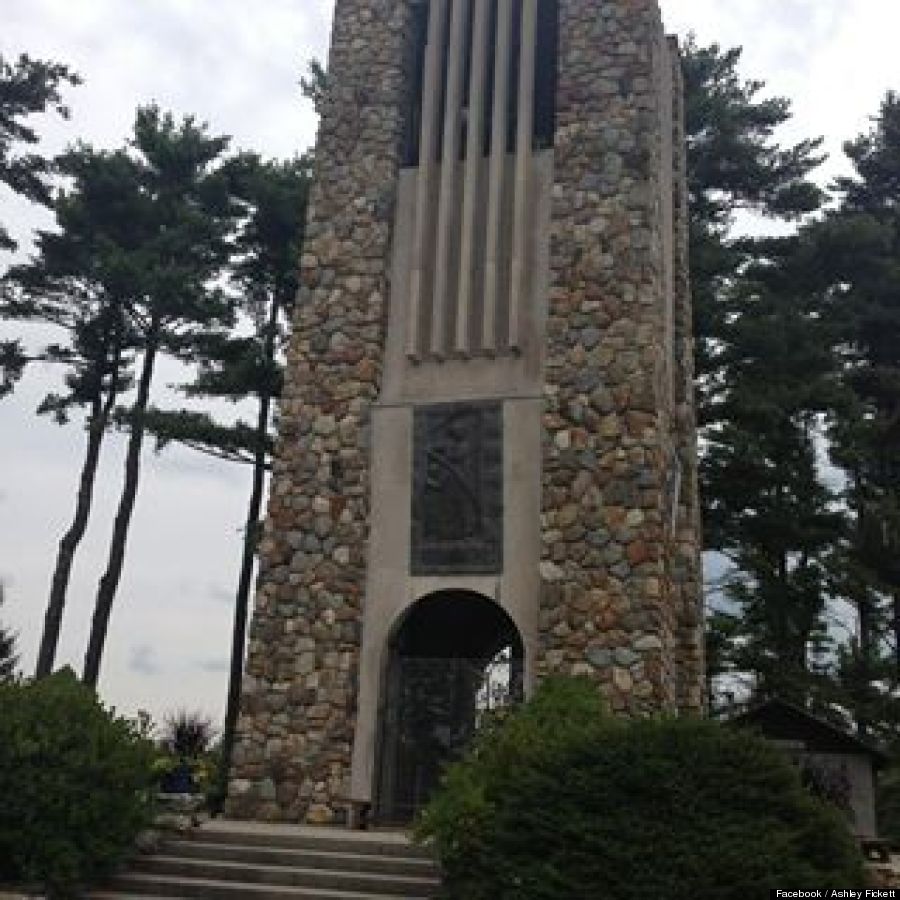 The Cathedral of the Pines is a "cathedral without walls" that was built to "welcome people of every faith in a spirit of unity and mutual respect." The interfaith structure is a national memorial dedicated to the memory of all Americans who have served.
New Jersey
Woodbury Friends' Meetinghouse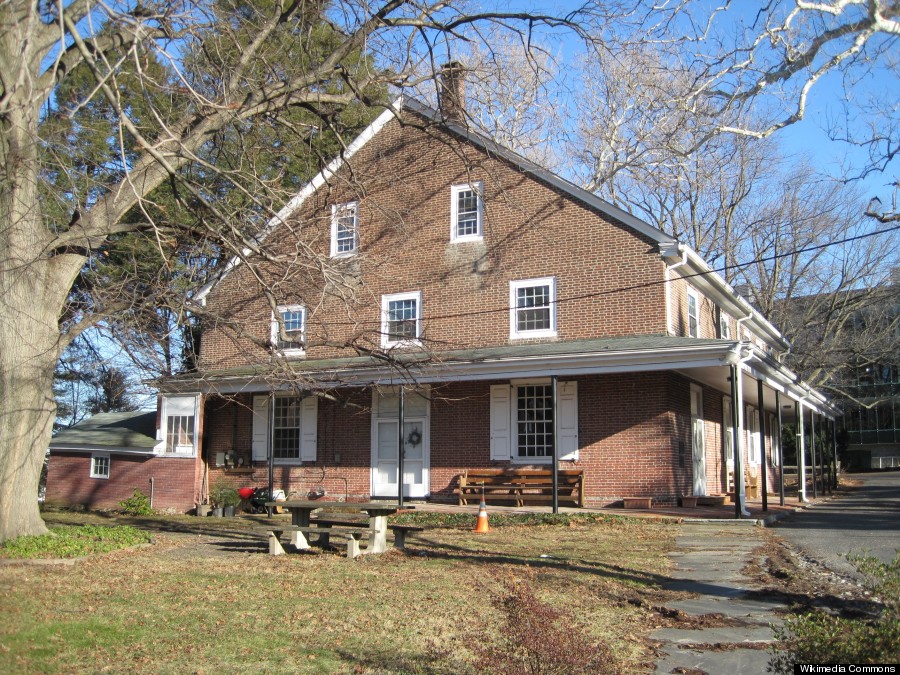 This historic meeting house was built by the Society of Friends, also known as Quakers, in 1715. The building was constructed on a site which only cost 3 pounds, at that time.
New Mexico
San Francisco de Assisi Mission Church Ranchos de Taos, Taos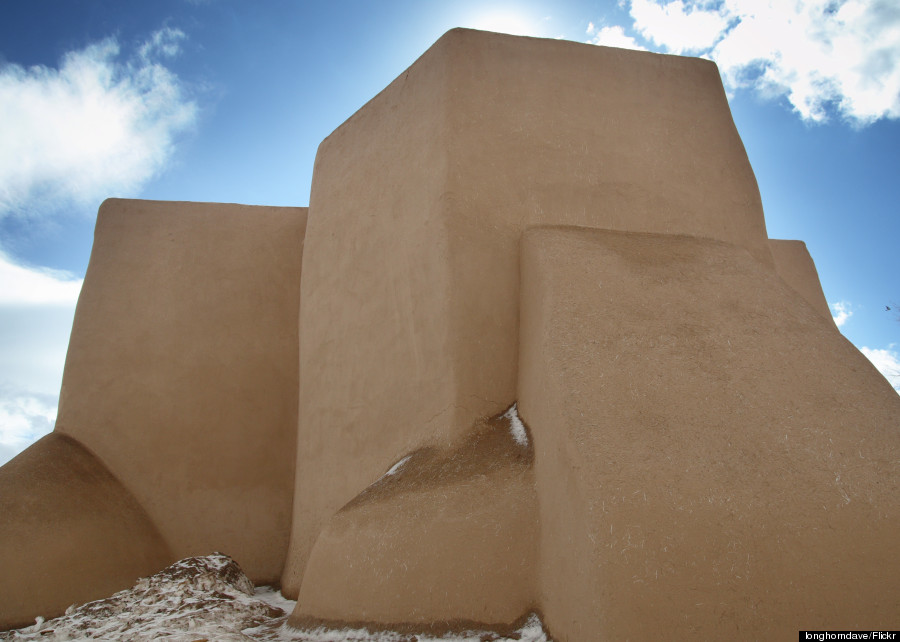 This historic adobe church was constructed between 1772 and 1816 by Franciscans. Artist Georgia O'Keeffe once described it as "one of the most beautiful buildings left in the United States by the early Spaniards."
New York
Temple Emanu-El, New York City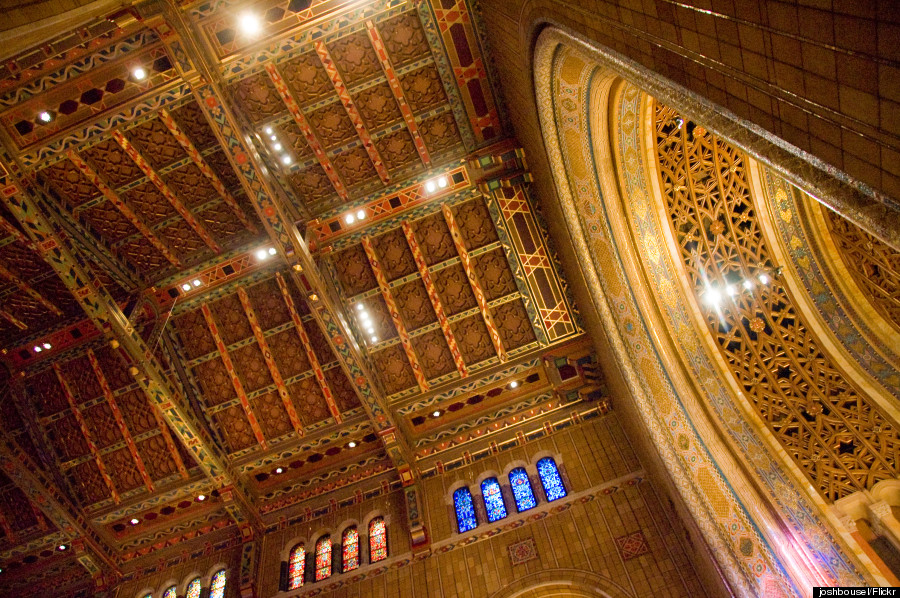 Temple Emanu-El was established in 1845 by thirty-three Jews who had emigrated from Germany. It's one of the oldest Reform Judaism temples in the country, and features stunning stained class windows and high ceilings.
North Carolina
Duke Chapel, Durham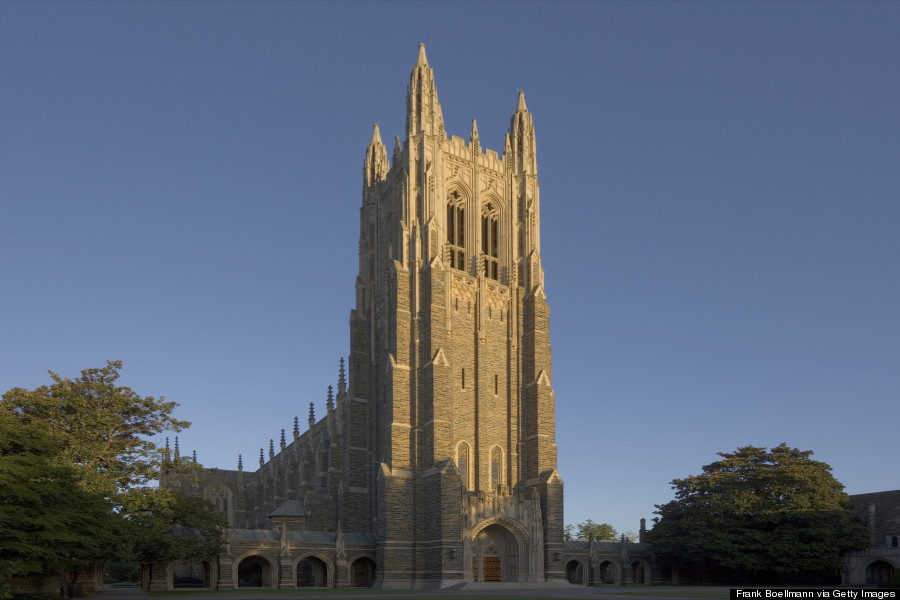 Duke Chapel is an interdenominational Christian Church that welcomes all who enter. It was constructed in 1932, which was the same year that it was used for commencement.
North Dakota
Wilmington Lutheran Church, Arnegard


Wilmington Lutheran Church in Arnegard, North Dakota was originally a log cabin church that was constructed in 1906, writes photographer Tim Evanson. It is characterized by open-beam construction of blond pine, done in the tenon-and-mortise style, which is a European method that does not depend on nails and bolts.
Ohio
The Great Serpent Mound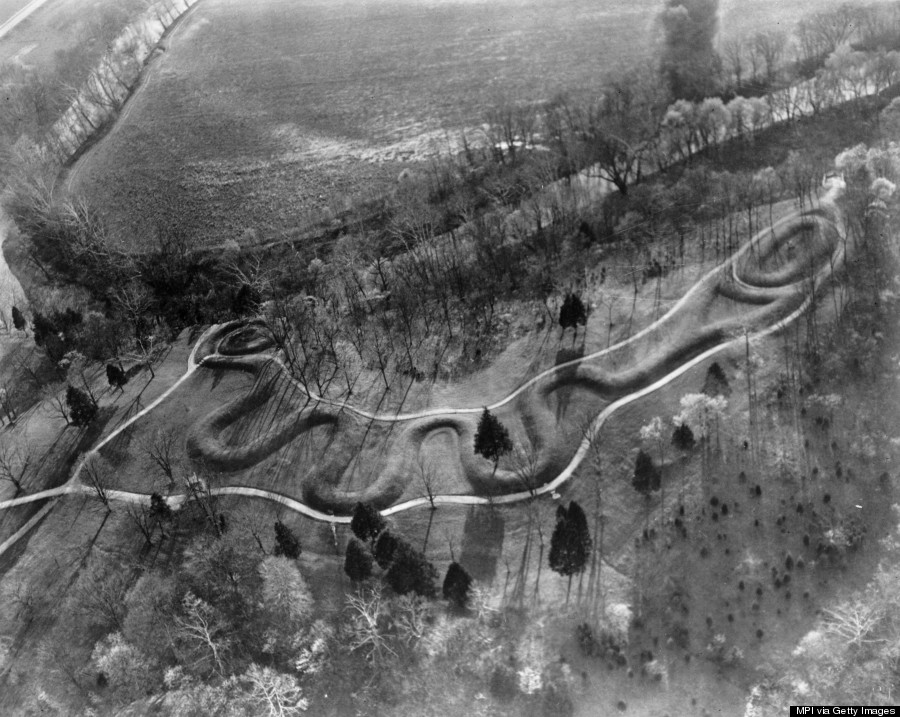 The Great Serpent Mound in Adams County, Ohio, was built by the Adena people between 800 BC and AD 400, according to Getty. Nearly a quarter of a mile long, this protected historical earthworks represents a giant snake holding an egg in its jaws.
Oklahoma
Boston Avenue Methodist Church, Tulsa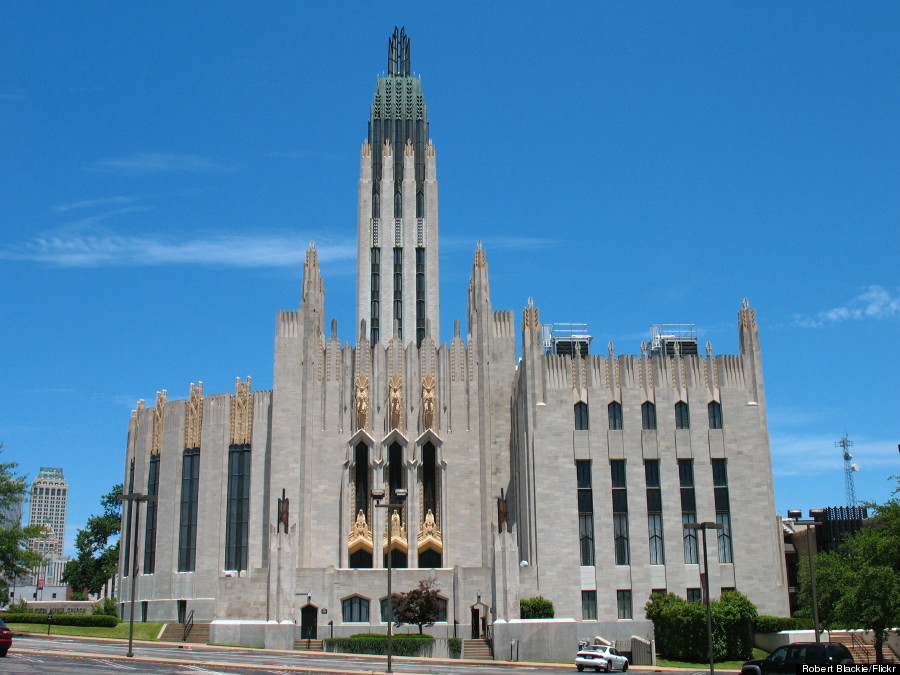 This striking building is considered to be one of the best examples of ecclesiastical Art Deco architecture in the United States. The congregation dates back to when Tulsa was still a part of Native American territory, and began when the Rev. E. B. Chenoweth arrived with his wife and infant son in November of 1893.
Oregon
Crater Lake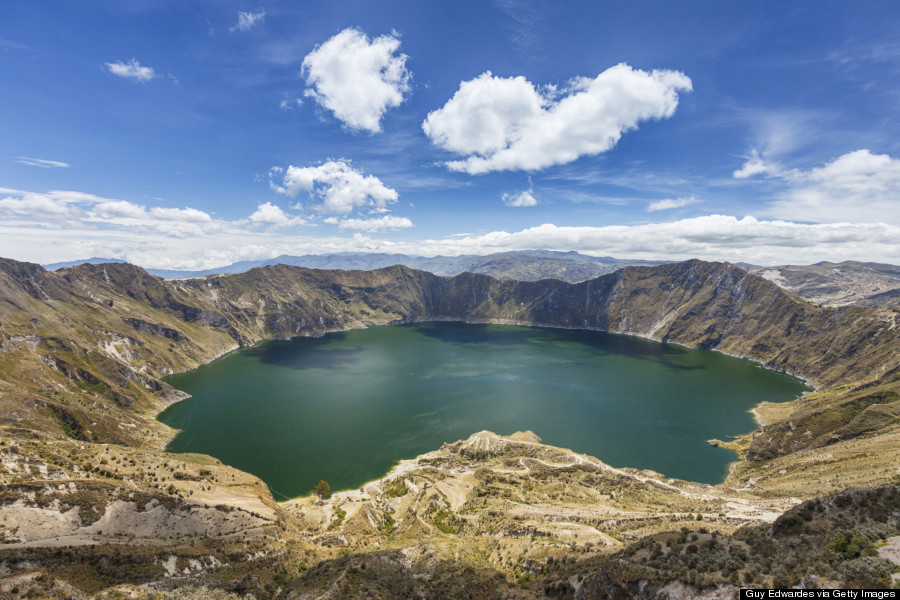 Native peoples of the region respected Crater Lake as a site for spirit quest yet feared it for the dangerous beings said to reside within its depths. The Klamath native peoples see it as a site of spirit power.
Pennsylvania
Mother Bethel AME Church, Philadelphia


Mother Bethel occupies an extremely important place within the annals of African-American history in the United States. Founded by Bishop Richard Allen, who was born into slavery in 1760 and converted to Methodism at the age of seventeen, the church was the place of worship for America's first Black Methodist Society. It was dedicated in 1794 and quickly grew its membership. The church has always been a voice for the downtrodden and provided great support to the Underground Railway.
Rhode Island
Touro Synagogue, Newport "In this July 30, 2009 file photo, visitors stand outside the Touro Synagogue in Newport, RI., the oldest existing Jewish house of worship in the United States. Lawyers for both sides in the dispute between the Touro Synagogue and Congregation Shearith Israel in New York City, said Tuesday, Aug. 13, 2013, that mediation of lawsuits over the building's sale had failed," reports the Associated Press.
South Carolina
Old Sheldon Church Ruins, Yemassee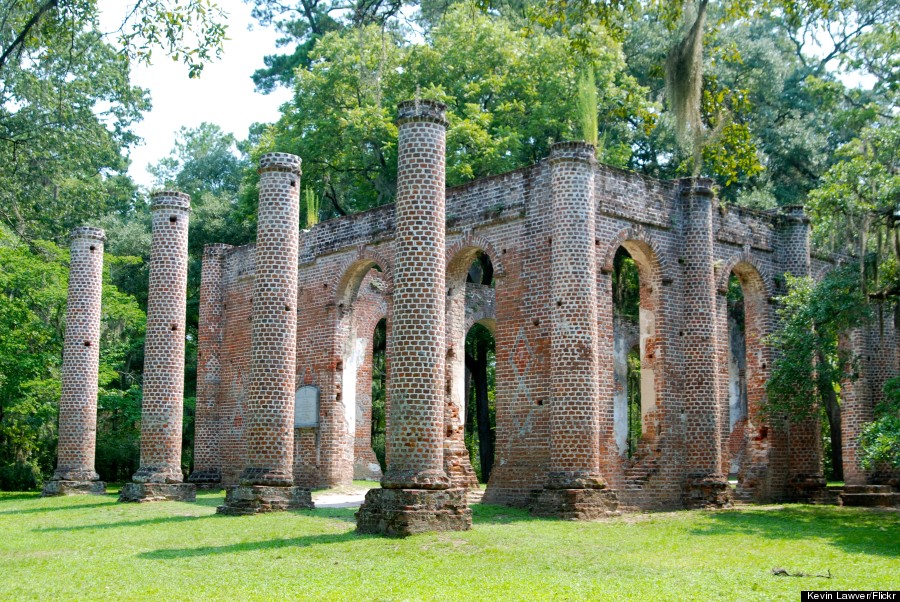 Originally named Prince William's Parish Church, the structure is thought to be " first conscious attempt in America to imitate a Greek temple." Built between 1745-1753, the ruins are now a historic site known as the Old Sheldon Church Ruins. The interior was reportedly gutted in order to repair homes destroyed by Sherman's March.
South Dakota
Chapel In The Hills, Rapid City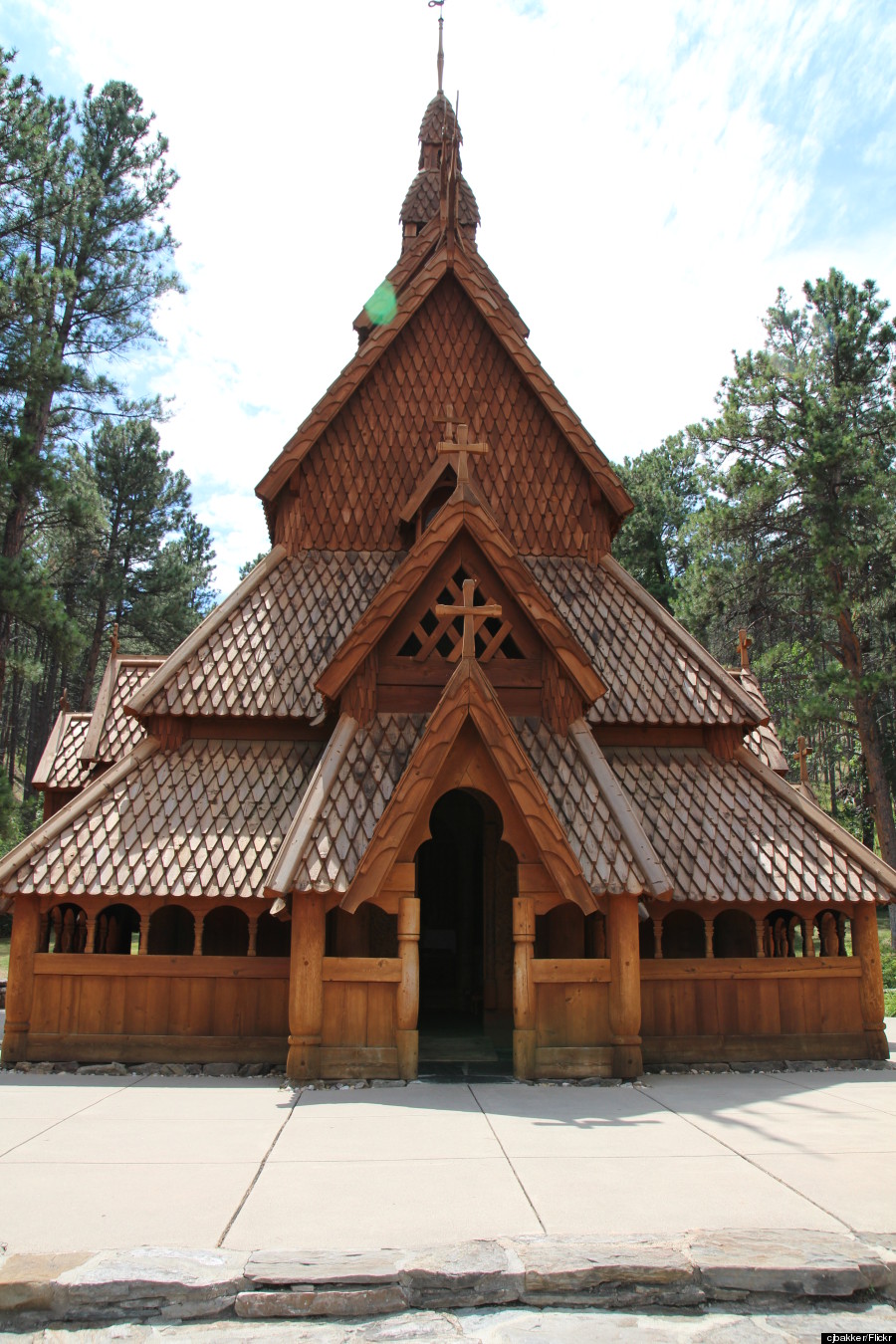 This stave church is an exact replica of the famous Borgund stavkirke, of Laerdal, Norway. Dr. Harry R. Gregerson and Rev. Conrad Thompson were important figures in its conception and construction. Dedicated in 1969, the chapel now receives up to 25,000 visitors per year.
Tennessee
Islamic Center of Murfreesboro, Murfreesboro The Murfreesboro Mosque faced demonstrations in opposition to its construction in 2009-2012. The site was subjected to vandalism and arson, but the mosque opened in 2012.
Texas
Interfaith Peace Chapel, Dallas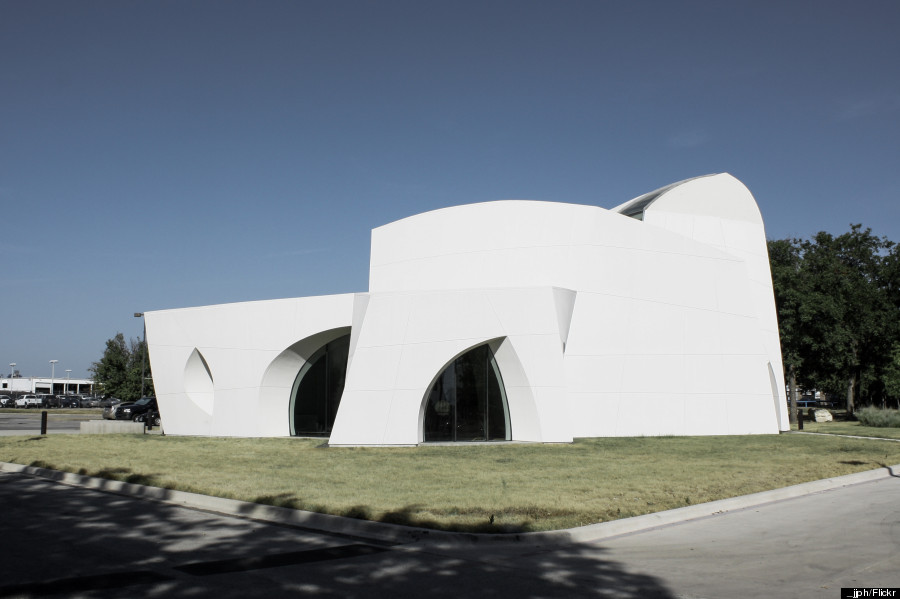 Designed by Philip Johnson, the Interfaith Peace Chapel serves as a "visible proclamation to the world that we must all be committed to peace. It stands as a monument to the cause of peace for all who believe in it, seek it and work for it."
Utah
Salt Lake Temple, Salt Lake City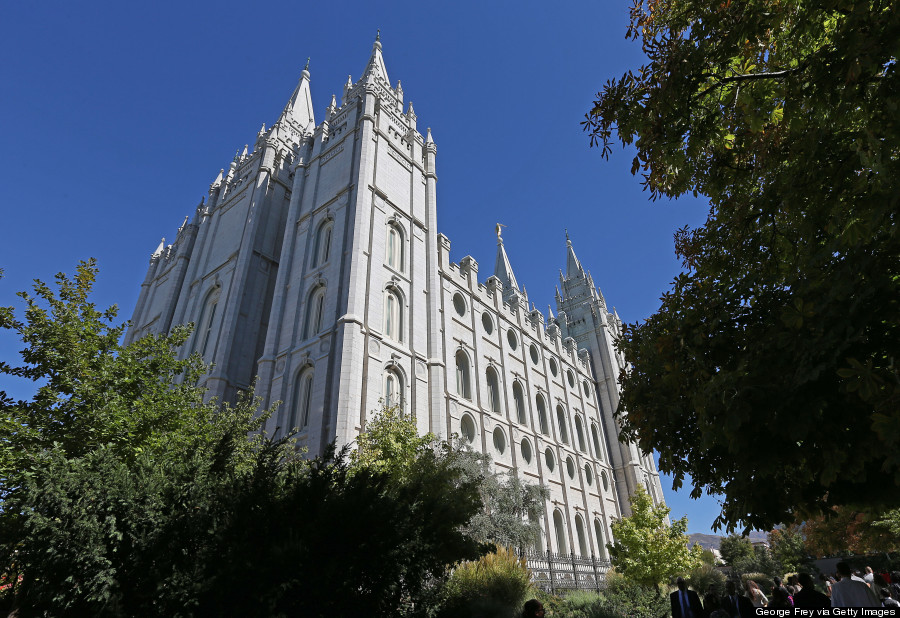 The spires and angel Moroni statue on the Salt Lake Temple make it one of the most iconic LDS buildings, serving as an international symbol of the Church of Jesus Christ of Latter-Day Saints. It took forty years to build, and features walls that are nine feet thick at the base and six feet thick at the top.
Vermont
Old Round Church, Richmond The Old Round Church is thought to be the sole surviving example of a sixteen-sided wooding meetinghouse from the 19th century. It was built in 1812 to serve as a meeting place for the town, as well as to provide a place for five Protestant denominations to meet.
Virginia
St. Luke's Church, Smithfield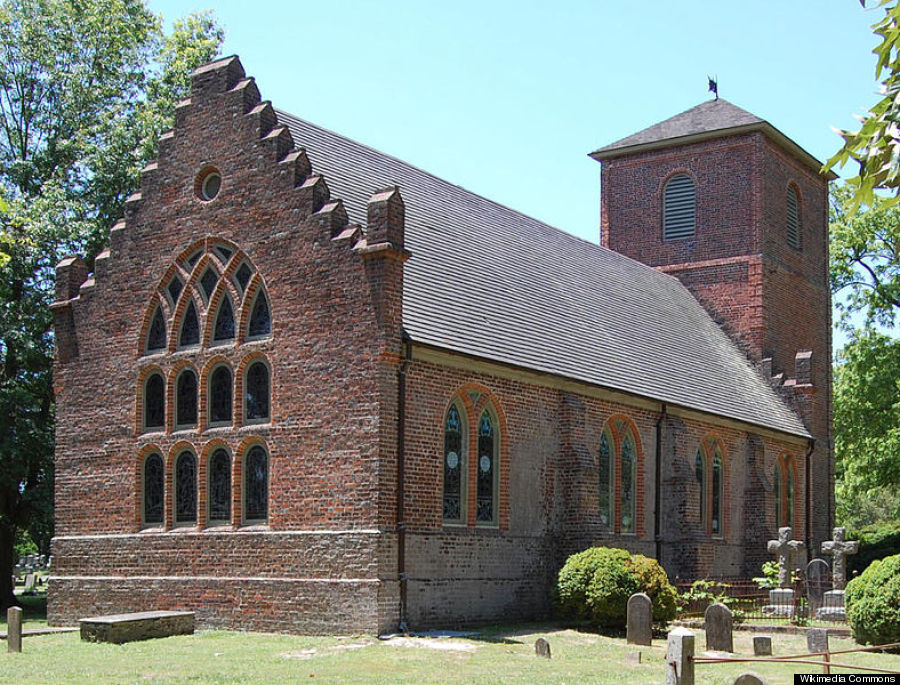 St. Luke's is the oldest extant brick church in the thirteen colonies, and is one of the only Gothic brick churches in the USA. Long known as the "Old Brick Church," its original structure dates back to the early 1680s.
Washington
St. Spiridon Orthodox Cathedral, Seattle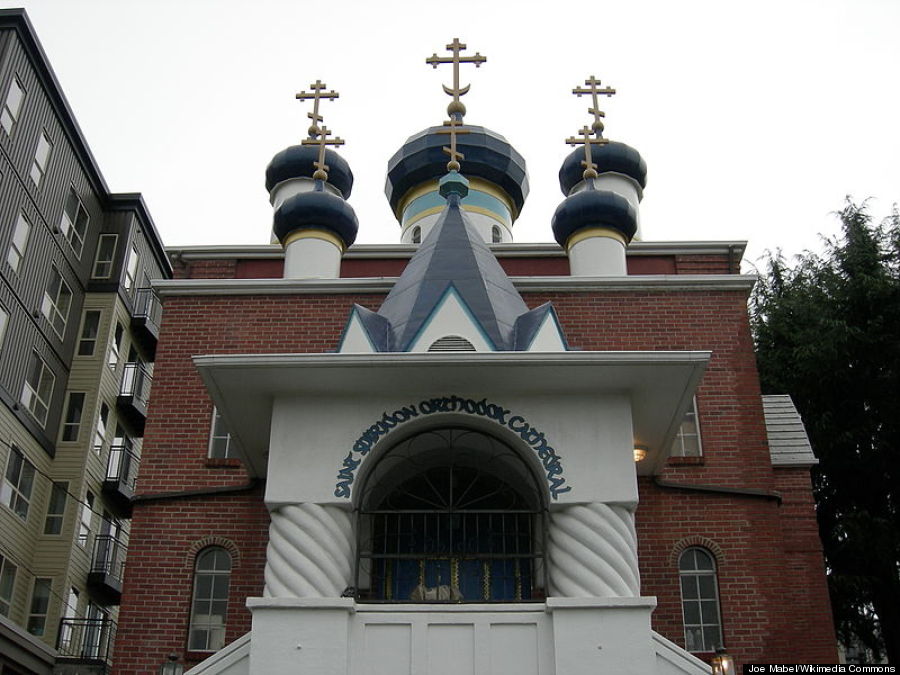 The current St. Spiridon Orthodox Cathedral was built in the traditional Russian Church style, and is far grander than the first church of the congregation which held its initial service in 1895.
Washington, D.C.
Washington National Cathedral, Washington D.C.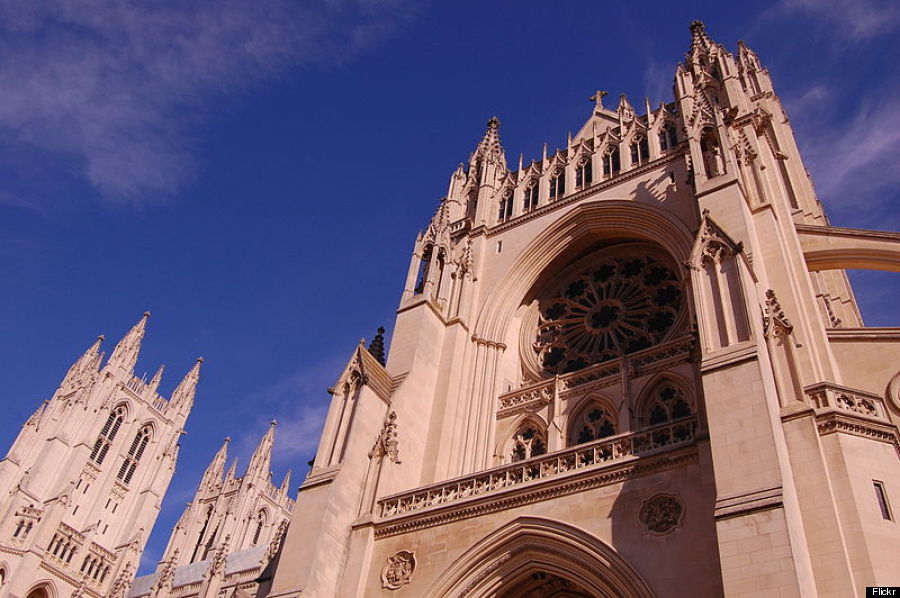 The foundation stone of Washington National Cathedral was laid in 1907, and since then it has been one of the most significant religious buildings in the USA's capital. It is a solid masonry structure featuring flying buttresses of solid stone and soaring ceilings. It is a cathedral of the Episcopal church which welcomes all who enter there to worship.
West Virginia
New Vrindaban, Palace Of Gold, Moundsville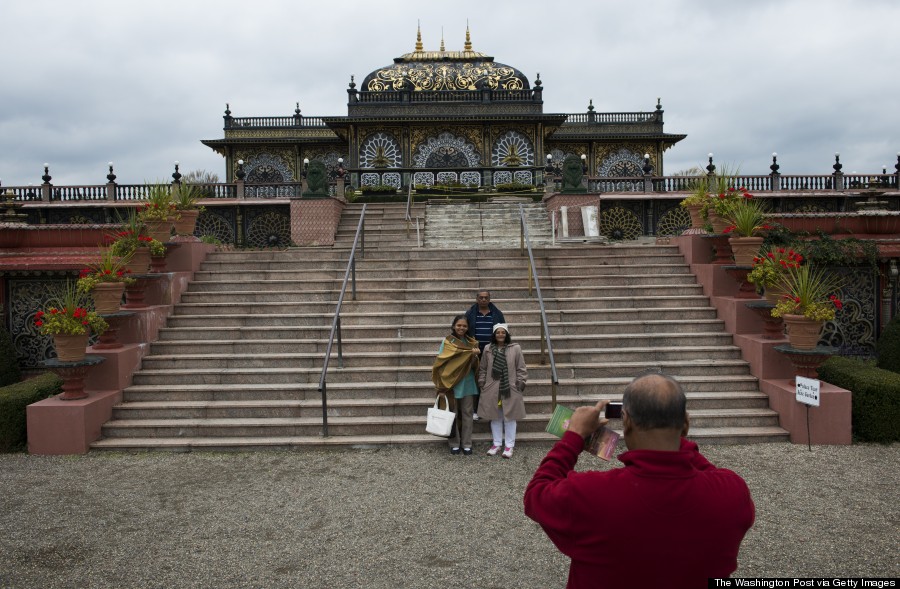 New Vrindaban began as a residence for Srila Prabhuapada, the founder of the International Society for Krishna Consciousness (ISKCON), also known as the Hare Krishnas. It was unveiled in 1979 as a memorial to Prabuapada, who passed away in 1977 before construction was completed. Since then, it has become one of West Virginia's biggest tourist attractions, boasting over 50,000 visitors every year.
Wisconsin
Annunciation Greek Orthodox Church, Milwaukee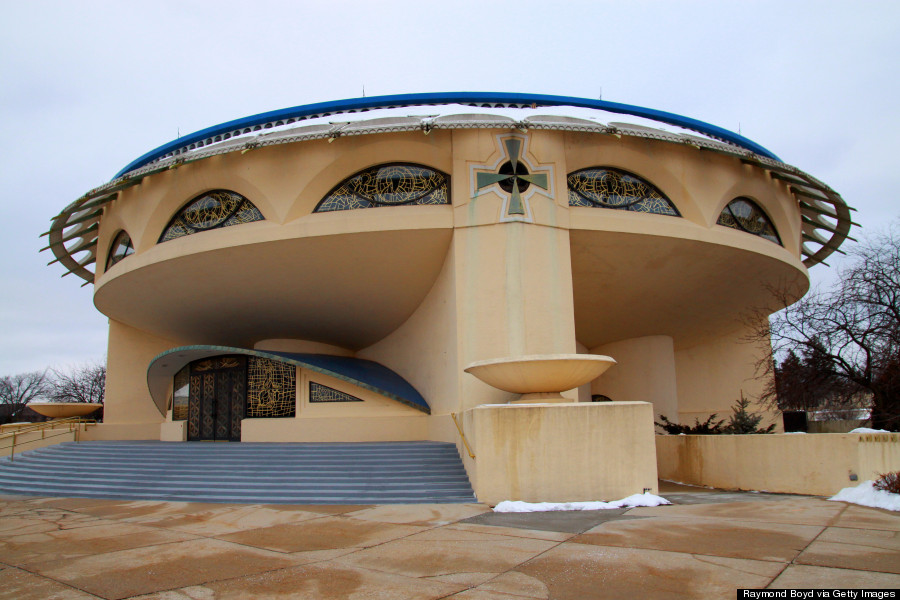 Designed by famed architect Frank Lloyd Wright, Annunciation Greek Orthodox Church was one of his last major commissions. The circular design departs drastically from traditional Byzantine structures, yet incorporates symbols of the Greek Orthodox faith.
Wyoming
Devil's Tower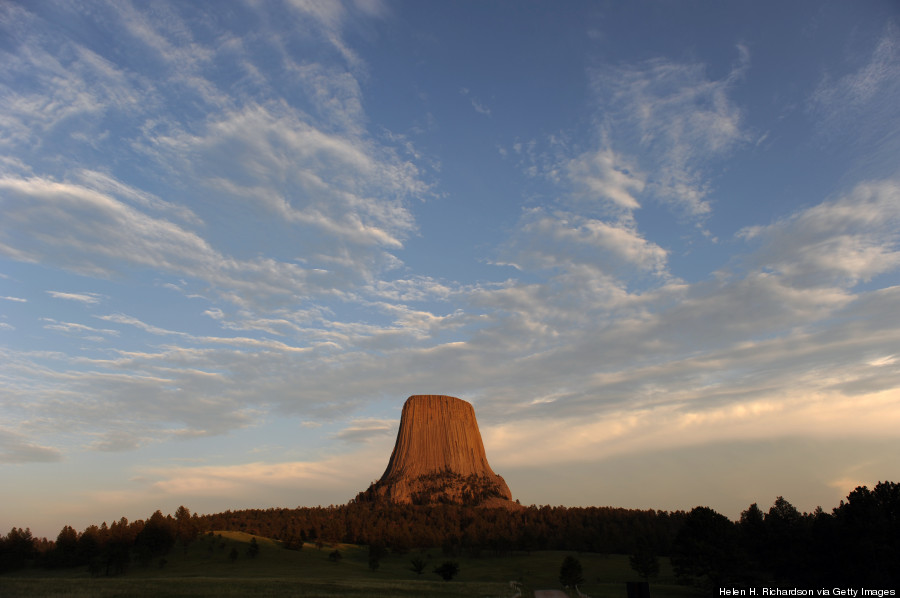 Devil's Tower is a sacred site for many native trives, including the Arapaho, Cheyenne, Crow, Kiowa, and Lakota. Devil's Tower is the site of many traditional ceremonial activities such as prayer offerings, sweat lodge ceremonies, vision quests, and funeral. It features in sacred narratives like origin legends and creation myths.
CORRECTION: A previous version of this article misidentified Duke Chapel.
BEFORE YOU GO
PHOTO GALLERY
Natural Wonders