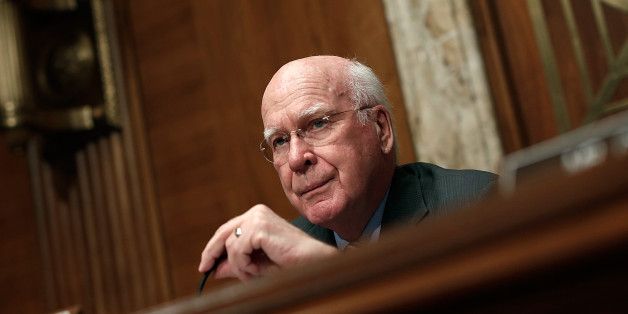 WASHINGTON -- Sen. Patrick Leahy (D-Vt.) should expect some visitors at one of his Vermont offices on Friday: Burlington-area Christians plan to drop by to deliver a petition with nearly 20,000 signatures urging him to oppose the confirmation of President Barack Obama's beleaguered judicial nominee Michael Boggs.
Faithful America, which describes itself as "the largest and fastest growing online community of Christians putting faith into action for social justice," announced Thursday that it plans to reach out to Leahy, the chairman of the Senate Judiciary Committee, over Boggs, who is up for a lifetime post on a Georgia district court. Progressive groups and Democratic lawmakers have denounced his nomination given his socially conservative track record on abortion, gay rights and civil rights.
"Christians don't want a right-wing judge who misuses our faith," reads the group's petition, which calls out Boggs for actions he took during his time as a Georgia state legislator from 2000-2004.
"He built a political career by bragging about his 'Christian values' -- which apparently include fear-mongering about 'homosexual Boy Scout leaders' and posting the names of abortion providers online so they can be threatened and harassed," the petition reads. "Boggs has shamelessly exploited Christianity to advance a far-right agenda, once going so far as to circulate a campaign flyer telling voters that because 'my parents taught me quality conservative Christian values ... I support the right to bear arms ... I oppose same-sex marriage.'"
A Leahy aide said the senator knows the concerns people have raised with Boggs and is still reviewing his paperwork.
"Senator Leahy always takes seriously his obligation to determine whether a nominee is suited for the responsibilities of a lifetime appointment to a federal judgeship," said the aide. "He is aware of concerns surrounding the nomination of Michael Boggs, and he submitted follow up questions to the nominee after his confirmation hearing. Senator Leahy continues to carefully review the nominee's record."
Leahy is a prime target for critics of Boggs, who is currently awaiting a confirmation vote in the Senate Judiciary Committee. Leahy didn't attend Boggs' hearing before the committee earlier this month and, unlike some Democrats on the panel, has remained quiet regarding how he feels about Boggs.
He has emphasized, though, that he had no part of the deal cut between the White House and Georgia's Republican senators to support Boggs as part of an all-or-nothing package of seven Georgia judicial nominees. The White House maintained it had to compromise on Boggs to get other Democrat-backed nominees into the package. And compromise it did: Four of the nominees are GOP picks, and only two are black, despite the state's large black population. But in return, the administration would be able to fill long-empty seats.
In the opening statement he issued for Boggs' hearing, Leahy made it clear that that White House agreement doesn't apply to him or any other senators on the committee.
"I have noted before that there is no 'deal' negotiated with me as chairman of the Senate Judiciary Committee or with any of the other Senators," he said. "There is no such thing as a binding deal that negates each Senator's responsibility to determine the fitness of a judicial nominee for a lifetime appointment."
This article has been updated to include comments from a Leahy aide.
BEFORE YOU GO
PHOTO GALLERY
Longest Serving Senators In U.S. History