Do you think this video shows a goofy pit bull having a good time in the pool? Well, yes, it does. But our enthusiastic leaper is also a champion athlete, going by the name Peanut the Flying Tank.
Michelle Preston got Peanut in 2009, when he was a tiny puppy, to keep her company while her husband, a Marine, was deployed to Iraq for the fourth time.
"I didn't want to be lonely," she says. "I have had him since he was a little baby. We are never out of each other's sight."
About four years ago, Preston, who lives in Southern California, started taking that furry baby to the pool for a sport called "dock jumping," which is basically what it sounds like: dogs jump off docks into water, trying to leap higher and/or farther than their canine competitors.
Peanut quickly established himself as a top dog in the dock jumping world. He was once measured jumping 19 feet, eight inches across a pool, and has been recognized multiple times for his abilities by dock diving organizations such as Splash Dogs and Ultimate Air Dogs.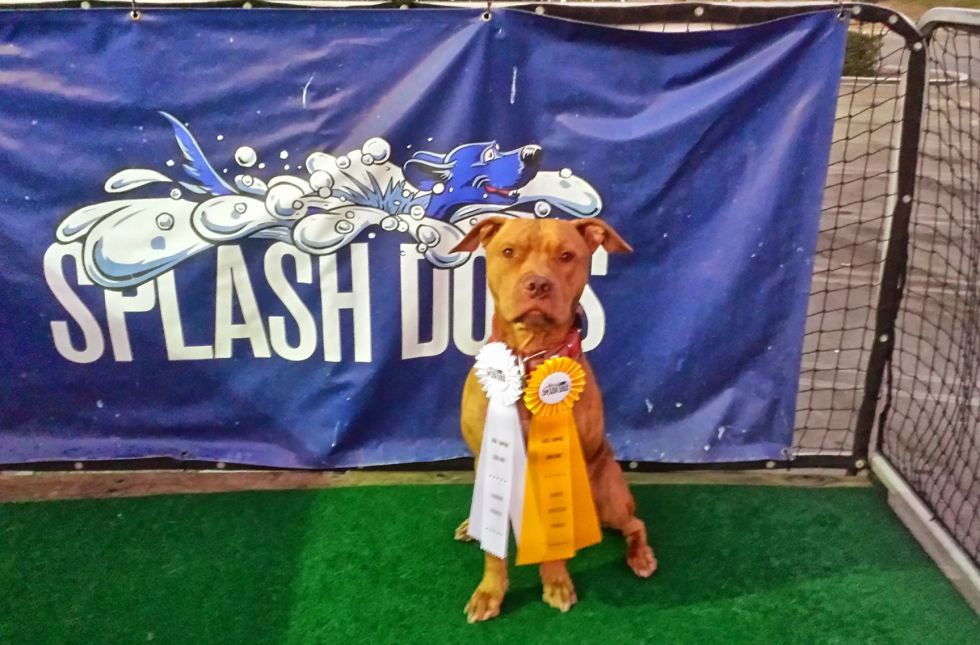 Photo credit: Michelle Preston
The sport you see Peanut dominating in the video is called Fetch It!, "where a bumper is suspended a few feet over the water each time the dog catches it it moves out another foot," says Preston. "The video was made during Peanut's second time ever trying out that discipline. He took to it like he has been doing it for years."
A mother gets to brag. But, really, it wasn't ribbons or accolades that Preston was after when she started her pup down this road of wet competition. Peanut is a breed ambassador who recently appeared in the Cesar Millan "Love My Pit Bull" TV show. And, yes, a reason Preston was eager to get her dog involved with sports is to help people see pit bulls "in a positive light," she says.
"One of the things I love with dock jumping people get so excited seeing him and come over to talk to us about him. Any way we can help change a mind, even in a small way, is big to us."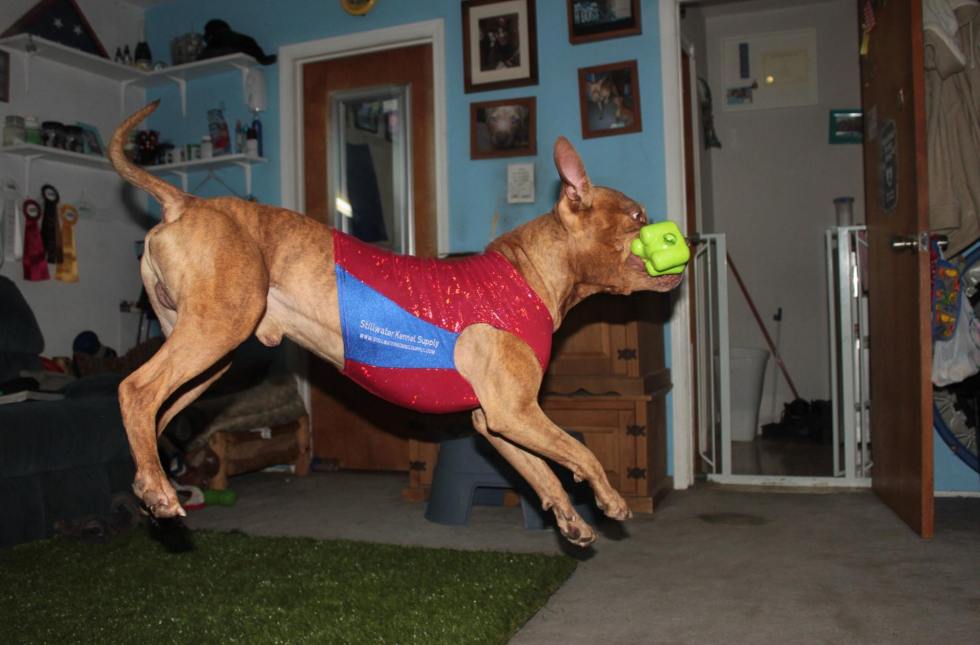 Peanut likes to leap in the comfort of his own home, too. Photo credit: Michelle Preston
Her ultimate, most basic goal for the Flying Tank, though, has always been less political than pragmatic.
"If he's not exercising he gets bored. When he's bored he complains, he knocks things over and he will empty his toy box," she says. "When we are not dock jumping we are playing together and working out together. Peanut is high energy so he always wants to do something active. My life is dedicated to Peanut."
Check out more Peanut the Flying Tank pics and videos on his Facebook page, head to The Unexpected Pit Bull -- where we first saw the Peanut video -- for more great pit bull media, and email arin.greenwood@huffingtonpost.com if you've got an animal story to share!
BEFORE YOU GO
PHOTO GALLERY
These Pit Bulls Need Homes!