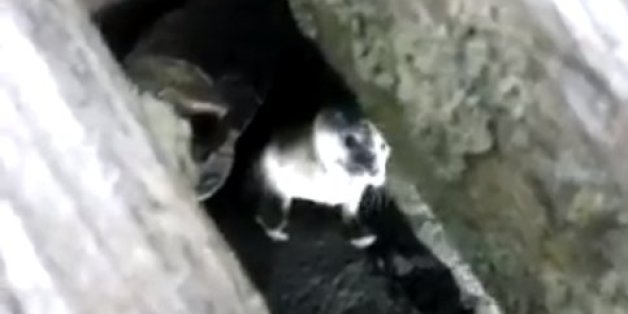 How could you NOT want to help this seal pup?
UPDATE: 11:30 A.M. - The seal pup was caught in a crate around 11:15 a.m., and Marine Patrol officials are assisting in transporting the animal to a sanctuary.
Previously:
The little guy got himself trapped on the rocks underneath a dock in Spruce Head, Maine, early this morning, 26-year-old Derrick Woodward told The Huffington Post.
"We came up at about 5 in the morning and we could hear it making noise," said Woodward, who buys and sells lobster at Atwood Lobster.
He guessed that the seal swam up on the rocks when the tide was high, then became trapped when the tide went out, leaving the pup about 10 feet above the surface of the water. Before the animal got stuck, people had been seeing the seal around the harbor for about a week, Woodward suspects the pup is sick.
"Most baby seals, when they come up the coast to humans, there's something wrong with them," he said.
He added that the seal looks like it's at the age where it still needs its mother around, but that no other seals have been spotted. Earlier in the week, Woodward said, the pup "would go up to a buoy and try to suckle it."
Marine Patrol officials rescued the animal and released it back into the harbor at around 10:45 a.m., but the fate of the baby seal is still uncertain.
"Now the pup's just puttin' around the harbor," Woodward said.
Officials aren't sure where they can take the seal for the help it might need. Earlier this month, the University of New England announced that they would be closing their Marine Animal Rehabilitation and Conservation, which operated the only marine animal rehabilitation center in the state, and that they would be unable to take in any more animals, WMTW reported.
Executive director of Marine Mammals of Maine, Lynda Doughty, told Seacoast Online that the decision was "devastating" and would surely result in the deaths of animals unable to survive the trip to the nearest rehabilitation center in Connecticut.
Like Us On Facebook |

Follow Us On Twitter |

Contact The Author
BEFORE YOU GO
PHOTO GALLERY
100 Most Threatened Species