Forget snakes. On this plane, it's violins that have people treble-ing.
Seriously.
Musicians Nicolas Kendall and Zach De Pue were kicked off a US Airways flight from Charlotte, N.C., to Fayetteville, Ark., on Monday, after attempting to bring their instruments on board the aircraft as carry-on. CNN reports De Pue, who is the concertmaster of the Indianapolis Symphony Orchestra, has a violin worth $250,000 -- enough, he says, that he wasn't willing to risk it in the cargo-hold.
"We were stopped as we entered the plane by the captain and his stewards. They told us that no musical instruments were allowed on the plane," Kendall recalled to the "Today" show in a segment regarding the affair. "We told them that as a touring act, we have flown on countless US Air flights ... with absolutely no issue."
The musicians' business manager, Brandi Numendahl, confirmed to WUNC this has never been an issue before, and added they "were one of the first ones on the plane," so presumably there was ample overhead storage space.
Nevertheless, (and despite an FAA regulation explicitly permitting instruments as carry-ons) the two were kicked off the flight and left standing, perplexed and alone, on the tarmac.
Where most people would let loose a stream of indignant epithets, however, De Pue simply picked up his violin and began playing, while Kendall captured it all on video.
A copy of the video (and yes, it's an instant classic) shows De Pue launch into J.S. Bach's Partita No. 3. As he plays, crew members continue to prep the aircraft, ignoring the duo's delightful act of defiance.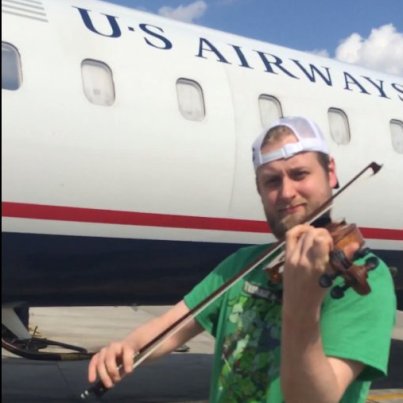 In a statement to ABC News on Tuesday, US Airways apologized "that the musicians were inconvenienced," adding, "We confirmed seats for them on a later flight and they arrived in Fayetteville last night. We wish them good luck as they perform at the Arts and Nature festival this week."
WATCH the video, below. Warning: video contains adult language.
BEFORE YOU GO
PHOTO GALLERY
The Greatest Guitarists