This cover-up got exposed.
Female students at Wasatch High School in Heber City, Utah, are ticked because their yearbook photos were altered to reveal less skin -- without their knowledge.
Sophomore Shelby Baum (pictured below) noticed that the neckline on her blouse had been raised. "They didn't give you an option to fix it, so you look funny in your yearbook picture," she told Fox 13 in the segment above.
(Story continues below.)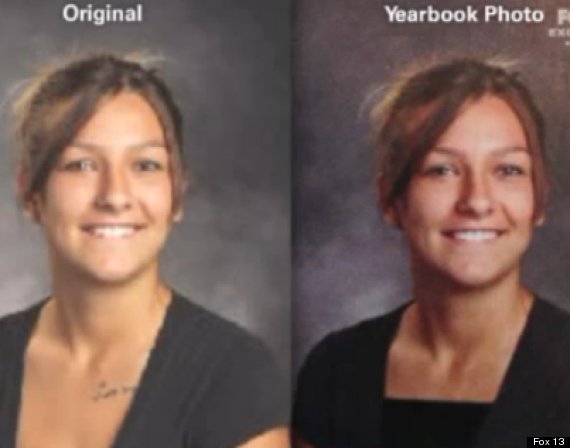 An example of a student's edited yearbook photo.
Others complained to the station that the policy seemed arbitrary -- some students are shown in untouched pictures wearing less.
School officials copped to the modesty photoshop, saying students know the dress code and that a sign at the photo session warned them that their pictures could be edited. "We only apologize in the sense that we want to be more consistent with what we're trying to do in that sense we can help kids better prepare for their future by knowing how to dress appropriately for things," Superintendent Terry E. Shoemaker said in the clip.
At BuzzFeed, reader reactions ranged from the sarcastic -- "Uh oh, can't have young impressionable boys seeing sinful female shoulders! What's next, letting women show their knees?!" -- to the supportive -- "Look, these teens need to realize that if [there] is a dress code you follow it. At 95% of all jobs I have had everyone had to have sleeves. Even at office jobs in Phoenix, so I really want to tell these girls to deal with it."
On Reddit, one commenter took direct aim at administrators. "The only way that this school district is 'preparing the students for the real world' is by showing them that they'll consistently have to deal with stupid people making stupid decisions for the rest of their lives. None of the shown photos were deserving of any touch up."
Let us know what you think in the comments below.
(Hat tip, Uproxx)