 Thursday, May 29, Bryan Cranston stopped by CNN and decided to blow up the Internet. When asked point blank if Walter White was dead, Cranston answered, "I don't know," and when it came to the possibility of a "Breaking Bad" movie, he replied," Never say never."
With that, Twitter went on an emotional roller coaster, which we've broken down into 10 stages of acceptance.
Stage 1: Initial Shock
"@itvnews: Bryan Cranston suggests there could be more Breaking Bad http://t.co/Qfi1kOOrKO pic.twitter.com/gtHeXngt0n" *dramatically faints*

— EnterRashikari (@Rashik_A) May 30, 2014
Is this real life? 0_0 http://t.co/9FacevkUJ2

— Wes Walz (@djweswalz) May 30, 2014
Stage 2: Confusion
Einsenberg is alive !!! http://t.co/NeOLbvwhKr

— jlabbe (@jplabbe) May 30, 2014
Just for clarification, Walter White's alter ego is Heisenberg, not quirky actor Jesse Eisenberg.
Stage 3: Reasoning
With him as a zombie? "@ComplexMag: Bryan Cranston said in an interview that there may be more "Breaking Bad" ahead. http://t.co/NdVchRbLCl"

— Junglist (@Loupreme_) May 30, 2014
if walter white ain't dead, then PROVE TO ME Tony Soprano died. http://t.co/haEAn8eIud

— Stefanie (@stefsaysgovols) May 30, 2014
Stage 4: The Celebrity Endorsement
....the lord heard my cry....some more? http://t.co/ECE6Rhhy6S #5SeasonsAndAMovie? #BreakingBad

— Questlove Gomez (@questlove) May 30, 2014
Stage 5: Playful Excitement
http://t.co/wXl79QJOvt BRYAN I WILL HIT YOU, STOP IT. STOP TEASING.

— nina (@hihelloitsnina) May 30, 2014
Stage 6: Actual Excitement
WALTER WHITE NOT DEAD?? THIS ISNT THE END??? YES YES YES THANK YOU BRYAN CRANSTON

— Alaina Serno (@lain_serno) May 30, 2014
Stage 7: Denial
I'm hoping Bryan Cranston was just misquoted or winding up the journalists.

— Daniel Burden (@Danburden1138) May 30, 2014
I'm going to assume Cranston was just throwing the reporters a bone, hoping they would stop asking him Breaking Bad questions for a while.

— Andrew Shaw (@androoshaw) May 30, 2014
Stage 8: Anger
NO NO WTF IS THIS!!??YOU BREAK MY HEART BY ENDING THE SHOW AND NO YOU"RE TRYNA SAY "Oh there MIGHT be more?" HELL NAH
http://t.co/lxZsAUDCmB

— † Helena † (@OtomiruPrincess) May 30, 2014
Bryan Cranston hinted that Walter White might not be dead, and if that's true I swear I will engineer a virus to wipe out all nerds.

— Mike Zeidler (@Mike_Zeidler) May 30, 2014
@GemOfAmara @tvdotcom Bryan Cranston just dropped 28 points on the Cool Guy Index.

— Jeremy Clymer (@JeremyClymer) May 30, 2014
Stage 9: A Religious Awakening
THERE IS A GOD!
http://t.co/P1dvnJdHCh

— Claire Fearon ✌ (@televisionary_) May 30, 2014
Stage 10: A Final Realization
@OliverFrenchie Bryan Cranston is Justin Bieber o___________o

— Nalbis (@TotallyNalbis) May 30, 2014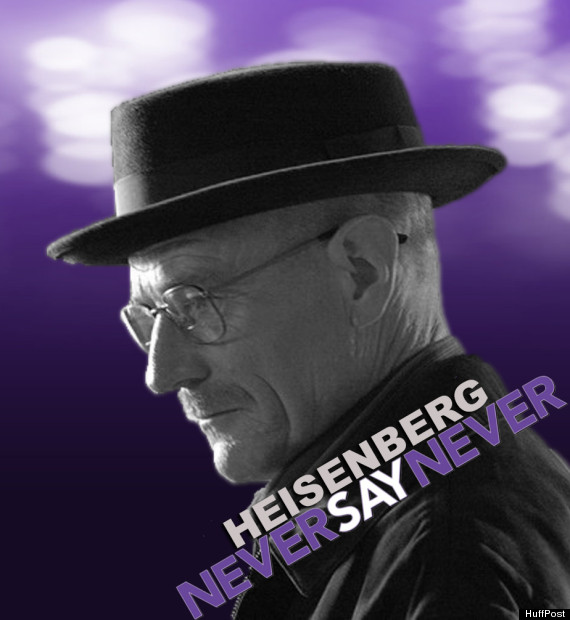 PHOTO GALLERY
'Breaking Bad' Final Episodes Images
BEFORE YOU GO