Claire Shipman, co-author of The Confidence Code, supplied us with a few important and surprising "do's" and "don'ts" when it comes to confidence tricks.
Many women follow the mantra of "fake it until you make it" to get a jump start in their career, but Claire actually warned against this approach.
"Yes, sometimes you need to get a jump start, but for women who are already often so oversensitive about being a fraud or posturing, constantly saying you're going to fake it or uphold a false sense of bravado can actually make you feel more insecure," she cautioned.
A "do" on Claire's list of confidence-building tips: "Just do it! When in doubt, act."
For example, if you've worked on a big work presentation for five days and are wondering whether or not to turn it in, Claire urges you to turn it in.
"Think less, act more!" she urged.
How confident are you? Take the Confidence Quiz here to find out now!
For more of Claire's expert confidence tips, view the slideshow below:
PHOTO GALLERY
Confidence Boosting Habits From Claire Shipman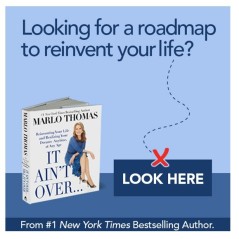 Add Marlo On Facebook:
Follow Marlo on Twitter:
Sign up to receive my email newsletter each week - It will keep you up-to-date on upcoming articles, Mondays with Marlo guests, videos, and more!