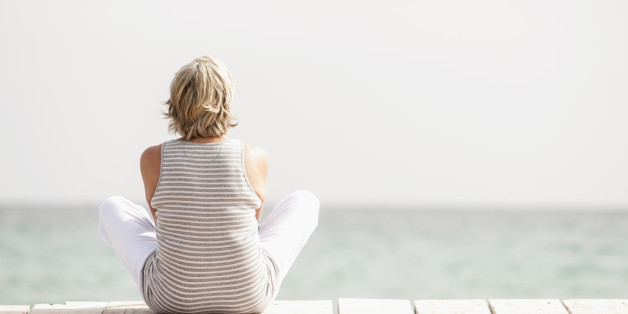 "This Is Divorce At..." is a HuffPost Divorce series delving into divorce at every stage of life. Want to share your experience of divorcing at a certain age? Email us at divorce@huffingtonpost.com or tweet @HuffPost Divorce.
There's one word that our reader Diane J. uses to sum up divorce in your fifties: Liberating.
"The big difference about divorce in your 50s compared to divorce at any other age is just how freeing it can be," she told us. "The kids are grown, you've unloaded some of your baggage and it's just you and the world. I was able to be a little selfish for the first time in my life."
Below, Diane tells us more about her divorce, starting anew and finding the man she knows she was meant to be with at just the right time in her life.
Divorce after 50 isn't any worse than divorce before 50. In fact, in some ways it's much easier.

I divorced at 55 years old. It was my decision. I had been married to my husband for more than 20 years, I had two grown daughters and things just didn't feel right anymore. I didn't expect bliss; as a matter of fact, I am quite the realist and thought that, as far as marriages go, ours was pretty OK -- with one exception: My husband had an annoying need to be the center of attention at all times. He'd do anything to get there. I spoke to him about it many times, but as we got older it only seemed to get worse. Eventually the crude jokes and his flirty ways with other women were too much for me.

I decided to end my marriage and immediately began to look for apartments in the midtown Atlanta area, near my work. I found one, paid for it that day and had the maintenance guy from my work meet me at my house with a truck the very next day. I grabbed my personal items from my marital home and a few furniture items that I had purchased myself. I took the older TV, the guest bedroom furniture and a few lamps and linens. You could hardly tell I had moved out. I left my husband a note and told him a bigger note would follow. I purchased a sofa, had it delivered and had divorce papers drawn a few days later.

I was happier than I had been in years. I didn't want the burden of the house. I didn't want to live in the suburbs any longer. I wanted to be as far away from that life as I possible. My children were grown and self-sufficient at this point. They were happy for me. My husband was sad, then angry, then sad again, then mean-spirited, but those were his feelings and he was entitled to have them. I had tried; I could honestly look in the mirror every day and know that I tried my very hardest to make the marriage work. I asked him if he could do that, he said he didn't think he could, but he would try harder. I just couldn't do it any longer.

My life after divorce was, in a word, liberating. I believe with all my heart that there are two times in your life when you can explore yourself, the world and your dreams. One is when you get out of college and don't have a husband and kids. The other is when your kids are grown and you have worked hard enough to be able to have the luxury of time to do those things. If you no longer share the same hopes and dreams as your partner, you shouldn't feel the need to settle.

I threw myself into work, got reacquainted with old friends, made new friends, took some classes and enjoyed my hobbies again. I also met a man, or re-met a man, rather. I ran into my former boss at restaurant. We talked for hours and hours. He was divorced now, too. We just clicked and it was so nice to be with someone who looked at me like I was the most beautiful woman he'd ever seen. Here was a man who didn't ignore me because he was so focused on getting the attention himself. A man who told me every time he saw me that I looked beautiful, instead of asking me, "Well, how do I look?" every morning before work, like my ex had.

We took our time, but our love grew and blossomed. I was diagnosed with colon cancer five years ago, and we've tackled that with all that we've had. We were married a few years ago, after my diagnosis. We rushed a little because I didn't want to be a bald bride.

I can say that my husband is the most wonderful man in the world: handsome, smart, funny, caring, kind, and my children and grandchildren adore him. My prognosis is not good. I have fought a hard battle and am back on chemo just to "slow things down," but ultimately, we know that we don't have a lot longer. Still, when I reflect on the dissolution of my marriage and think of my personal growth and the love I've found since then, I know that I'm where I need to be in my life. It may have taken 55, but it was worth it.
Keep in touch! Check out HuffPost Divorce on Facebook and Twitter. Sign up for our newsletter here.
BEFORE YOU GO
PHOTO GALLERY
Hollywood's Gray Divorces