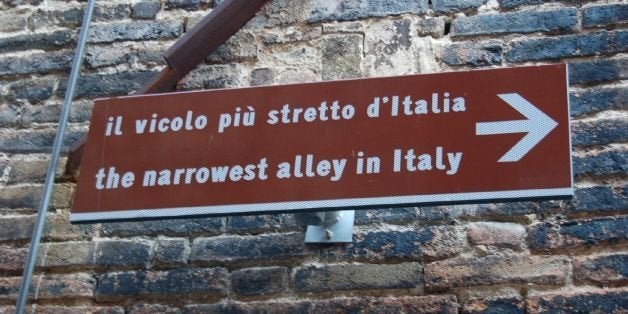 Hands down, Italy has the best food and the best local arguments.
Three towns in Italy are currently waging war over who gets to claim they boast the narrowest alley in the country, CNN reports. The three towns -- Termoli, Ripatransone and Citta della Pieve -- all use the claim to fame to attract tourists.
Termoli, located on the Adriatic Coast of Italy, asserts that Rejiecelle ("the little street") is the skinniest street in all of Italia. Oscar De Lena, president of the local archaeological society, told CNN the street measures a mere 15 inches at its narrowest spot.
"I've known it since the day of my birth," he said. "So I started measuring it over and over again, up and down, down and up. I've covered each single point."
Over in the Marche region's Ripatransone, "the Alley" measures at 43 centimeters (about 17 inches) wide. Ripatransone tourism official Ilene Acquaroli insists "the Alley" takes the cake, claiming that Termoli's claim is null because their alley fails to meet proper criteria.
Finally, in the Umbrian city of Citta della Pieve, locals claim "Kisswomen Alley" is the tightest squeeze in the country. Their alley measures at 45 centimeters wide and was originally set up to create a divide between the estates of two bickering neighbors.
If the numbers don't lie, Termoli should technically be the winner. But that's not really what matters here. The dispute is all of the fun.
BEFORE YOU GO
PHOTO GALLERY
20 Gorgeous Seaside Towns In Italy