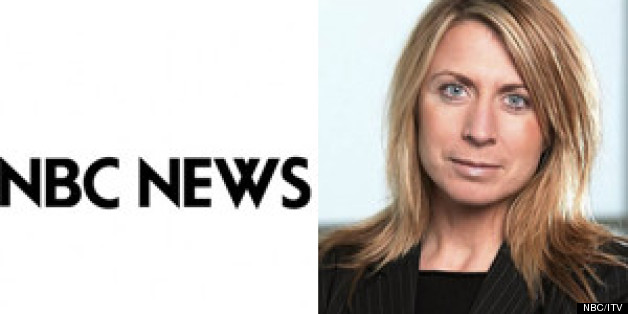 NBC News President Deborah Turness took a modest, humble route in applauding the network for its interview with Edward Snowden on Wednesday.
Just kidding!
In an email to staffers, Turness called the interview "the greatest scoop of recent times." She thanked the entire news team for its "incredible team effort" and said that the outcome was "a proud moment" for NBC News.
"It was revelatory, it was fascinating, but more than that it was an event," she wrote. "It was that rare thing – a special moment that needed to be seen live, not on DVR. It really mattered."
NBC News host Brian Williams sat down with Snowden for his first interview on American television this week. It was a rather groundbreaking nab for NBC News as Snowden has held back from making any major media appearances in the year since he released the confidential NSA documents.
Read the full memo, which was obtained by The Huffington Post, below:
Dear All,

Last night was a proud moment for NBC News. Brian's exclusive interview with Edward Snowden was the greatest scoop of recent times. It's already provoking reaction at the highest levels and may yet change the course of the Edward Snowden story.

Brian's unique talents as an interviewer yielded a conversation that was not only captivating to watch, but consequential in its content. Thanks to Brian's questioning Edward Snowden was transformed from a remote, vague figure into a man with a mission and a philosophy that can finally be understood by our audience.

As a small group of us sat in an edit room on the 5th floor at 4am last Wednesday to watch the interview come in live, we knew we had something special. But last night those 5 hours of material were crafted into a stunning hour of network TV.

It was revelatory, it was fascinating, but more than that it was an event. It was that rare thing – a special moment that needed to be seen live, not on DVR. It really mattered.

And, it seems America agrees. We attracted nearly 6 million total viewers and won both the 18-49 and 25-54 demos. The audience grew over the hour, with the second half of the broadcast attracting more viewers. And throughout the hour thousands took part in a conversation on social media, debating whether Snowden is a #traitor or a #patriot. At NBCNews.com, our engaging coverage has drawn over 6 million page views and over 1 million video streams, with a huge spike when Brian anchored an hour-long livestream conversation following the broadcast. The webcast showcased the best of NBC News -- with Brian joined by Pete Williams, Andrea Mitchell, Chuck Todd, Michael Leiter, and Michael McFaul offering expert analysis, and Kevin Tibbles in the field highlighting the voice of the people. Brian was in his element yet again, drawing out the best of our brilliant team.

The reaction has been swift and powerful. From Secretary Kerry's strident "man up and come home" response, to the release just this afternoon of a previously withheld NSA document -- the ripple effect will continue for a long time to come.

I am so grateful to each and every person who played their part in getting us from "Let's go after Snowden" to last night's outcome. It was, from start to finish, an incredible team effort. From the early relationship building to the complicated logistics of travel and production (much of it secretive), and then through the forensic process of editing over four hours of material into one hour, checking every fact, and working to advance the story. The entire project was a tremendous display of collaboration across editorial, investigative, Nightly, primetime, digital, standards, legal, marketing, communications, and so many others.

My special thanks go out to Richard Esposito who masterminded the project, with the support of Matthew Cole, and the investigative unit. To Alex Wallace and Janet Klein who worked so closely with Brian to make it happen. To Madeleine Haeringer who oversaw the complicated effort of constructing a multi-camera shoot in a hotel room across from the Kremlin. To Justin Balding, Tim Sandler and their army of editors and producers who spent many sleepless nights perfecting every frame of footage. And to the promos team who not only created a fantastically dramatic campaign, but also helped craft the sensational open for the broadcast. Richard Greenberg was across every word and comma. And Greg Gittrich lead the powerful digital charge to ensure the story reached every platform and set social media alight. There were so many people involved and it was the most spectacular team effort I have seen.

We should all be so very proud.

I look forward to the next big prize!

Deborah