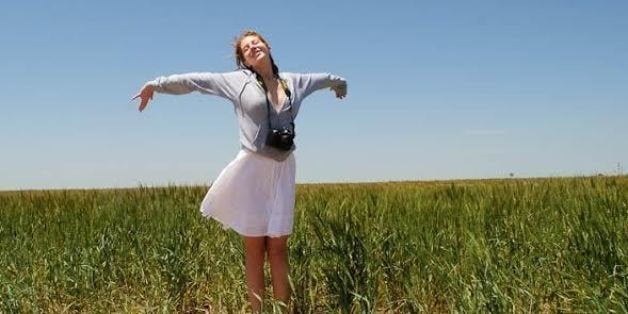 It was a dream come true for Nickol Kornilova to attend New York University's Tisch School of the Arts, but after graduation, the film production career she'd dreamed of left her feeling overwhelmed and unfulfilled. Taking a step back, she channeled her passion for meditation into a new business venture of her own, and at 24 years old, she couldn't be happier.
The daughter of Colombian and Russian immigrants, Kornilova grew up in New York City and attended a visual and performing arts high school. From an early age, she knew she wanted to study acting and film production, but her family's limited financial means made attending college a luxury rather than a guarantee.
"When I finally got accepted to NYU, I had to decide whether I could even afford to go," Kornilova told The Huffington Post. "No one in my family had ever gone to a university like that."
With financial aid and substantial loans, she enrolled at the university, but constantly worried that she wouldn't be able to finish the program. She squeezed eight semesters of classes into three years, and even then her final year was a financial struggle due to the recession and fluctuating interest rates on her loans.

Soon after completing her degree in 2010, Kornilova moved across the country to Los Angeles, taking a highly coveted assistant job at a film production company. With the unemployment rate creeping higher and higher, she considered herself lucky. However, her perspective began to change the more time she spent at the office.
"The hours were extreme," she said. "Many of my co-workers would stay well past midnight pretty regularly. Sometimes I would catch my manager, a really smart and driven woman, crying from time to time at the end of the day. It was hard to be 20 years old and see what a toll her job had taken on her sanity."
Kornilova repeatedly told herself, "Being an adult means working really hard," so she pushed through her workdays with that mantra -- and her pile of student loans -- in mind. Later, she left to work for other companies as a producer. Her hours only seemed to grow longer, and her personal life disappeared.
"I just wasn't happy," she said. "I was really stressed out, and I wasn't in an environment where the people surrounding me were happy, either. People were really just trying to make it from the morning to the night. They were just trying to work and get paid. People weren't actually that excited about the end result."
Thanks to her father's background in holistic care, Kornilova has been a lifelong practitioner of meditation and yoga. Her father also gave her the opportunity to learn about Reiki, a Japanese physical therapy technique. Kornilova credits these three practices with allowing her time for mindful awareness and reflection, which she says kept her grounded and helped her endure the stresses of her busy lifestyle.
After a year on the West Coast, she began to share these practices, hosting meditation circles for her friends to help them cope with stress. Her small circle quickly transformed into a donation-based meditation and Reiki group on the beach after work hours, which she opened to women throughout the Los Angeles area.
"I wasn't in it to make money," she said. "I just wanted people to go, whether they could afford it or not. We would watch the sunset and breathe. It felt like a nice gift after a long workday."
It wasn't long before women were asking Kornilova for private sessions and more meeting times throughout the week. While she enjoyed her time in the meditation and Reiki circles far more than the hours she slaved away at her desk, she worried that leaving her stable office job to build a wellness startup wouldn't lead to financial sustainability.
Ultimately, she said, her unhappiness and dissatisfaction outweighed her fear of debt. She went from hosting a few beach sessions each week to setting up her own business, The Reiki Table, to offer these practices to women throughout LA. She spent the following years balancing her new business and personal projects with occasional production jobs, just trying to get her feet on the ground.
"I felt like it was impossible," Kornilova said. "I would never find a way to pay for my student loans and follow my dream and grow. I felt like I didn't understand how other people were doing it."
This year, finally, Kornilova said she left her office job for good. She spends her days running The Reiki Table and freelance producing only for projects that inspire her. Kornilova said the decision to leave behind financial security, health benefits and a clear career path was one of the hardest she's ever had to make, but that she's humbled by opportunity to help other women every day.

"I love seeing women be really empowered," said Kornilova. "We live in a time right now where women often feel adversity in their communities. Some are struggling to give themselves the permission to express emotional concerns in their professional and personal environments. We don't have to be superheroes that take everything on without finding a place to relax or release. Woman need to know that they can be strong and ambitious, while not compromising their emotional boundaries."