When it comes to the science behind confidence, Claire Shipman, co-author of The Confidence Code, explained the extent to which this gene can be manipulated over the course of a human's life.
After digging into the science behind confidence, Claire was shocked to learn that there is actually a genetic component of confidence. It turns out that genes that affect our serotonin, dopamine and oxytocin levels in the brain are the genes which also influence confidence. These same genes also affect the inversely related gene of shyness or anxiety.
"Scientists estimate that the confidence gene is somewhere between 25-50% inherited," she explained.
Although there is no gender divide for the confidence gene, those genes are distributed differently depending on another key factor: testosterone levels.
"The deciding factor is testosterone. Testosterone directly leads to risk-taking, so higher testosterone levels lead to a higher ability to take risks," Claire explained.
For people who are born with low genetic confidence levels, the good news is that there are ways to increase confidence through everyday habits.
"It's all about brain plasticity," Claire said.
"If we change our habits, we can change how our brain is wired. Confidence is about taking action, so the more action and risks we take, the more confidence we build."
Since confidence comes from doing things that frighten us and put us outside of our comfort zone, Claire encourages everyone to challenge themselves in these types of situations as much as possible.
"Act and then master. For women, we can't be afraid to fail," she added.
How confident are you? Take the Confidence Quiz here to find out now!
For more of Claire's expert confidence tips, view the slideshow below:
PHOTO GALLERY
Confidence Boosting Habits From Claire Shipman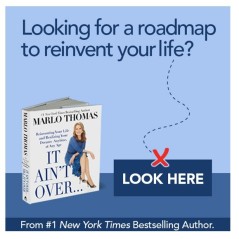 Add Marlo On Facebook:
Follow Marlo on Twitter:
Sign up to receive my email newsletter each week - It will keep you up-to-date on upcoming articles, Mondays with Marlo guests, videos, and more!