There are a few important skills women need to take with them on the road to leadership, and Claire Shipman, co-author of The Confidence Code, helped pinpoint a few of them.
First, Claire insists that women must be good at decision-making.
"We have to be unafraid of making decisions. Don't take too long to decide. Just decide right or wrong and move on. Women have to own that and be ready to get it wrong," she said.
Next, Claire believes women must learn to nurture one another in a more constructive way. Claire thinks women should encourage one another to ask for promotions and stick their hand up to ask questions as much as possible.
"Women need to get good at nudging," she said.
Another leadership tip: "Move from me to we, especially when speaking," Claire said.
Since women have natural power when speaking on behalf of a greater mission or cause, Claire finds it especially useful to channel that sense of universality.
"Re-frame what you're nervous about. It isn't about me showing off or bragging. Instead, it's about what is important to me, and about me making a case for me, my company and friends," she explained.
As far as external obstacles women must avoid on the road to leadership, Claire believes there are two main roadblocks.
First, Claire believes women must watch out for missed opportunities.
"We cannot wait for people to tell us we are doing a good job. Take some responsibility to look around and ask where the opportunities are, " she urged.
"Some women think people will come to you, rescue you and reward you. It doesn't work like that!" she laughed.
Finally, Claire reiterated the importance of challenging our innate negotiation skills.
"Negotiation and conciliatory skills are natural-born assets for women to bring to companies," she explained.
"We listen, we're conciliatory, we are caring, we are cautious, we aren't hierarchical, we don't demand. All of these are strengths to a company. We need to use this more actively," she insisted.
How confident are you? Take the Confidence Quiz here to find out now!
For more of Claire's expert confidence tips, view the slideshow below:
PHOTO GALLERY
Confidence Boosting Habits From Claire Shipman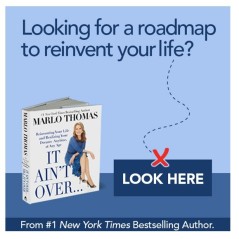 Add Marlo On Facebook:
Follow Marlo on Twitter:
Sign up to receive my email newsletter each week - It will keep you up-to-date on upcoming articles, Mondays with Marlo guests, videos, and more!