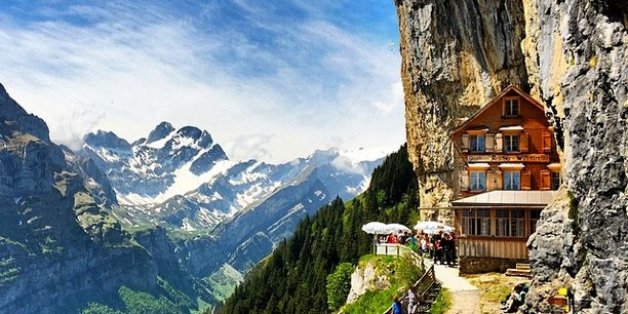 Simply sitting down to eat a regular old meal at a typical restaurant is just not going to cut it any longer. Where's the story in that?
How does taking a walk -- during low tide -- to a restaurant off the coast of Zanzibar sound? How about taking a cable car up the side of a mountain in Switzerland to reach your final dining destination? If either of those particularly tickle your fancy, we've got a few restaurants to add to your list.
1. Berggasthaus Aescher-Wildkirchli, Switzerland
The Swiss mountainside adventure will bring you to a restaurant and guest house called Berggasthaus Aescher-Wildkirchli, and it looks like this.

It's 170-years-old and comes with breathtaking views and delicious food. For (literal) step-by-step instructions on how to make your way to this charming spot, follow in the footsteps of some travelers who've already been there and done that. It'll be worth it.
2. The Rock Restaurant, Zanzibar
This quaint little piece of heaven is located off the coast of the Michamwi Pingwe peninsula.

An inside view...

The food is no joke and the drinks are flowing, which is just the added bonus for the ambience. As their website states, "... no pencil nor brush could draw such beauty -- only Mother Nature could have reach[ed] such heights. We simply added the love for cooking..."
3. Alux Restaurant, Playa del Carmen, Mexico
"A majestic spectacle created by nature," this restaurant offers you an underground dining experience like no other. See for yourself...


Although the photos make us feel like we're just in a cave-themed restaurant you might find in Disney World, you are absolutely dining in the depths of a cave formed over thousands of years. There is the option to dine in the main restaurant or take things up a notch by choosing the cenote dining area that gives off views of the limestone fountain and rock formations. But please don't forget about the bar & lounge that is naturally soundproof, because... naturally.
4. Soneva Kiri Treetop Dining, Thailand
Ask for unique dining experiences, and that is exactly what you'll get at Soneva Kiri in Thailand.


You and your meal mates are gently hoisted into the airfor a treetop dining excursion that comes fully equipped with zip-lining waiters and delicious cuisine. The resort offers a plethora of culinary experiences, but we think this one will make you feel like you're on top of the world.
5. Ithaa Undersea Restaurant, Maldives
And no unique restaurant list would be complete without including the infamous underwater restaurant in the Maldives.

Ithaa Undersea Restaurant is the world's first all-glass undersea dining experience that allows you to eat delicious meals while feeling like you're in a fish tank. The panoramic views and European cuisine helped earn the "the most beautiful restaurant in the world" ranking by The Daily Meal this year.
BEFORE YOU GO
PHOTO GALLERY
20 Best Restaurants In The World