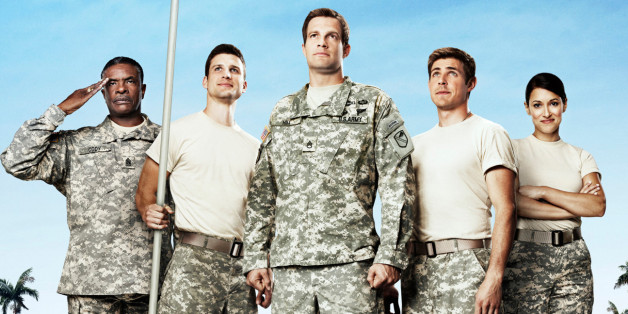 It's a bittersweet time for "Enlisted" fans.
Fox canceled the freshman series earlier this month, leaving fans upset over the loss of the critically lauded military comedy. Along with "Enlisted," Fox also nixed a slew of other freshman shows, including "Surviving Jack," "Dads" and "Rake." While "Enlisted" is over at Fox, there are still four unaired episodes left in the season. Fans have to let go, but maybe not just yet.
Someone else isn't ready to let go of the series either. "Enlisted" creator Kevin Biegel is still putting up a fight for the show. In a mass email yesterday he asked any and everyone to spread the word about the final four episodes. Biegel said that there may be hope for the series if there's a ratings increase. Entertainment Weekly also reported that "Enlisted" is being shopped to other distributors. So don't give up yet, "Enlisted" fans!
Read Biegel's email below, courtesy of EW, and don't forget to watch the final episodes this June.
Hello everyone whose email was ever in my inbox!

I'll keep it short:

New episodes of Enlisted start this Sunday, June 1 at 7/6c on Fox.

There are 4 new episodes, and they will be on every Sunday in June with the finale airing on June 22.

These are the best four episodes we did. The episode airing June 1, our first one back, is one of our funniest, and the finale is one of the best pieces of TV I've ever been lucky enough to be a part of. Even more than that South Park episode with the mouse with the penis on its back, although that one was pretty good.

If we get even the slightest rating bump, it can help us live. This may seem like a fool's errand, but even a little bit of hope is still hope. I love this show and believe in this show too much to give up.

If you can, spread the word about the show coming back. Forward this email to your friends, ask them to do the same. If anyone knows or knows of a Nielsen family, beg them to watch. Beg, really? That's strong. How about ask?

I do hate asking favors, but I fear no one will know Enlisted is coming back on the air for the final 4. If we can get even a slightly decent rating we can show a new home that this show has a real fan base.

Thank you so much for any help you can offer,
Kevin
BEFORE YOU GO
PHOTO GALLERY
"The Mindy Project" Season 1