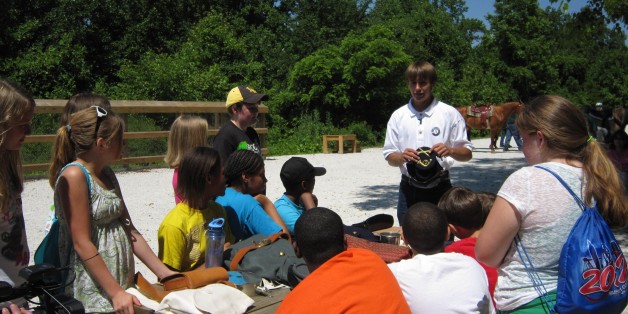 Thousands of students will don caps and gowns in May and June to celebrate their college graduations, and the question on many minds is: What's next?
Some of these graduates will plunge straight into the job market despite an underemployment rate for recent grads of 44% as recently as 2012. Others will head to grad school, remaining in the familiar cushion of the academic world for a few more years.
One option that might appeal to grads eager to give back is to join a religious or secular service organization and use that degree toward a good cause. Many service corps offer an immersive experience of giving back to the community, sometimes even with expenses paid and amenities provided.
Here are 13 service opportunities for the altruistic grad:
Episcopal Service Corps
The Episcopal Service Corps offers programs around the country to young adults eager to serve their communities. Open to Episcopal and non-Episcopal applicants depending on the program, the Corps offers housing, stipends and health insurance to provide applicants with a lifestyle of "intentional simplicity." "These programs can be thought of as 'investments,'" the website states, "expected to yield spiritual, interpersonal, and professional dividends very abundantly!"
Baha'i Youth Service Corps
The Baha'i Youth Service Corps places 18-25 year olds in one of three host schools around the country for several months to a year of service. Provided with room and board, participants do a range of tasks that might include teaching, cooking or office administration while also attending classes and receiving mentorship at the school.
AVODAH Jewish Service Corps
AVODAH recruits Jews in their 20s to work for one year as employees in a non-profit focused on urban poverty in Chicago, New Orleans, New York or Washington, DC. Program participants live together in provided housing and receive a stipend during their service. AVODAH also offers a 9-month, non-residential program for young professionals looking to advance their work in the antipoverty field.
JDC's Jewish Service Corps
The American Jewish Joint Distribution Committee runs the Jewish Service Corps program for young Jews interested in a year-long, oversees volunteer project. The program is paid and currently operates in Argentina, China, Ethiopia, Germany, India, Israel, Latvia, Rwanda, Russia, Turkey, and Ukraine. Applicants must have a college degree and show interest in global Jewish affairs.
Jesuit Volunteer Corps
The Jesuit Volunteer Corps provides one- and two-year programs working in schools and nonprofits focused on homelessness, AIDS, refugees or a number of other global issues. The organization emphasizes the four Ignatian values of spiritual growth, simple living, community and the pursuit of social justice, and is open to anyone 21 years and older with a college degree or relevant work experience. JVC offers housing, stipends and health insurance to participants.
Sikh Coalition Fellowships
The Sikh Coalition offers several part-time, paid fellowships in social justice and advocacy available to recent college grads and young professionals. Based in New York and California, the programs range from public policy, anti-bullying, community development and more. The Coalition also runs a summer volunteer program for high school students based in its New York City office.
Lutheran Volunteer Corps
The Lutheran Volunteer Corps offers service opportunities in the U.S. to people 21 years and older. The program requires a one-year commitment, with room and board provided, during which time volunteers work with schools, shelters, clinics and nonprofit organizations on issues ranging from education, public safety and the environment.
Mercy Volunteer Corps
Mercy Volunteer Corps operates in partnership with the Sisters of Mercy of the Americas and works primarily with the economically poor and marginalized. Participants serve for one year in one of nine U.S. cities and in Guyana, South America, working in education, healthcare or social services. They receive housing, stipends and health insurance and must be 21 years or older and hold a high school diploma to participate.
Peace Corps
The Peace Corps offers 2-year programs in more than 70 countries around the world. Volunteers receive housing and stipends that allow them to live in a manner similar to those they serve. They work in a range of fields including agriculture, education, healthcare and community economic development. Anyone 18 years and older may apply to serve, though many projects also require a four-year degree.
AmeriCorps
Run by the Corporation for National & Community Service, AmeriCorps offers a bounty of service opportunities around the country for volunteers 17 years and older (though some programs require volunteers to be 18-years-old.) Most assignments are full time for 10 months to one year and provide housing and modest stipends. The focus areas range from education, healthcare, environmental work and more.
Foundation Beyond Belief's Pathfinders Project
The Pathfinders Project is a yearlong, international service program for humanist volunteers. The program focuses on a range of issues, including clean water, education, human rights, and environmental conservation. The current project is working in Avivará, Guatemala to address poverty and illiteracy among rural Guatemalans.
Green Corps
Green Corps is a one-year, paid program that combines classroom learning with environmental campaigns for college graduates interested in pursuing a career in sustainability. Volunteers run campaigns, receive mentorship from organizers and at the end of the program receive full-time positions in leading environmental and social change organizations.
Ismaili Global Encounters
Although they don't run a specific service corps program for adults, the Ismaili community is known for its commitment to community service and volunteering. Aga Khan Academy in Mombasa runs an international service program for high schoolers called Global Encounters. Students spend several weeks at the academy receiving training in leadership and global citizenship.
Adults interested in serving with the Ismaili community may participate in volunteer days through CIVIC: Challenging Ismaili Volunteers in Communities.
BEFORE YOU GO
PHOTO GALLERY
Faith-Based Environmental Organizations