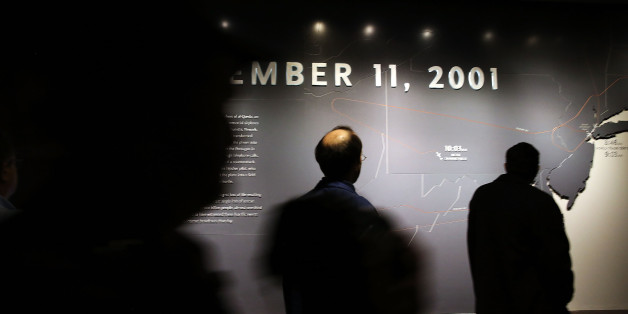 For months preceding the National September 11 Memorial Museum's grand opening in May, a seven-minute film to be installed at the museum, titled "The Rise of al Qaeda," had provoked strong condemnation from Muslim advocates for its references to Islam.
Such concerns were mostly dismissed by museum officials, who said they were "satisfied" with the film's "objective" message.
But less than two weeks into the museum's opening, the New York Times reports tourists are echoing clergy members' concerns over language in the film -- one that critics say misrepresents terrorism and Islam as one.
22-year-old Adrian Cabreros, who was visiting from San Francisco, told the Times the film "kind of gives Islam a bad vibe."
"I think they should have talked about Islam more, just so people understand that there is a difference between Islam and people who do terrorist attacks but who also happen to be Islamic," Cabreros told the Times while visiting from San Francisco. "They just sort of said that the people from Al Qaeda wanted to have a more Islamic state, but it was hard to distinguish, to separate Islam itself."
Ben Schwecke, a 67-year-old veteran, missed the section of the museum devoted to al Qaeda but said the museum as a whole "did not really make clear that this is a fringe organization that really has corrupted much of the Quran."
The ostensible purpose of "The Rise of al Qaeda," which is narrated by NBC's Brian Williams, is to explore the history of al Qaeda leading up to the attacks on September 11th. But after previewing the film, groups including the Council on American-Islamic Relations (CAIR) called on officials to drop it, alleging the film's narrative is ultimately harmful to the conversation surrounding Islam.
"Generations of visitors to this facility will be influenced by the contents of the displays and the presentations," CAIR spokesman Ibrahim Hooper said in April. "It's going to be very important how Islam and the American Muslim community are portrayed."
Since it opened, negative press surrounding the museum has been largely directed at questionable offerings sold at the gift shop -- criticism that eventually prompted officials to cease selling commemorative cheese plates in the shape of the United States.
It remains to be seen if the museum will be moved to make a similar adjustment in the wake of mounting criticism of "The Rise of al Qaeda" from visitors. After all, it's tourists who shell out the $24 admission fee to keep the museum afloat.
BEFORE YOU GO
PHOTO GALLERY
10 Muslim Women You Have To Know