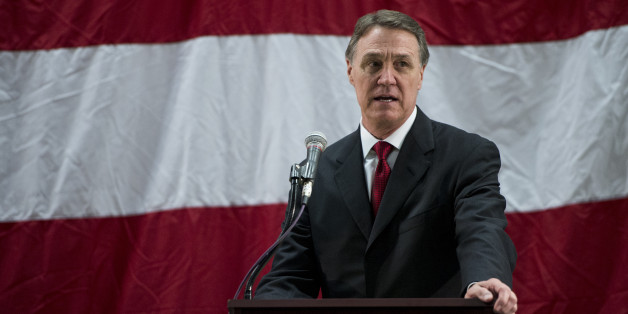 A Republican Senate candidate may be forced to defend his ties to a utility company that supported a cap-and-trade system, after President Barack Obama's administration released its highly anticipated carbon emission limits Monday.
Businessman David Perdue, who is competing in a Republican runoff in the hope of succeeding retiring Sen. Saxby Chambliss (R-Ga.), has sat on the board of the Wisconsin-based Alliant Energy Corp. since 2001.
As the Atlanta Journal-Constitution reports, during his tenure on the utility company's board, Perdue served on the board's environmental and safety committee while the company's leaders voiced support for efforts to implement a cap-and-trade system to limit carbon emissions.
A number of utility and energy companies didn't immediately oppose cap and trade when Obama first proposed it back in 2009, perhaps because they foresaw that state-based cap-and-trade systems would entail fewer limitations than the Environmental Protection Agency's new rules, which call for a 30 percent cut in carbon emissions from existing power plants by 2030.
The new EPA rules allow states to meet the new emissions standards by directing power plants to cut emissions, increasing the amount of energy drawn from renewable sources or implementing cap-and-trade markets.
A Perdue spokesman told the paper that he had no role in the company's cap-and-trade position and as a board member had limited say in the utility's day-to-day operations. The Senate candidate's role at Alliant also came under scrutiny in the context of the $3.4 million in federal stimulus funds the company received.
On his campaign website, Perdue says that "our own government limits our options by being overtly hostile towards domestic energy producers."
Perdue and Rep. Jack Kingston (Ga.) will face off July 22 for the Republican nomination to take on the Democratic nominee, nonprofit executive Michelle Nunn.
Perdue's connection to the utility company may not ultimately prove to be a vulnerability, however. A Kingston spokesman told The Huffington Post on Monday that though it is "something conservatives would be interested in," he didn't know if the campaign has "plans to highlight that over other items."
BEFORE YOU GO
PHOTO GALLERY
Senate Seats Up For Grabs In 2014