Arno Coenen's "Horn of Plenty" hit the Netherlands this month, bringing 36,000 square feet of animal and plant life to the indoor market De Markthal. It didn't take long for the massive installation to earn the label "biggest artwork in the world," on top of other nicknames like the "Sistine Chapel of Rotterdam." It's not hard to see why: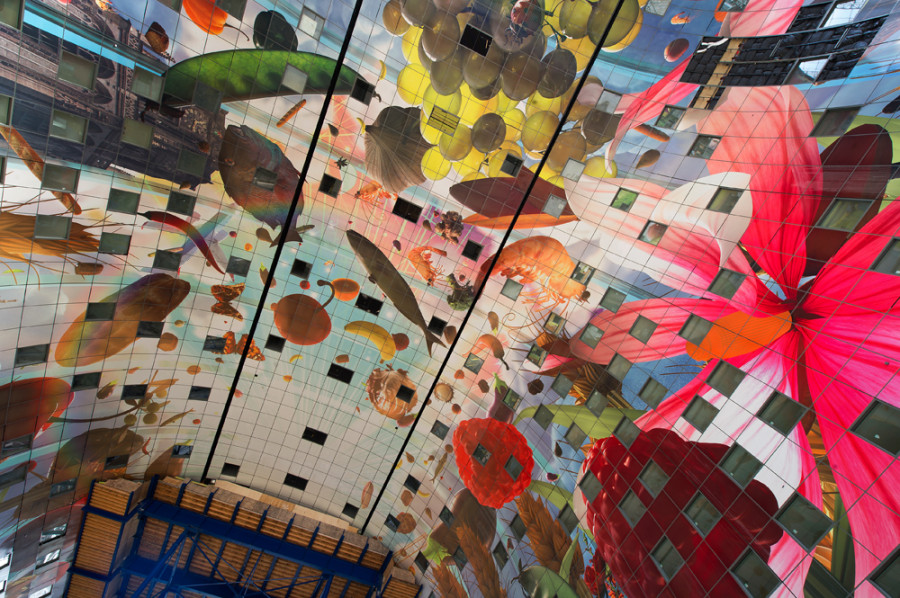 The artwork is, according to The Creator's Project, the size of two full-size soccer fields, covered in bright imagery depicting fish, fruit, insects and flora galore. Coenen enlisted the help of Pixar Studios to create an image large enough, and sharp enough, to fill 4,000 tiled pieces. (The file used was 1.47TB.)
The mural will greet visitors to the De Markthal when it opens this October, presenting passersby with the static painting, atop which the artist plans to project moving images.
"You could just look at the wonderful, almost psychedelic picture for it's beauty, but the reference to the 'Horn of Plenty' points out the miracle that food is there for you," Coenen explained to designboom. 'It is a work with a spiritual, religious feel to it. However, its larger-than-life size is not a tale of religion; it's about nature. In the scientific way, more an ode to Stephen Hawking's atheist way of looking at the origin of life."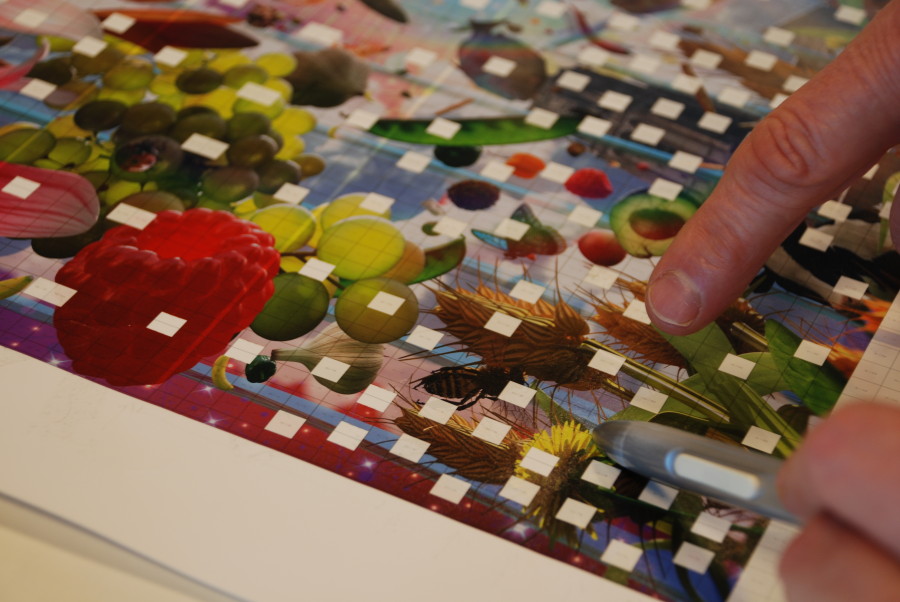 "I would appreciate it if it will be emphasized that it's not just me [that created the artwork]," Coenen stated in an email to HuffPost, "but a little team that realized this work of art. We co-designed it, the other people being 3D animators and special effects specialists and a photographer."
That "little team" consisted of designer Iris Roskam, Marinus de Ruiter, 3D modelers Michiel van Iperen and Frank aan de Stegge, NUKE specialist Dustin Kershaw and photographer Frank Hanswijk.
As far as its status as the world's biggest artwork, that's a tricky superlative to prove. Other giant artworks include Jim Denevan's temporary Black Rock Desert sand creation, which measured in at over nine miles wide, and David Aberg's 86,000-square-foot painting in Angelholm, Sweden back in 2006. Christo and the late Jeanne-Claude remain big names in the world of big art as well, as Christo created the "largest indoor sculpture" last year.
Of course, we can't forget Icelandic artist Ingvar Bjorn Thorsteinsson's recent attempt at creating a digital version of "The Largest Artwork in the World."
PHOTO GALLERY
Horn of Plenty
All photos courtesy of Kees Stuip Fotografie/TS Visuals