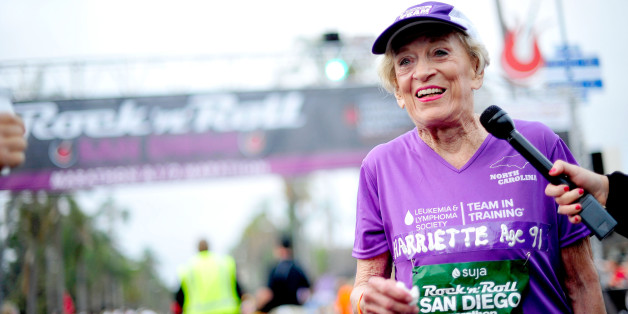 For Harriette Thompson, 15th time's the charm.
That's how many times the 91-year-old has run the Rock 'n' Roll San Diego Marathon. This past Sunday, the North Carolinian not only conquered the 26.2-mile course, she broke a few records and fought back against cancer, too.
Thompson now holds a new record for fastest marathon run in American history within the 90-94-year-old age group, with an astounding time of 7 hours, 7 minutes and 42 seconds. She also became the oldest woman to complete the San Diego race, and the second oldest marathon competitor in U.S. history, according to NBC 7 San Diego News.
"I try to run around the block, and I do a few 5Ks," she told the outlet of her preparation for the event. "I think the most I've done this year is an 8K, so it's sort of a lot to ask to jump from that to 26."
While breaking records is great, what Thompson achieved beyond pounding the pavement is what's truly remarkable -- raising more than $90,000 for the Leukemia & Lymphoma Society. It's a cause that's near and dear to her heart, as she'd just undergone radiation treatment on her own legs -- incredibly, just one month prior to completing the Rock 'n' Roll San Diego Marathon, the Charlotte Observer reported.
"I've had a lot of friends who've had leukemia and lymphoma," she told the outlet in a video interview on why she's dedicated to fundraising the fight. "In fact, I just lost my brother to lymphoma, and my husband lost his brother to leukemia."
Watch the rest of the video below:
Every four minutes, one person in the U.S. is diagnosed with a type of blood cancer, such as leukemia and lymphoma, according to the Leukemia & Lymphoma Society. The chances of dying from most types of leukemia, lymphoma or myeloma (another form of blood cancer) decreased from 2000 to 2010, with the overall five-year relative survival rate for leukemia more than quadrupling since 1960.
If you ask Thompson, who began running marathons at 76, age is just a number and not indicative of positive impact.
"I guess I could say, it's never too late," she told NBC 7 San Diego.
BEFORE YOU GO
PHOTO GALLERY
PHOTOS: 118th Boston Marathon