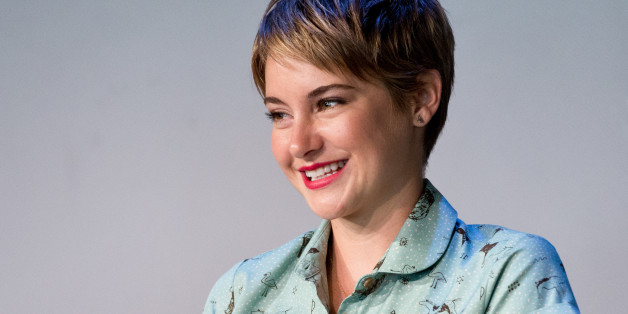 Shailene Woodley certainly understands the negative consequences of comparing women to other women -- and she does not like it.
In an interview in the June 2nd issue of New York Magazine, Woodley and fellow actress Brie Larson discussed how measuring women against one another perpetuates self-confidence issues. As the star of the action trilogy "Divergent," Woodley is constantly compared to Jennifer Lawrence, who plays the protagonist in the similar films "The Hunger Games."
She
told
New York Magazine's
Lynn Hirschberg
:
As women, we are constantly told that we need to compare ourselves to a girl in school, to our co-workers, to the images in a magazine. How is the world going to advance if we're always comparing ourselves to others? I admire Jennifer Lawrence, but she's everyone's favorite person to compare me to. Is it because we both have short hair and a vagina? I see us as separate individuals. And that's important. As women, our insecurities are based on all these comparisons. And that creates distress.
Woodley's comments on comparison are particularly weighty given their shaky reception in past months. She told Hirschberg that during her March appearance on "The Tonight Show," host Jimmy Fallon asked Woodley how she felt about being compared to Jennifer Lawrence. The actress paused before saying, "Well, comparison always leads to despair." The audience booed, and the segment of the interview was cut when the episode aired.
Woodley told Hirschberg that the producers' choice to cut the segment upset her, but not only because of the booing. "It bothered me, because it's human nature to feel bad if you are booed by an entire audience," she said. "But in these few moments that we have here on Earth, are we going to torture ourselves? Or are we going to allow our lights to be dimmed? How do we expect men to respect women or women to rise to more power when we don't respect our queendom in the same way that men respect their kingdom?"
She may have misinterpreted feminism, but Ms. Woodley hits the nail on the head when it comes to how detrimental women comparing themselves to other women really is.
Head over to Vulture to read the rest of the interview.
BEFORE YOU GO
PHOTO GALLERY
Celebrities Who Have Spoken Against Photoshop