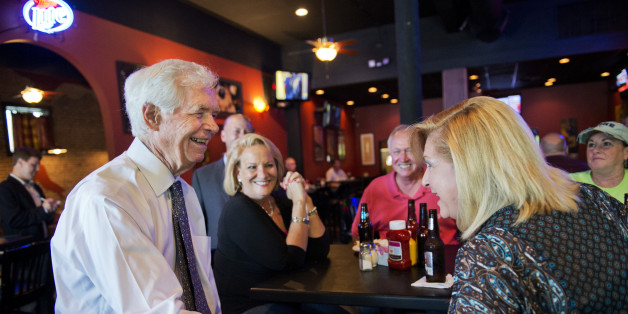 Eight states will report primary results tonight. We've got a roundup of the final polls, plus links to what the pundits are looking at and where to find results. Surveys show reasons to be skeptical that turnout alone explains Democrats' challenge in 2014, or that climate change will sink Republicans in 2016. And middle children who feel overlooked are in good company. This is HuffPollster for Tuesday, June 3, 2014.
PRIMARY NIGHT IN EIGHT STATES - Alabama, California, Iowa, Mississippi, Montana, New Jersey, New Mexico and South Dakota hold primaries on Tuesday, with most of the attention on Senate GOP primaries in Iowa and Mississippi, and the gubernatorial primary in California. A last review of our charts:
Mississippi - The Pollster chart on the Mississippi Republican Senate primary, which currently gives Sen. Thad Cochran a largely meaningless edge of less than a percentage point against challenger Chris McDaniel, is based on eight publicly released polls, all from partisan firms (4 Republican, 2 Democratic). [HuffPollster chart]
"Blame the electoral college," tweeted media pollster Steve Koczela, after HuffPollster noted the exclusively partisan nature of the Mississippi polls. Koczela's post-election analysis showed that Mississippi was also one of a handful of states that produced no public polls on the 2012 presidential election. [@skoczela, Commonwealth]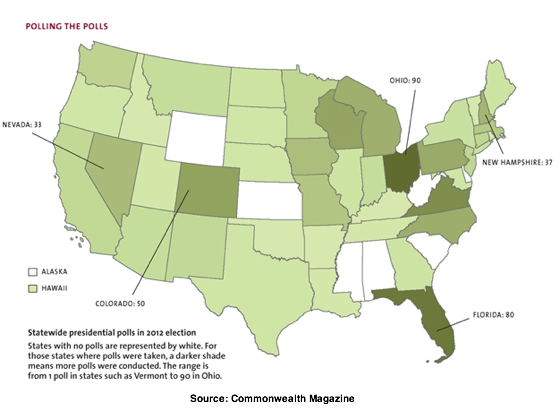 Iowa - Iowa's Republican primary looked like a close race until late March, when state Sen. Joni Ernst, who fielded an ad about castrating pigs, earned national attention and a subsequent bump in the polls. HuffPollster's average currently gives her a nearly 19-point lead over her nearest rival, businessman Mark Jacobs. At 36 percent, Ernst is also just toeing the 35 percent line needed to avoid a statewide convention (the last such convention, held in 2002, gave Rep. Steve King the nomination). [HuffPollster chart]
California - There's no suspense as to the top vote-getter in the first full-scale test of the state's new "top two" primary, with incumbent Gov. Jerry Brown taking close to 50 percent in polls of the open primary. Republicans Neel Kashkari and Tim Donnelly, however, are tied neck-and-neck for the second slot in November's general election: a potential headache for the GOP establishment, who worry that Donnelly's bombastic style and anti-immigration stances could hurt downticket. [HuffPollster chart]
Where to look for results - The Washington Post is compiling election results as reported by AP. [WashPost]
More reading on the primaries:
-Michael Finnegan expects low turnout in California, as Republicans try to avoid a complete lockout. [LA Times]
-Jaime Fuller looks at the 16 candidates vying to replace retiring Henry Waxman in CA-33. [WashPost
-Harry Enten takes a closer look at the race in Mississippi. [538]
-Molly Ball profiles Thad Cochran as he struggles to defend his seat. [Atlantic]
-John Hudak calls Tuesday the "oddest Congressional primary day yet." [Brookings]
-Nate Cohn reviews the primaries in 30 seconds. [NYT]
WILL CLIMATE CHANGE HURT REPUBLICANS IN 2016? - PPP's (D) Tom Jensen, polling for Americans United for Change: "Voters, and particularly independents, don't have much tolerance for climate skeptics when it comes to the 2016 Presidential race. Only 38% of voters say they'd be willing to support a candidate who doesn't believe global warming is caused by human activity, and by an 11 point margin they say they would be less likely to vote for such a candidate. When it comes to independents just 29% would be open to supporting a climate skeptic. This issue could be particularly problematic for Senator Marco Rubio given his recent comments on it. Voters say by a 56/33 margin that they have more faith in the scientists than Rubio when it comes to the issue of climate change, and among independents it's 57/27. Rubio starts out trailing Hillary Clinton by a 49/42 spread in a hypothetical match up anyway, and when respondents were informed about Rubio's stance on climate change it pushed Clinton's lead up to 9 points at 50/41." [AUFC release]
Probably not, no - While it's notable that a bipartisan majority of Americans recognize global warming, and that many see climate change denial as a negative attribute in a candidate, few persuadable voters say they are likely to decide their votes on the topic. In a Washington Post/ABC poll also released Tuesday, few Americans cited global warming as a major contributing factor to their Congressional vote. Just 9 percent of voters named it as "one of the single most important issues" in their voting. Among independents, only 7 percent considered the issue that important. PPP's own findings support this: mentioning global warming shifts a hypothetical Clinton-Rubio matchup by a net 2 points, well within the margin of error. [WashPost]
OBAMA RATED NEGATIVELY ON VA SCANDAL, BUT APPROVAL RATING UNAFFECTED - CNN: "Nearly six in ten Americans give President Barack Obama a thumbs-down on how he is handling the Veterans Affairs controversy, according to a new national poll. But a CNN/ORC International survey released Tuesday indicates that the scandal at VA hospitals doesn't seem to be affecting the President's overall approval rating, which remains at 43%, identical to the last CNN poll conducted a month ago. The survey also indicates that Obama scores some of his highest numbers on the environment and terrorism, two other issues in the spotlight this week." [CNN]
2014 POLITICAL BACKDROP REMAINS CHALLENGING FOR DEMS - HuffPollster: "The 2014 elections are continuing to shape up as tough for Democrats, according to a Washington Post/ABC News poll released Tuesday. The survey found voters essentially tied on which party they'd rather have represent them in the House of Representatives -- 47 percent preferred a Democratic candidate and 45 percent a Republican. 'Historically, Democrats have needed a significantly bigger margin on this question to avoid losses,' The Washington Post's Dan Balz and Scott Clement write. Four years ago, when Democrats held a 3-point lead in June, Republicans went on to retake the House in November. By contrast, when Democrats won the House and Senate in the 2006 midterms, the party was up 13 percentage points in June. As has been extensively documented and endlessly lamented by the left, many of Democrats' core constituencies, including young and minority voters, are less likely to turn out during midterm elections. While the 2014 electorate is just beginning to take shape, that effect shows no sign of dissipating this year." [HuffPost, via WashPost, ABC]
HOW MUCH DOES DEMOCRATS' TURNOUT DEFICIT MATTER? - John Sides adds to the debate over how big a hurdle turnout will be to the Democrats' chances in 2014: "My notion was this: What if we had a survey asking people how they planned to vote in their House race, and we knew from the voter file whether they had voted in 2010 and 2012?...Thanks to Bonier and David Margolis of Greenberg Quinlan Rosner Research, I have the precise data. The data come from a September 2012 GQRR poll conducted in 54 competitive congressional districts. The poll asked whether respondents planned to vote for the Democrat or Republican running in their House race. But unlike in most pre-election polls, the vast majority of poll respondents (89 percent) were ultimately matched to voter file data that indicated whether they voted in 2010 or, several weeks after the poll was taken, in 2012….[S]witching from the 2012 electorate to the 2010 electorate shifted the generic ballot from a 2-point Democratic advantage to a 2-point Republican advantage....The question is how much turnout matters. My sense is that commentators still put too much emphasis on it. That is, there is not enough grappling with what changes in the electorate do not explain — such as, perhaps, the majority of Republican seat gains in 2010." [WashPost]
HUFFPOLLSTER VIA EMAIL! - You can receive this daily update every weekday via email! Just click here, enter your email address, and and click "sign up." That's all there is to it (and you can unsubscribe anytime).
TUESDAY'S 'OUTLIERS' - Links to the best of news at the intersection of polling, politics and political data:
-PPP (D) finds Tom Wolf (D) way ahead of incumbent Gov. Tom Corbett (R). [PPP]
-Chris Christie's approval rating from New Jersey voters stabilizes in the low 40s. [FDU]
-You'll never guess which party is probably going to hang onto its Senate seat in Idaho. [Rasmussen]
-Rhode Island's Democratic gubernatorial primary remains close. [WPRI]
-Nicole McClesky (R) unpacks a survey of women voters, says they care most about the economy. [POS]
-Nate Cohn says Democrats have little to lose in taking on the coal industry. [NYTimes]
-Aaron Blake notes that the ACA isn't a factor for most Democrats' votes. [WashPost]
-Jonathan Bernstein argues that public opinion on the ACA is more about voters' partisanship than actual experience with benefits or costs. [Bloomberg]
-The percentage of political contributions from doctors to Republicans has declined since 1996. [NYTimes]
-45 percent of middle children say their parents had favorites, and they weren't the one. [YouGov]
BEFORE YOU GO
PHOTO GALLERY
Aging in Office