In the summer of 1989, more than a million Chinese students and workers took to Tiananmen Square in the capital Beijing to participate in communist China's largest political protest in history. The demonstrations lasted for six weeks, culminating in a night of bloodshed on June 3, 1989 when the military forcibly suppressed the protests by enforcing martial law. Hundreds of protesters and residents were killed.
Wednesday marks the 25th anniversary of the massacre, which Chinese authorities continue to treat as a taboo subject, banned from textbooks and websites.
The following images put together by the Associated Press compare scenes of Tiananmen Square during this period of protests and today. In this combination of photos, a May 26, 1989 file photo, top, shows a sanitation worker cleaning up Tiananmen Square which had been occupied by student protesters, and the same spot almost 25 years later, in a May 22, 2014 photo, bottom, a cleaner, wearing a red armband who is part of the civilian security informers, watches tourists on her electric tricycle in Beijing. (AP Photo/Jeff Widener, top, Alexander F. Yuan, bottom)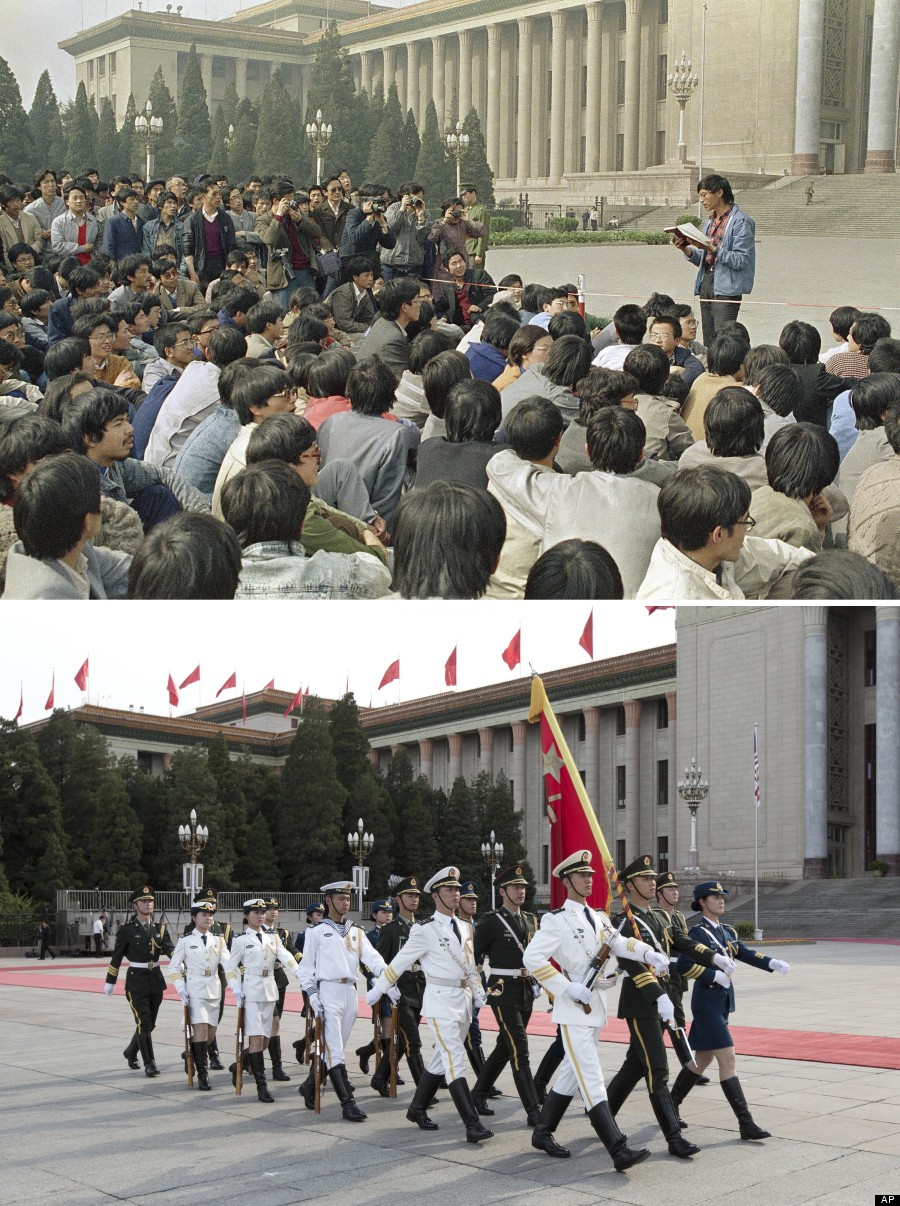 In this combination of photos, an April 18, 1989 file photo, top, shows a Chinese student leader reading a list of demands to students staging a sit-in in front of the Great Hall of the People in Beijing, and at the same venue almost 25 years later, a May 29, 2014 photo, bottom, shows Chinese People's Liberation Army (PLA) soldiers marching to their positions before an honor guard performance for a welcome ceremony. (AP Photo/Kathy Wilhelm, top, Alexander F. Yuan, bottom)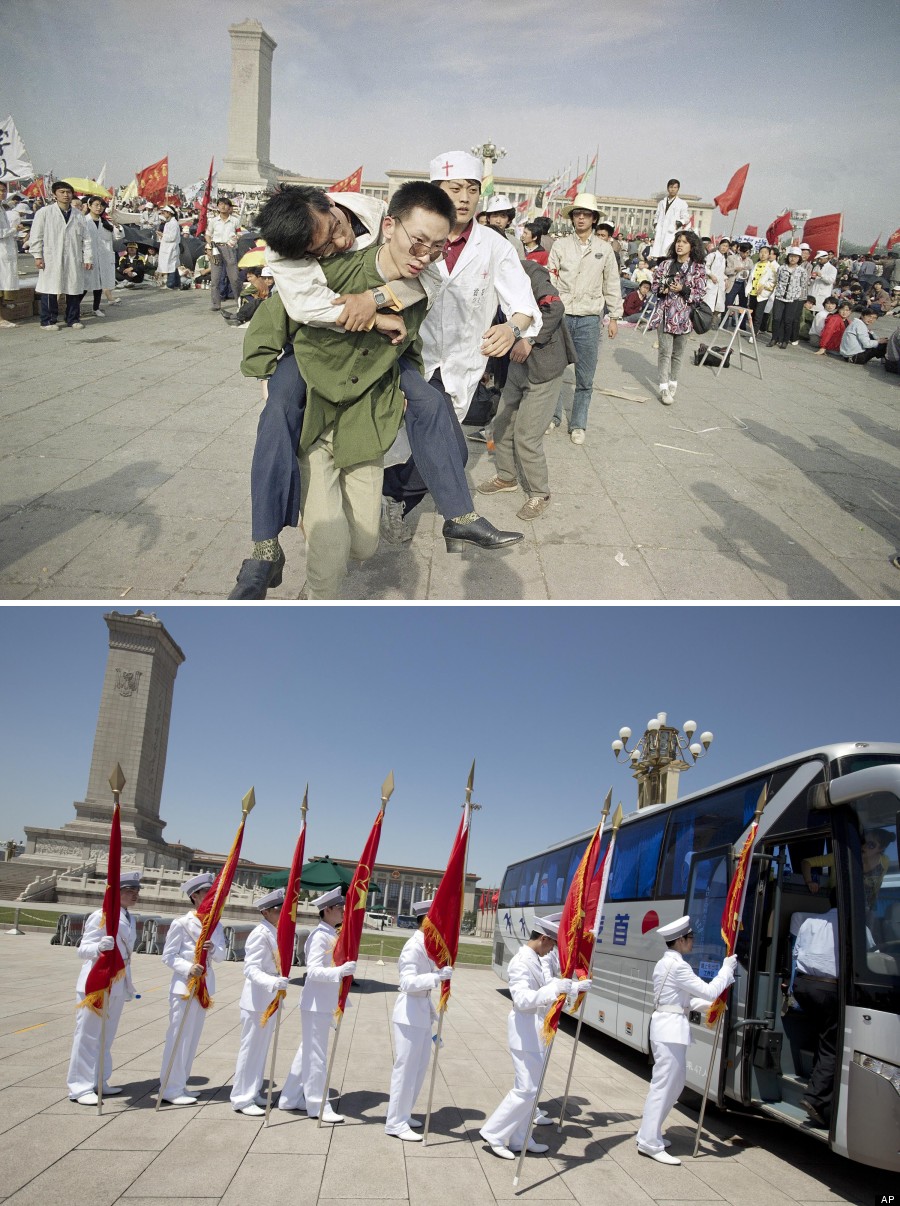 In this combination of photos, a May 16, 1989 file photo, top, shows medics rushing a Beijing University student from Tiananmen Square after he collapsed on the third day of a hunger strike, and 25 years later, in a May 29, 2014 photo, bottom, high school students dressed in uniforms carry red flags onto a bus after they performed a ceremonial post guarding of Young Pioneers, a youth group under the Chinese Communist Party, around the Monument to the People's Heroes on Tiananmen Square. (AP Photo/Sadayuki Mikami, top, Alexander F. Yuan, bottom)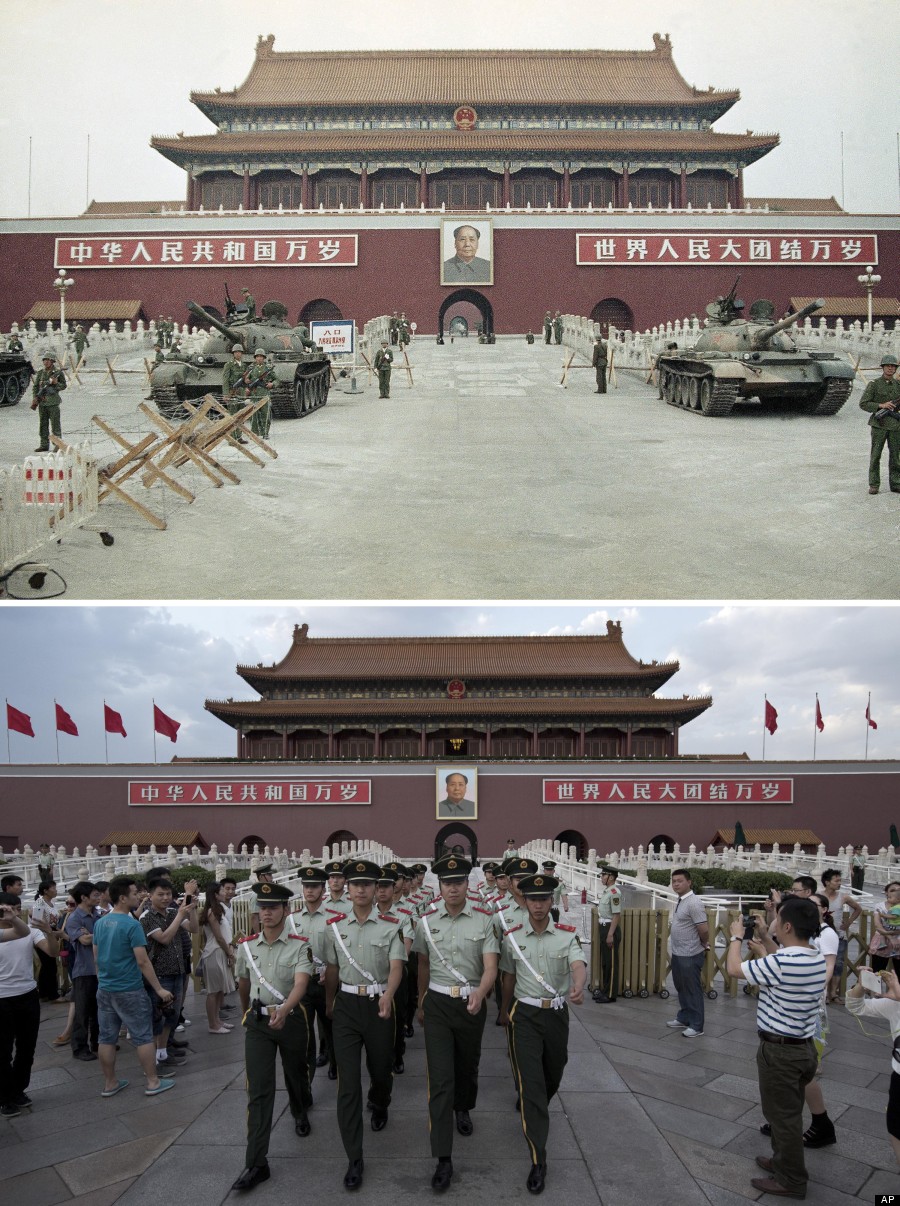 In this combination of photos, a June 10, 1989 file photo, top, shows Peoples Liberation Army (PLA) troops standing guard with tanks in front of Tiananmen Gate, and almost 25 years later, a May 28, 2014 photo, bottom, shows Chinese paramilitary policemen marching through to clear tourists from the area for a flag-lowering ceremony on Tiananmen Square in Beijing. (AP Photo/Sadayuki Mikami, top, Alexander F. Yuan, bottom)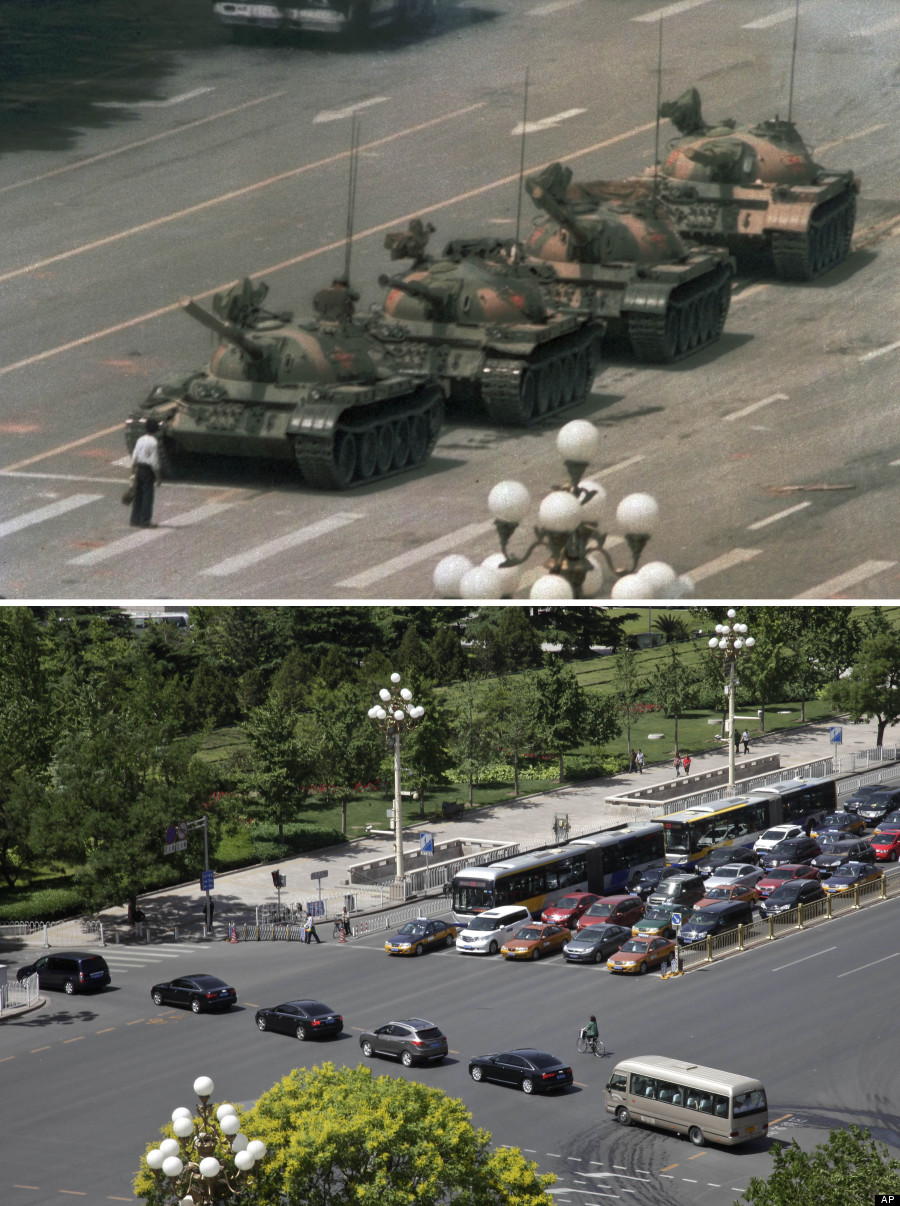 In this combination of photos, a file photo taken June 5, 1989, top, shows a lone Chinese man standing to block a line of tanks heading east on Beijing's Changan Blvd. near Tiananmen Square, and in a May 27, 2014 photo of the same spot, bottom, almost 25 years later, a convoy of cars drive across Beijing's Changan Blvd. near Tiananmen Square. (AP Photo/Jeff Widener, top, Helene Franchineau, bottom)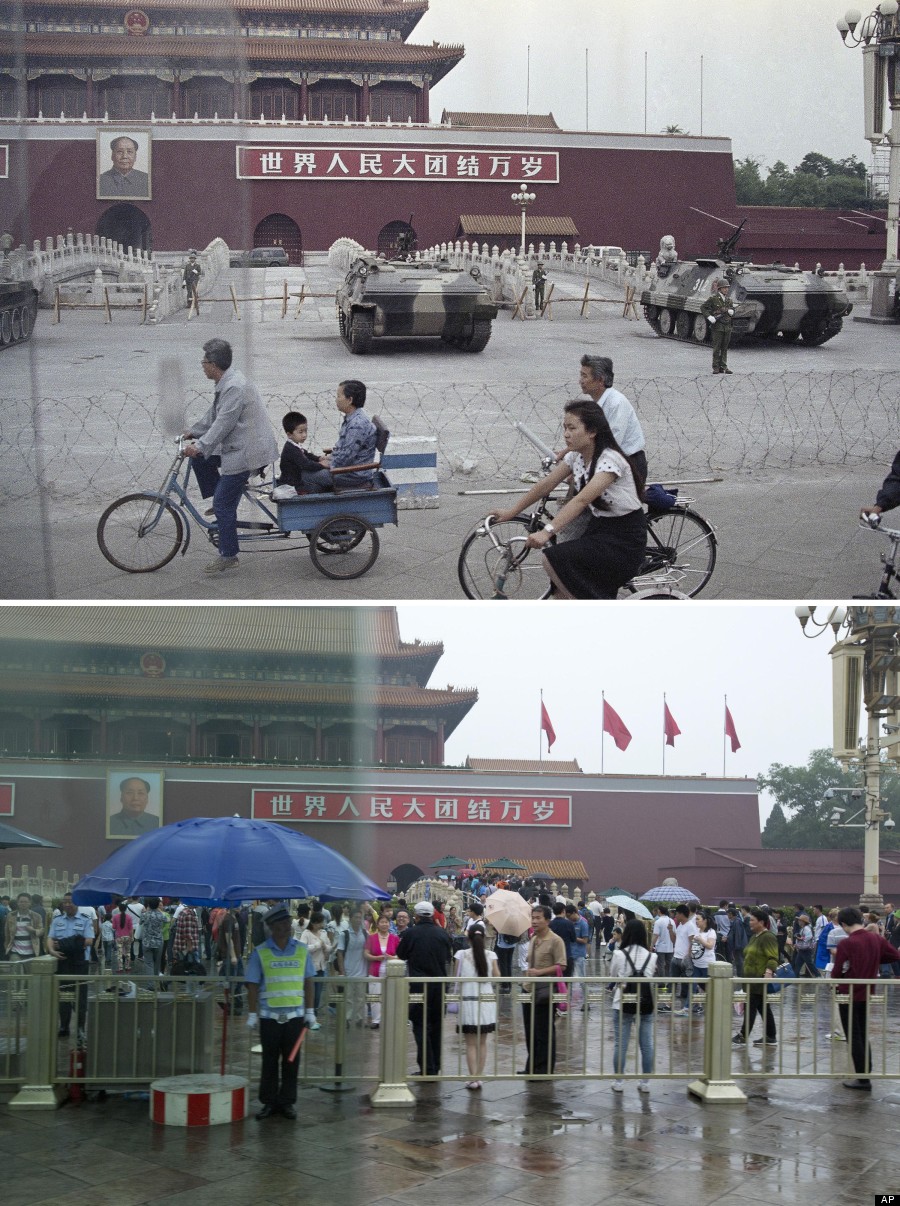 In this combination of photos, a June 13, 1989 file photo, top, shows people cycling past armored vehicles parked in front of Tiananmen Gate near the square where students rallied for democratic reforms, and in the same spot almost 25 years later, a May 24, 2014 photo, bottom, shows a security guard watching an empty bicycle lane, still cordoned off from an area in front of Tiananmen Gate. (AP Photo/Sadayuki Mikami, top, Alexander F. Yuan, bottom)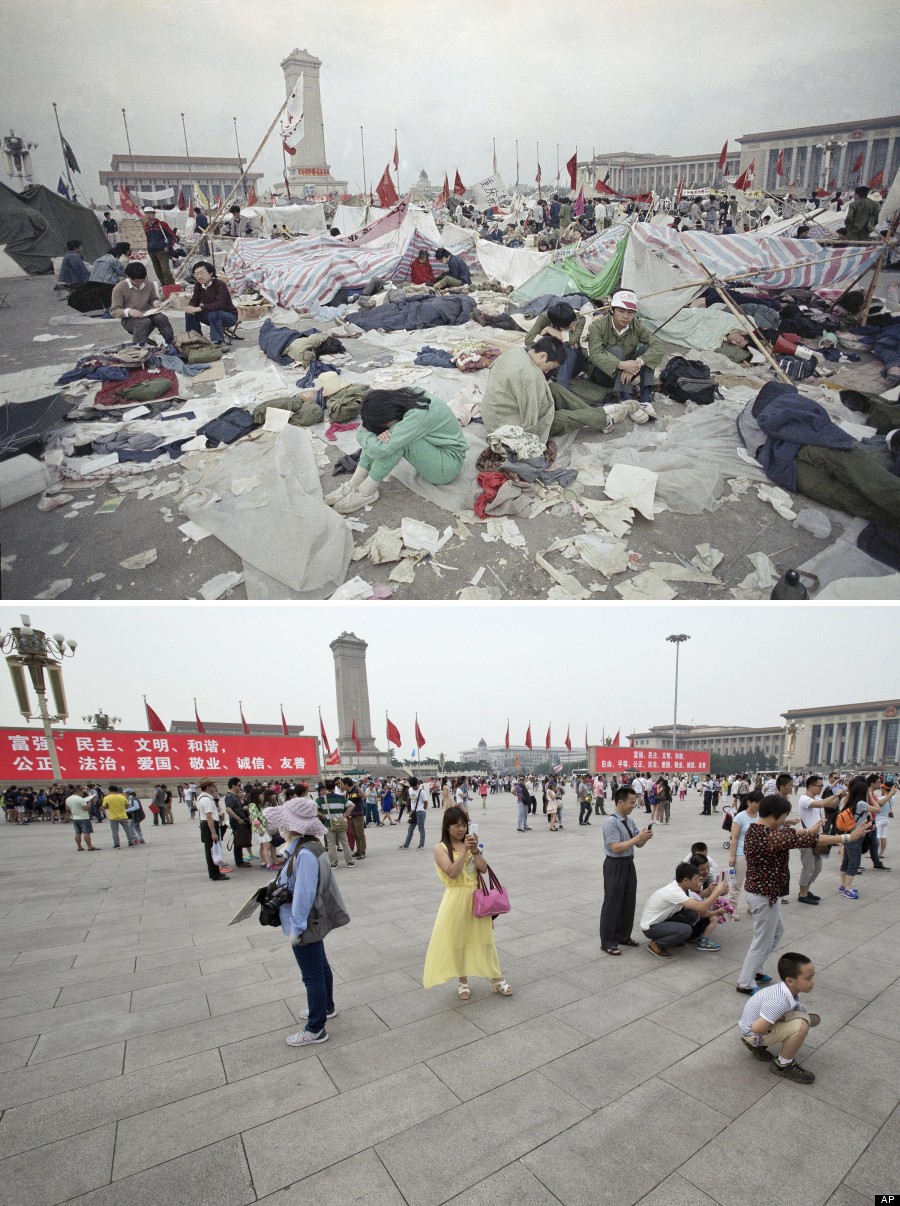 In this combination of photos, a May 28, 1989 file photo, top, shows students resting in litter on Tiananmen Square as their strike for government reform enters its third week, and 25 years later, in a May 31, 2014 photo, bottom, Chinese tourists use their smart phones and digital cameras to take souvenir photos as slogans are shown on electric screens on Tiananmen Square, in Beijing. (AP Photo/Jeff Widener, top, Alexander F. Yuan, bottom)