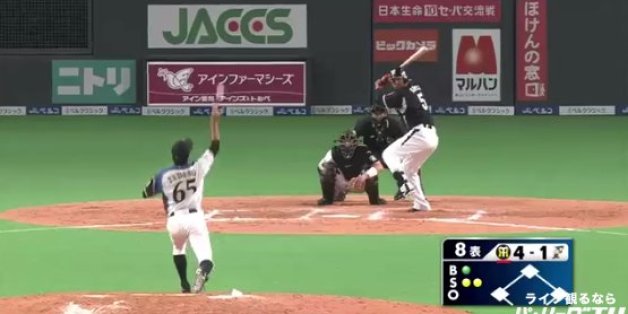 Seeing isn't always believing when it comes to the eephus pitch.
The high-arcing, low speed circus pitch whose invention is attributed to former Pittsburgh Pirates hurler Rip Sewell can bedevil hitters as well as umpires. Former Cleveland Indians pitcher Kazuhito Tadano, currently playing for the Hokkaido Nippon-Ham Fighters in Japan, learned this the hard way after delivering an epic knee-buckling, mind-bending eephus to a batter in a recent game.
(Video via MLB.com's Cut4)
In addition to completely baffling the batter, the pitch seemed to confuse the umpire behind home plate. Tadano didn't look pleased that the ump didn't determine the pitch dropped in for a strike.
Stateside, Japanese pitcher Yu Darvish recently unveiled a 55-mph offering that may have been his version of the eephus, nearly dropping five-time All-Star Torii Hunter to his knees in the process. The bewildering pitch wasn't deemed a strike but did earn a laugh from Hunter.
In the 1946 MLB All-Star Game, Ted Williams supposedly asked for Sewell's signature blooper pitch and added yet another epic swing to his resume. According to The New York Times, Boston's metronomic batsman missed the first eephus pitch he saw that day and then asked for another. The second time, he was apparently ready. Not only did the Splendid Splinter make contact with the lob but he managed to send it into the seats at Fenway Park for an unforgettable home run.