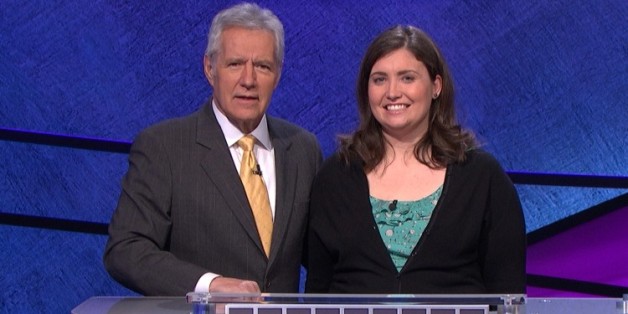 The game show your grandparents used to love has been getting a lot of attention lately.
More and more people are tuning into "Jeopardy!" each night, especially after Julia Collins became the winningest woman on "Jeopardy!" Similarly, contestants like Arthur Chu and Ken Jennings brought excitement, controversy and watch-ability back to the show. But as everyone knows, before you can get the chance to compete on television, you must audition.
Recently, a reporter for the Washington Post went undercover in order to participate in the game show's rigorous selection process, and what she discovered might surprise you.
To even be considered for the show, applicants must first take a 50-question quiz only available online a few times throughout the year. If they pass, they're invited to take three more rounds of tests at the regional level. If you're lucky (smart) enough to make it to the live audition round, the casting producers like to initiate a physically intimate tiebreaker to set the mood. So every audition process starts out with a hug.
All of those horror stories of locked-out buzzing capabilities are completely true. If you're too quick on the draw, the computer system will freeze your buzzer for a few seconds -- and we all know that's plenty of time for the Arthur Chus of the world to attack without mercy. Luckily, one of the producers is there to coach you on the proper way to hold and use the magical trivia weapon.
And while it was obviously this reporter's first time auditioning for America's favorite trivia show, most of the applicants are seasoned vets. In fact, some "Jeopardy!" wannabes are now in the double digits when it comes to how many times they've actually applied to be on the show.
But the biggest secret when it comes to earning a spot behind the podium? Personality. Intelligence doesn't matter too much in the grand scheme of things. Instead, producers are looking for people with "high energy," likable people akin to Collins or, for better or worse, those who will make an impression like Jennings and Chu. So, please, the next time you apply to be on stage with Alex Trebek, suggest that you might do something with your winnings more original than paying off those student loans.
BEFORE YOU GO