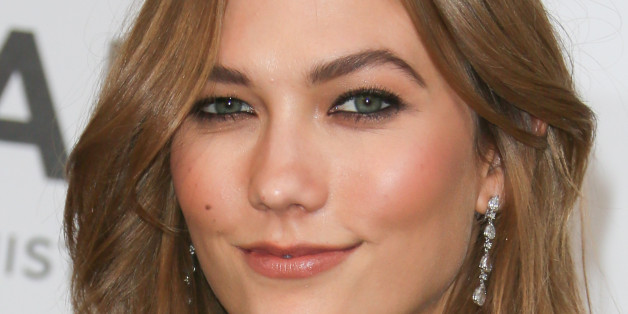 Karlie Kloss is a Victoria's Secret Angel, one of Taylor Swift's best friends, and a trendsetter -- but mostly, she is known as a model. However, that is not how Kloss would categorize herself.
In a new "Top Shelf" feature on Into The Gloss, Kloss opens up about her beauty routine and healthy habits that keep her life on track. But, she also brings up her feelings about modeling.
While Kloss mentions that she loves to challenge herself all around, she knows that there has to be a balance between hard work and play. In Karlie's case, it seems like modeling is more fun than serious as of right now. She says:
"I'm not a professional athlete, I'm not a professional dancer, I'm not a professional anything; I have never considered modeling an actual job title. I have yet to determine what my job actually is but, yeah, modeling is a fun and funny gig."
Kloss isn't the first model that has expressed her experience modeling as a hobby rather than a career. Back in April, fellow Victoria's Secret bombshell Lyndsey Scott told ASOS Magazine that she has "trouble endorsing modeling as a career," sticking to her title as a computer programmer.
The supermodel didn't just talk about her time on the catwalk though, Karlie also discusses her philosophy on keeping an active and conscious lifestyle, telling ITG what really makes her feel good.
"I feel most beautiful when I feel strong," she says, adding "To me, beauty is so much more about how you feel than products, and that comes down to what you're putting in your body and how you take care of yourself." So, let this be a lesson that looking pretty comes from within, literally.
Read more about the model's thoughts on health and her amazing lineup of beauty products on Into The Gloss -- her medicine cabinet is definitely swoon-worthy.
BEFORE YOU GO
PHOTO GALLERY
Victoria's Secret Fashion Show: Then & Now