Six winning entries in a groundbreaking federal design competition to protect cities from rising sea levels were announced on Monday, and include a colossal "Big U" system that will fortify New York City's most vulnerable, low-lying areas.
"Big U" will see the installment of a 10-mile system of berms and other protections from West 57th Street down to Battery Park and then around to East 42th Street. In the Lower East Side, park-like berms will be constructed; near the Manhattan Bridge, artist-designed panels attached to the underside of FDR Drive will provide light at night but will flip down for protection during flooding emergencies.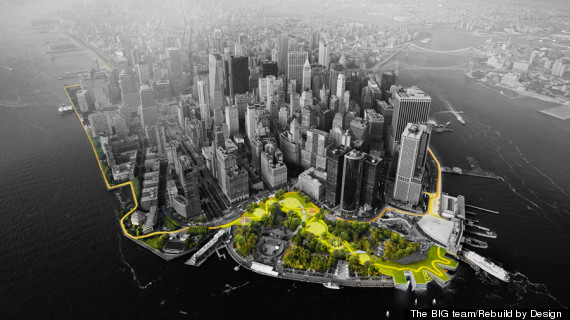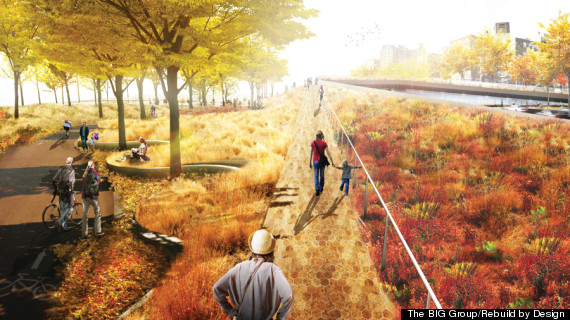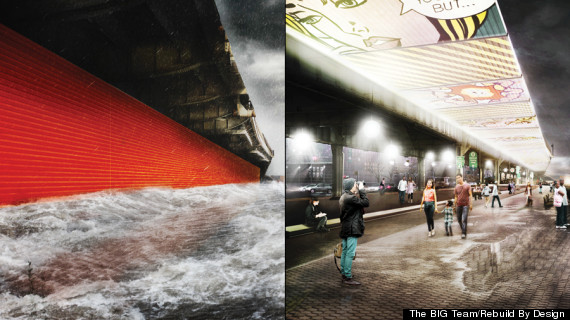 The plan also contains educational initiatives, including replacing a current Coast Guard building with a maritime museum that will allow visitors to see "tidal variations and sea level rise while providing a flood barrier," as "Big U's" final proposal indicates.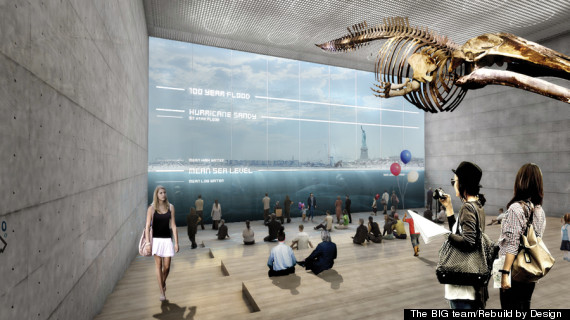 Another winning design, "Living Breakwaters", focuses on Staten Island, which suffered devastating effects brought on by Superstorm Sandy. The project calls for a "necklace of breakwaters," or living reefs, along the island's South Shore to protect against future flooding.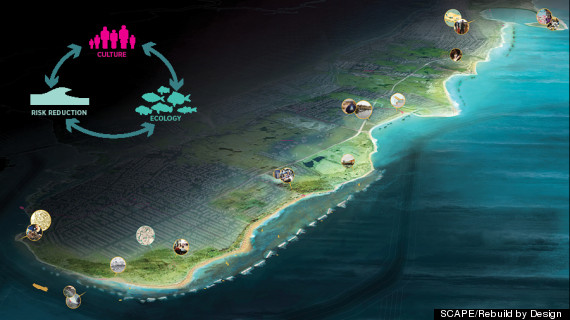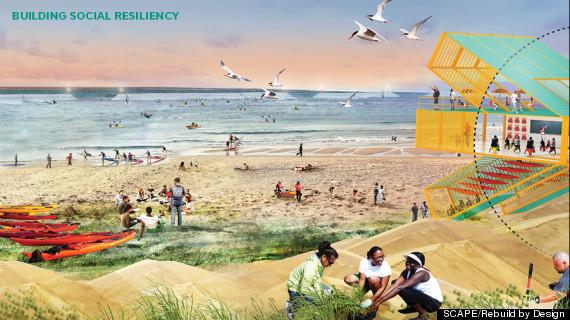 The Jersey shore, Hunts Point in the Bronx, Hoboken, NY, and Bridgewater, CT are also among areas designated for protection in the winning designs.
The six projects are expected to receive initial funding of $920 million, with the "Big U" design receiving $335 million for a portion of its $1.2 billion first phase, the Wall Street Journal reports. According to Gothamist, U.S. Housing and Urban Development Secretary Shaun Donovan said the six designs were just the start of a nationwide effort that will ultimately cost billions.
The Rebuild by Design competition was organized by President Barack Obama's Hurricane Sandy Rebuilding Task Force as a part of a larger $60 billion aid package the federal government has dedicated to the tri-state region in the wake of 2012's unprecedented storm. The severe damage and loss of life -- once unthinkable for a city like New York -- raised the need for communities and governments to tackle climate change with resilient, smart innovation.
New York City Mayor Bill de Blasio said construction on the six projects should begin over the next few years.
"The issue before us is resiliency: protecting our city, our state, against an ever-changing climate," de Blasio told reporters at a press conference Monday.
BEFORE YOU GO