Firefighters. They risk their lives to rescue dogs from frozen lakes. They know how to perform mouth-to-snout resuscitation. And they help carry your best friend away from rising floodwaters because they "don't just rescue two-legged victims."
And of course, these brave men and women go into burning homes to save not just man, but man's best friend. The Seattle Fire Department tweeted out this touching photo of Firefighter Darryl Graham with the city's Ladder 11 administering oxygen to a puppy rescued from a house fire on Monday evening.
Story continues below.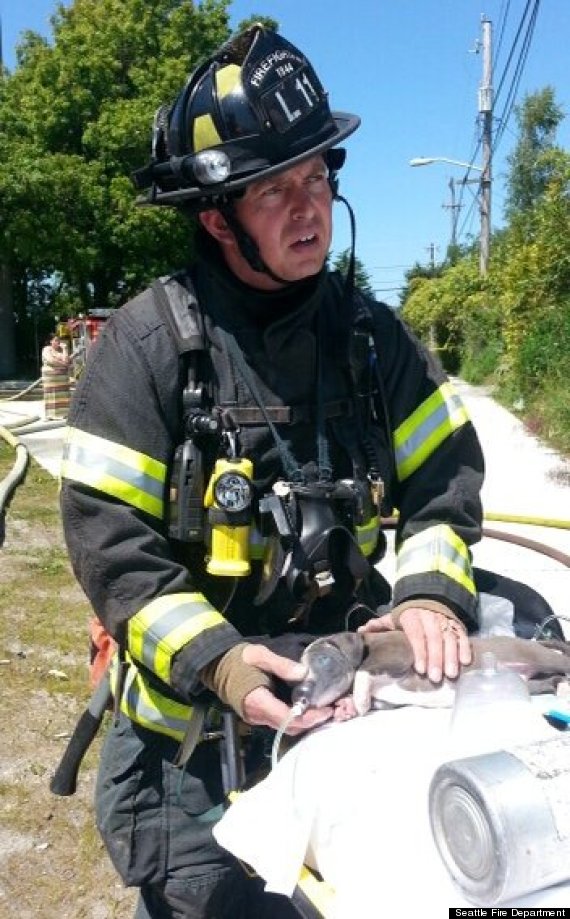 One man was killed in the blaze that consumed a south Seattle home. Firefighters found two adult dogs and five puppies during a search of the house and were able to save the older animals and one of the puppies, SFD public information officer Kyle Moore told HuffPost in an email. He said the department has been using pet oxygen masks for a few years that are small enough to fit the snouts of dogs and cats in need of medical attention and that every Seattle Battalion Chief carries one on their apparatus to fire scenes.
The ASPCA recommends always having a plan in place for both you and your pets in the case of an emergency or disaster, including an evacuation plan and a supply kit should you need to leave your home. And of course, always remember to take your pets with you.
Fortunately, Moore said the two adult dogs and puppy "are doing great now" thanks to the work of Graham and his fellow firefighters.
BEFORE YOU GO
PHOTO GALLERY
Awesome Animal Photos