Thailand has seen some dark days lately. Months of political turmoil led to a military coup in May, and the ruling junta has banned protests, rounded up dissidents, and warned that elections may not take place for more than a year.
But don't worry, Thailand's military rulers have a plan to cheer people up. After all, Gen. Prayuth Chan-ocha told the country after the coup that the military's goal is to "bring back happiness to all Thai people."
In a campaign called "Bring Happiness Back To Thais," the junta is staging festivals to celebrate the coup that feature pop performances by the army. On Wednesday, authorities brought in the Royal Thai Army orchestra, Wild West-style bunkers, and women dressed in provocative military outfits for photo opportunities, the Bangkok Post reports. They held the festival at Bangkok's Victory Monument, where people staged rallies against the coup just last week.
At an earlier festival on Saturday, a Thai military band performed renditions of Jesse J's "Price Tag" and Gloria Gaynor's "I Will Survive," according to YouTube videos of the event. The BBC reported that the military has been offering free haircuts and snacks for "happy-looking audiences." It has waived the ban on gatherings of more than five people for the celebrations, according to Voice of America.
The National News Bureau of Thailand announced on Wednesday that the government also will be holding a Music in the Park festival to "bring happiness back to the public" every Thursday, starting June 5.
Another part of the campaign looks a lot less fun -- Gen. Prayuth has begun hosting weekly happiness programs, in which he will brief the nation on the junta's work. "Gen Prayuth will not answer questions from the public, and radio and television stations will be compelled to air the program," the Bangkok Post notes.
See below for images of the "happiness" festivals and videos of a Thai military band performing pop classics.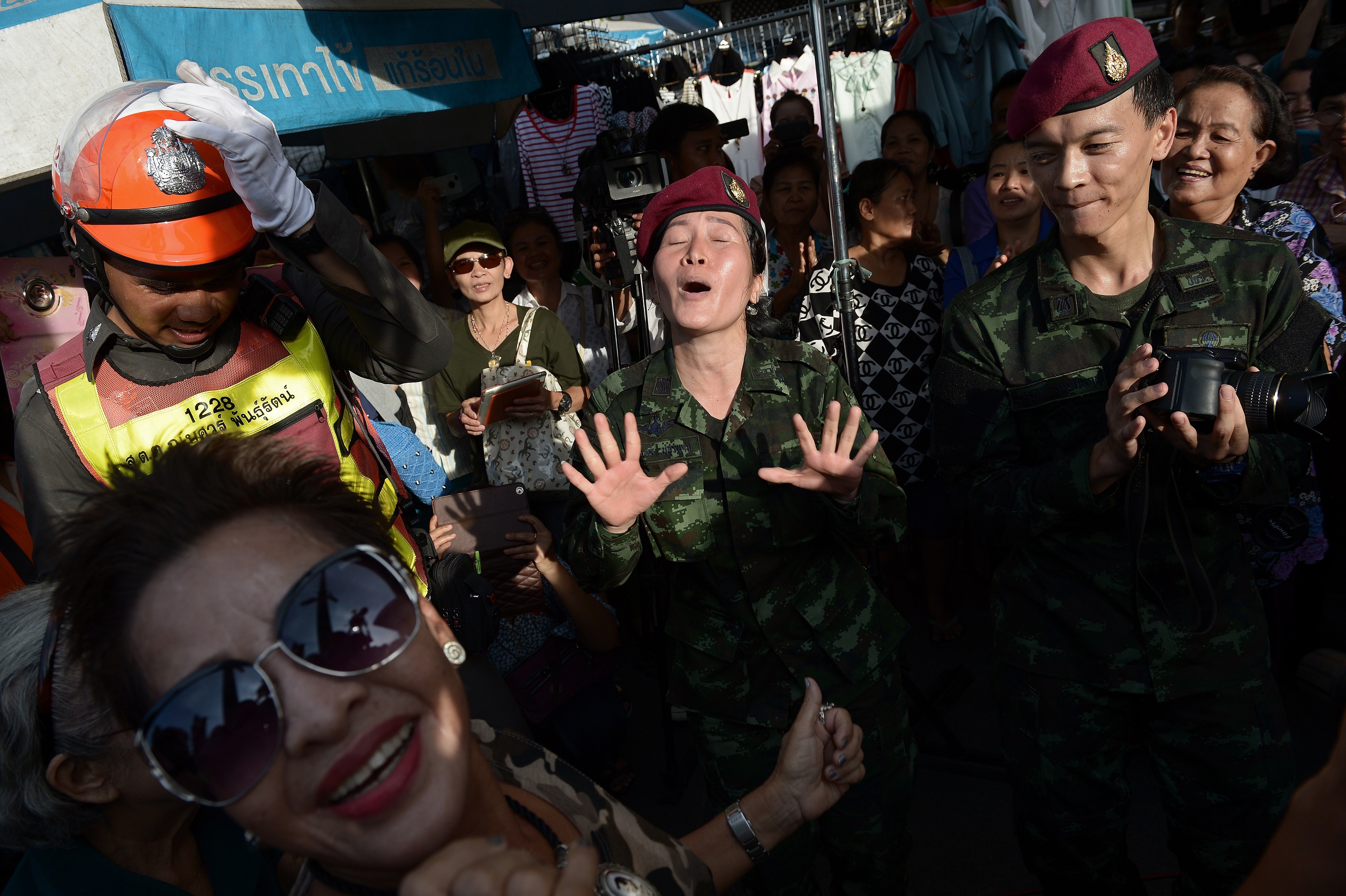 Soldiers dance with attendees at the military event "Bring Happiness Back To Thais" at Victory Monument in Bangkok on June 4, 2014. (CHRISTOPHE ARCHAMBAULT/AFP/Getty Images)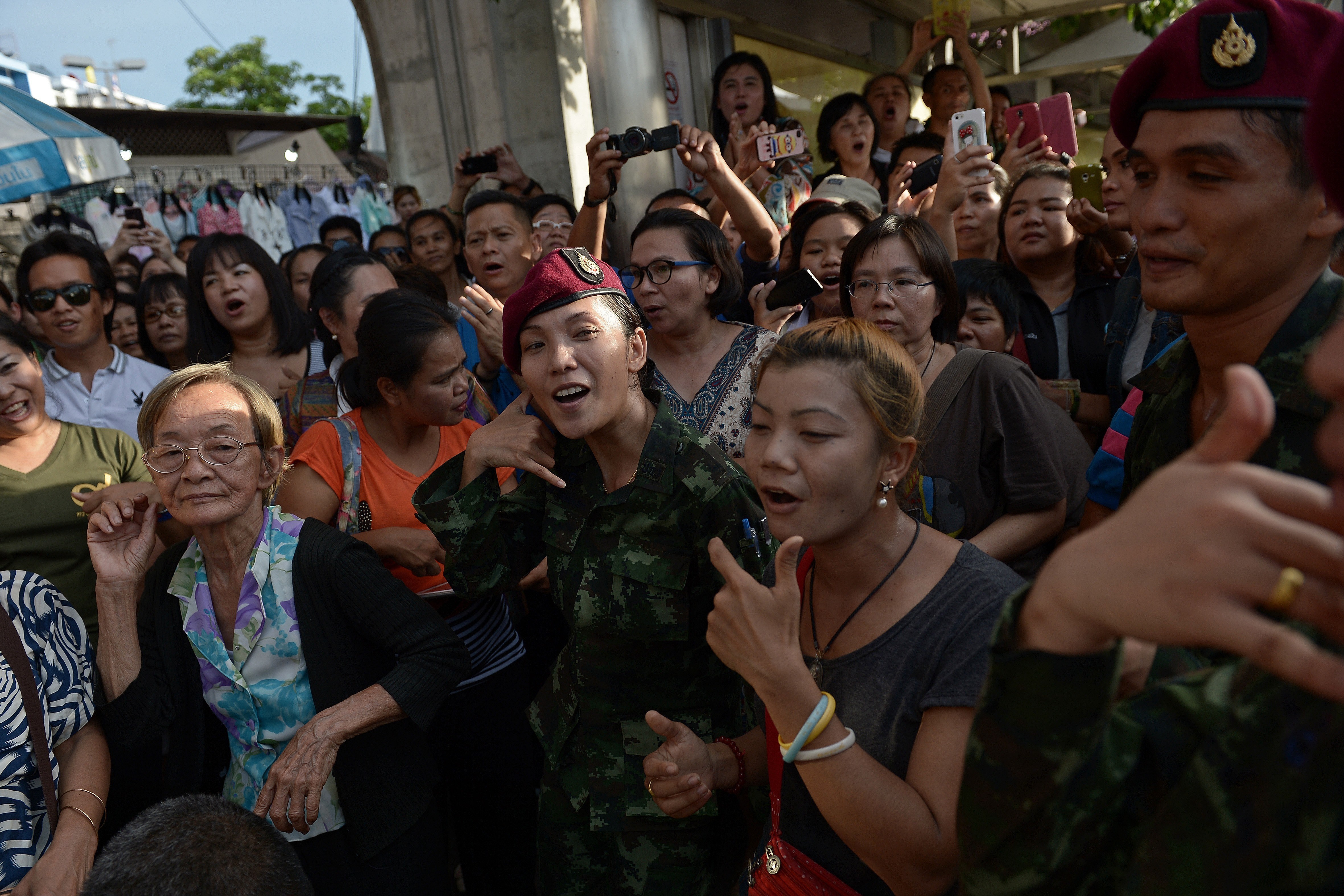 Soldiers dance with people at the '"Bring Happiness Back To Thais" event at Victory Monument in Bangkok. (CHRISTOPHE ARCHAMBAULT/AFP/Getty Images)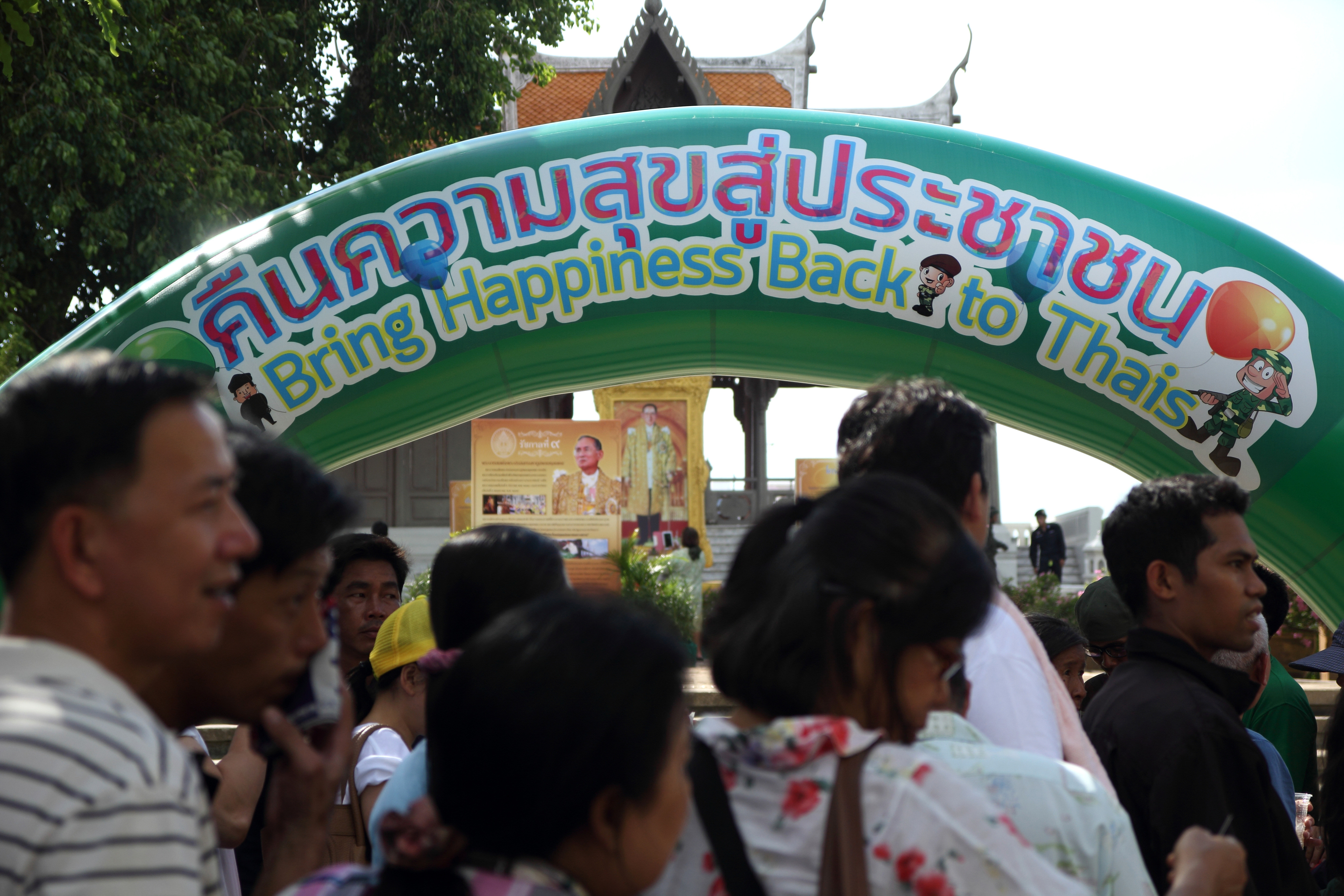 People attend the "Bring Happiness Back To Thais" event at Santichai Pragan park in Bangkok on May 31, 2014. (Piti A Sahakorn/LightRocket via Getty Images)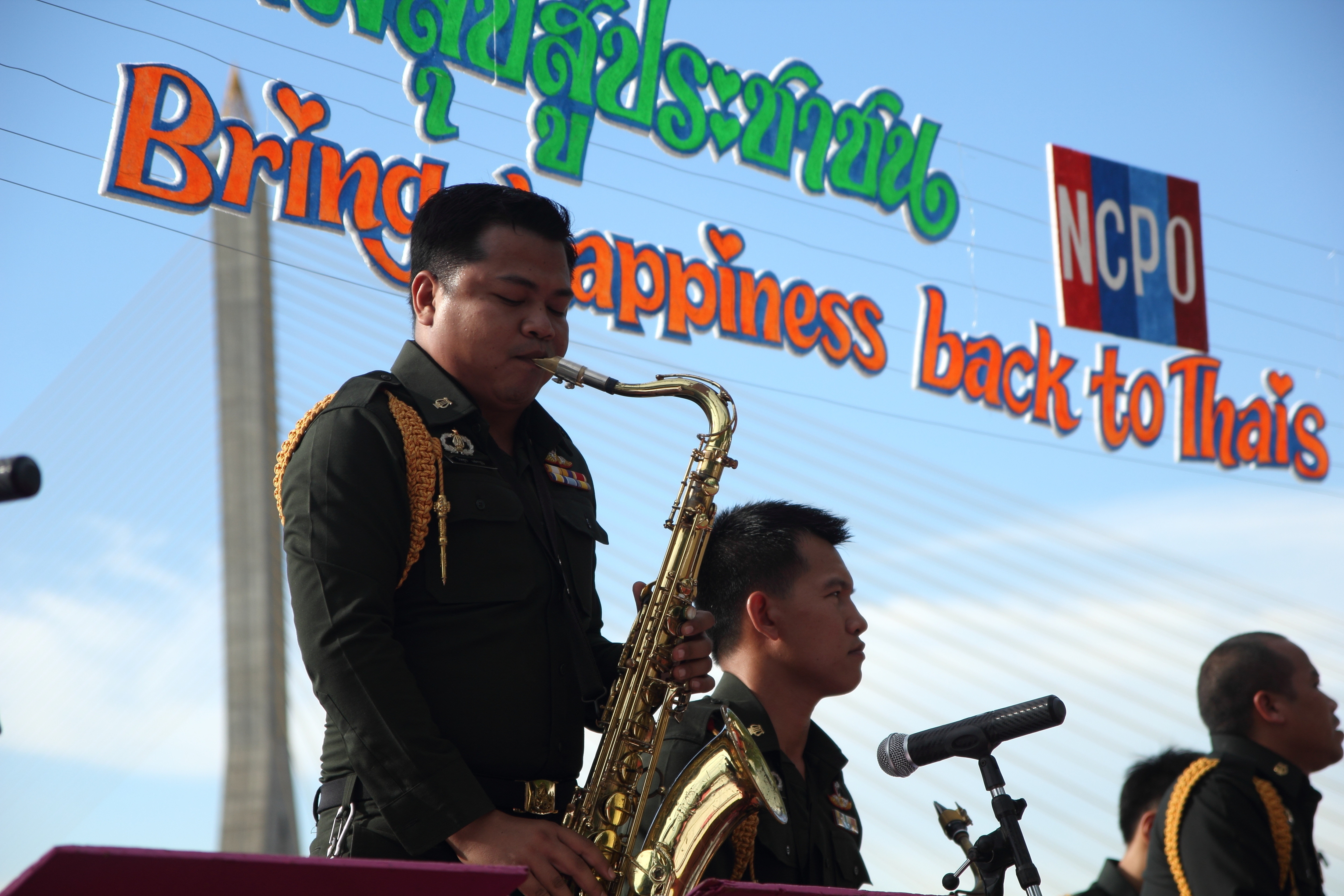 A Thai Royal Army Band performs at the "Bring Happiness Back To Thais" event at Santichai Pragan park in Bangkok. (Piti A Sahakorn/LightRocket via Getty Images)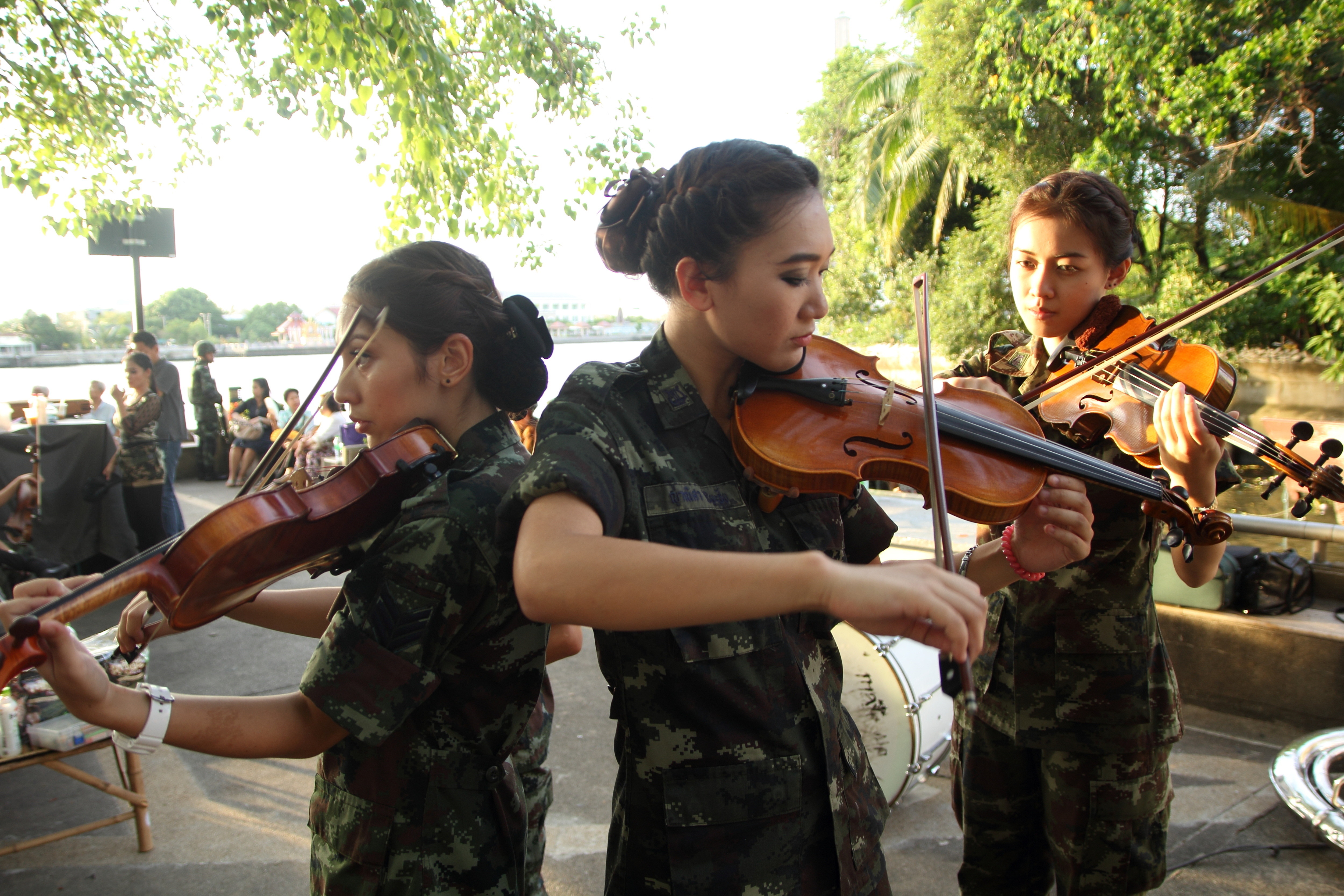 A Thai Royal Army Band performs at the "Bring Happiness Back To Thais" event at Santichai Pragan park in Bangkok. (Piti A Sahakorn/LightRocket via Getty Images)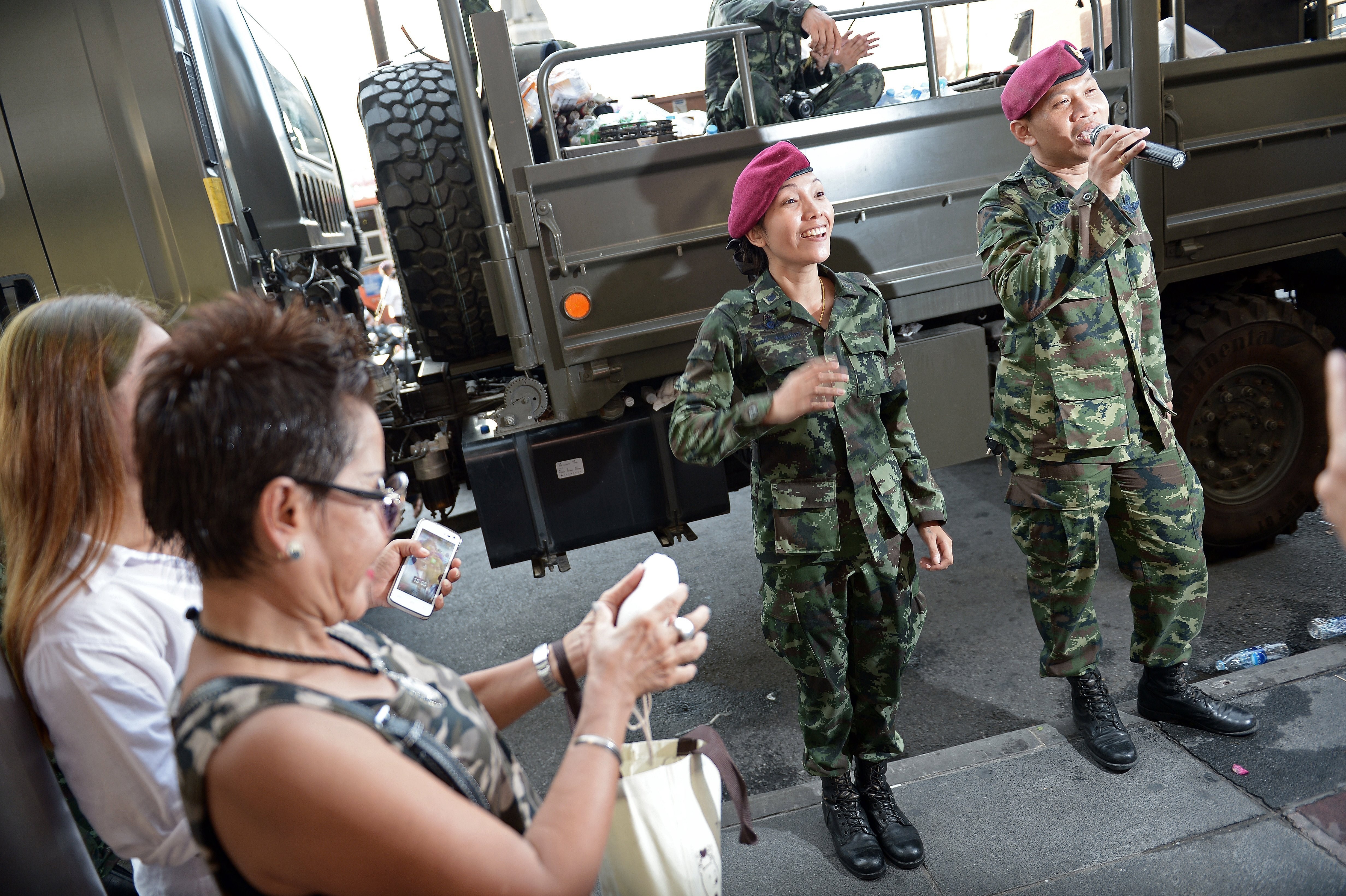 Soldiers sing and dance with attendees at the '"Bring Happiness Back To Thais" event at Victory Monument in Bangkok. (CHRISTOPHE ARCHAMBAULT/AFP/Getty Images)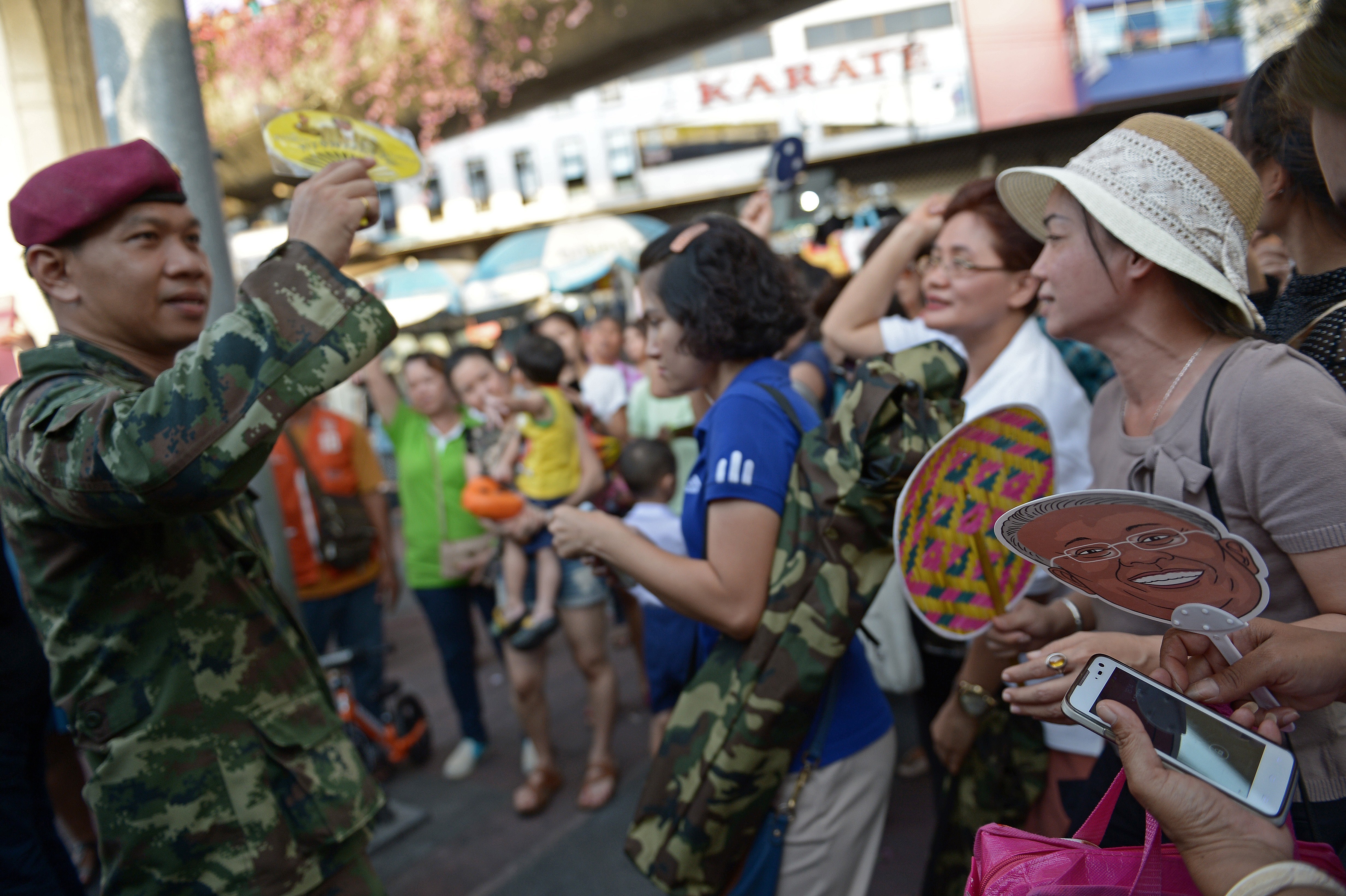 A festival-goer holds a hand fan with a picture of protest leader Suthep Thaugsuban at the "Bring Happiness Back To Thais" event at Victory Monument in Bangkok. (CHRISTOPHE ARCHAMBAULT/AFP/Getty Images)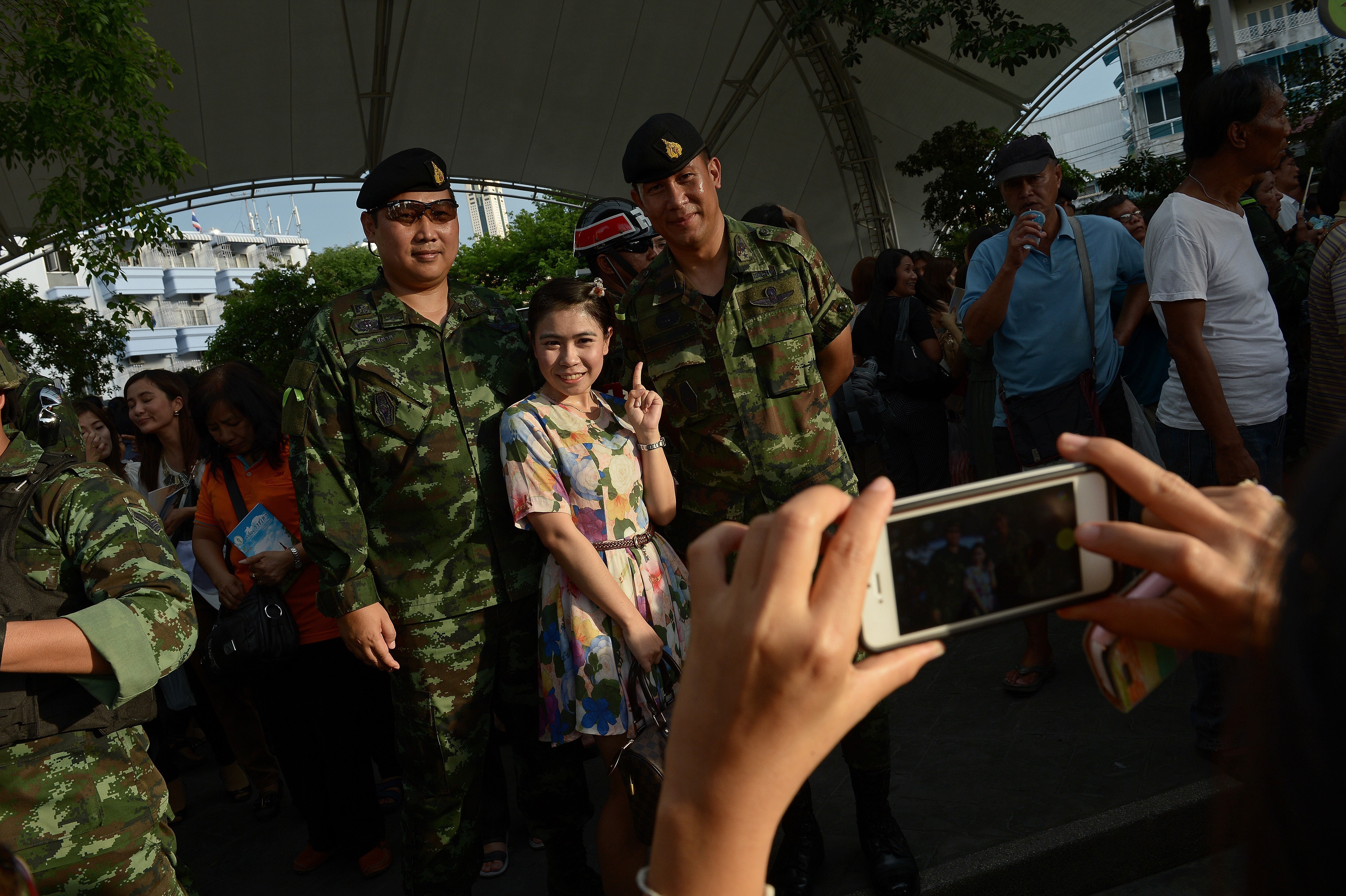 An attendee poses for pictures with Thai soldiers at the "Bring Happiness Back To Thais" event at Victory Monument in Bangkok.(CHRISTOPHE ARCHAMBAULT/AFP/Getty Images)
BEFORE YOU GO
PHOTO GALLERY
Syria War in June