It's a national holiday in New Jersey: Bruce released "Born in the USA" 30 years ago today. People out of work, veterans having a hard time with the VA: too bad the album hasn't aged well. This is THE MORNING EMAIL for Wednesday, June 4, 2014.
The Scuttlebutt
TOP STORIES
VIDEO OF POW SWAP RELEASED
"The Taliban have released a 17-minute video showing the handover of U.S. Army Sergeant Bowe Bergdahl to the American military close to the Afghan border with Pakistan, in an exchange for five militants held at U.S. jail Guantanamo Bay, Cuba." Watch the video. The Army is looking into whether Bergdahl left his post. The New York Times investigates whether Bowe Bergdahl is responsible for the loss of eight American lives. And The Wall Street Journal reminds us the last militants we released from Guantanamo then led "most violent Islamist groups fighting in Syria's civil war." [Reuters]
TIANANMEN SQUARE, 25 YEARS LATER

"As Wednesday's big anniversary of the bloody repression of pro-democracy protests in Tiananmen Square approached, authorities deployed hundreds of police, many armed with rifles, to patrol the area." Crowds are already gathering in Hong Kong. [Story via Reuters, Image via Gifsoup ]
BELLWETHER MISSISSIPPI PRIMARY 'DOWN TO THE WIRE'
"The nastiest campaign in the country likely will go on for three more weeks. Mississippi Sen. Thad Cochran trailed tea party challenger Chris McDaniel in Tuesday's Republican primary. But … unless McDaniel clears the 50 percent threshold, the election will be headed for a runoff on June 24, raising difficult questions for Cochran and for the Republican establishment in Washington." Here are the results from yesterday's primaries in eight states. [HuffPost]
STATESIDE: Slenderman Stabbing Horror
Details from the Slenderman stabbing may give you nightmares. As a refresher, here's everything you need to know about "Slenderman." This prison is actually living up to a reformative purpose. The percentage of people who think the American dream is out of reach is truly depressing. This is what happens when Maureen Dowd tries edible marijuana. The NRA apologized for doing something reasonable. An L.A. Uber driver has been arrested for allegedly kidnapping a woman. And watch out for tornadoes and baseball-sized hail in the Midwest today.
In way cuter than whack-a-mole news, meet these cuddly prairie dogs.
INTERNATIONAL INTRIGUE: Obesity on the Rise Everywhere
No country has lowered its obesity rate in the last 33 years. Obama met with Ukraine's president-elect. Meanwhile, troops have taken on heavy fire in the fight against pro-Russian separatists in eastern Ukraine. And ten Nigerian generals allegedly are behind the Boko Haram kidnappings.
In Gallagher 2.0 news, this guy busted a watermelon open with his head.
BUY! SELL! BUY! Gaming the Airport
Figuring out when to get to the airport is hard -- here's a mathematician's advice on how to do it right. Good news for the ol' brick and mortar: just under a quarter of people say they've stopped shopping online after extensive security breaches at Target, eBay, and others. Elon Musk says it's hard to be the CEO of two companies. Check out more iOS new features: we love that it'll tell us what apps are draining our battery. And the battle isn't over, but Amazon has conceded round one to publisher Hachette.
In superfrog news, this one managed to ride shotgun.
SCOUTING REPORT: Nick Saban's Pretty Rich Now

Dan Marino says he didn't mean to sue the NFL -- those concussions really have gone to his head. This seven-year-old black belt could take you down in about two seconds. Here's how to tell if your favorite NHL coach is getting the ax. And roll tide: Nick Saban's contract is worth an absurd amount of money. [Image via SB Nation]
In Ryan Lewis news, this is what happens when you have him ask New Yorkers who he is.
CULTURE CATCH-UP: Rehab Drama from the Rehab King

Robert Downey Jr. is producing an 80s rehab drama, which is appropriate. Check out an excerpt from J.K. Rowling's new book. Will Smith is tackling an NFL concussion drama. Don't forget this formative piece of Maya Angelou's past. You too can now speak Dothraki -- you can't however be Mother of Dragons (we've tried).
In splashdown news, here's a wedding party falling into a lake after their dock collapses.
LIVIN': Put the Phone Away
Forget filters: Instagram just rolled out ten new photo editing features. A study has found something worse than being bullied at work. Here's how to get your friends to finally put away their phones at your next party. Bacon-wrapped grilled cheese sticks exist. And check out what's worse for your performance than binge drinking and marijuana use.
In jump around news, this dolphin just loves this jet ski.
OTHER PEOPLE'S BUSINESS: Princess Portraits Are Hard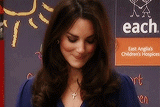 Check out the portrait of Kate Middleton Prince WIlliam wants to hang in their bedroom. We don't look like Hilary Duff in the morning. That one time 50 Cent said Beyonce tried to fight him. Kiera Knightly doesn't want her children to be actors so that they can get drunk as teens. You should hear Amanda Seyfried rap. And to make up for our misspelling of Rihanna's name yesterday, take a look at this slideshow of her style evolution.
In genius news, this is what would happen if Netflix were a dating site.
TWITTERATI
@katyperry: Da rum punched me in da face
@taylorswift13: Making erratic and impulsive decisions as a result of missing my roommate. http://instagram.com/p/owOYN1jvGe/

@mountain_goats: always follow your heart! unless your heart promises to stop going to that one place but goes there anyway every god damn time without fail
@justinbieber: Be kind and loving. It is a great way to live
@historyepics: Apple's Touchscreen 'iPhone' Prototype from 1983! http://t.co/vJDTH5hOOe

ONE MORE THING
Take a look at this stunning image from the Hubble telescope. It's not every day that 10,000 galaxies pose for a photo.
Got something to add? Send tips/quips/quotes/stories/photos/events/scoops to Lauren Weber (lauren.weber@huffingtonpost.com). Follow us on Twitter (@LaurenWeberHP). Does somebody keep forwarding you this newsletter? Get your own copy. It's free! Sign up here.