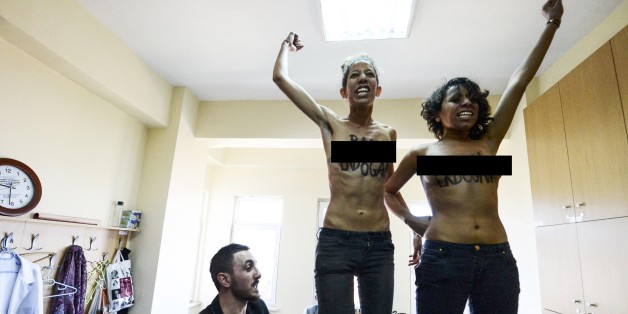 Two members of the women's movement Femen are facing jail time in Turkey for a protest against Turkish Prime Minister Recep Tayyip Erdogan, according to local reports.
The topless activists briefly disrupted municipal elections in March when they entered a polling station in Istanbul, where the prime minister was expected to vote. With "Ban Erdogan" written across their breasts, the two women stood on a table and yelled out the slogan to protest the criticized leader's reign.
The Femen members were arrested after the stunt and detained by Turkish police. Annie Assouan, 24, and 26-year-old Elvire Duvelle-Charles -- both reportedly French citizens -- are now facing between one and three years behind bars for the brazen public protest, an indictment reviewed by the Dogan News Agency said.
Inna Shevchenko, a Ukrainian activist and leader of the women's movement, shared the news on Twitter.
We were just informed that 2 Femen will have to spend 3 years in jail in turkey for "ban Erdogan" act http://t.co/29IAdYM0YA
@femen_turkey

— inna shevchenko (@femeninna) June 5, 2014
One of the activists, Duvelle-Charles, also took to the social network after the indictment was made public.
Since I'm already condemned to jail sentence, I guess now is the time to shout : BAN ERDOGAN! pic.twitter.com/ygt6zOs0B8

— Elvire D. Charles (@ElvireDCharles) June 5, 2014
It has been more than a year since protests against Erdogan and the Turkish government broke out across the country. On the one-year anniversary of the nationwide demonstrations Saturday, Turkish police used tear gas on supporters of the opposition who had gathered in Istanbul and Ankara.
BEFORE YOU GO
PHOTO GALLERY
May Day Clashes In Istanbul