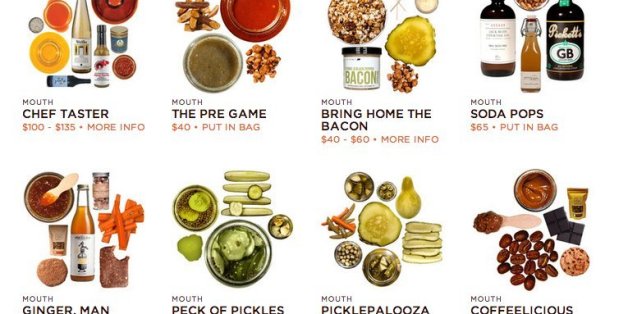 Pickles, jerky, and lots of rye whiskey -- that's what you can find at the new online specialty food retailer Mouth. It is, as we see it, everything a food-loving hipster could want. Basically, it's the Amazon of hipster food.
Mouth offers everything from caramels to condiments to coffee (of course), but it is truly special for its well-rounded yet obscure selection of spirits. They have truly unique bottles, such as a 100 percent rye whiskey made by 1512 Spirits which operates out of the smallest distillery ever -- only 90 gallons at a time -- and is produced by the hands of a third-generation barber in San Francisco. If that doesn't make hipsters swoon, we don't know what will.
This online retailer hopes to bring the independent food producer into the hands of everyone, everywhere -- and to turn "the corporate food industrial complex on its head." While the latter is a lofty, er unrealistic, aim for a small online retailer, Mouth will at least be able to deliver any kind of pickle to you -- carrots, beets, okra, green beans, you name it -- no matter what part of the country you live in.
While making small, locally produced foods available to everyone almost defeats the whole notion of hyper local foods, Mouth has these cardamom peach white chocolate bars from Nutty Steph's in Middlesex, VT, that we can't wait to try (because, how often are we going to find ourselves in the middle of Vermont, you know?).
Want to read more from HuffPost Taste? Follow us on Twitter, Facebook, Pinterest and Tumblr.
BEFORE YOU GO
PHOTO GALLERY
Fall Pickles