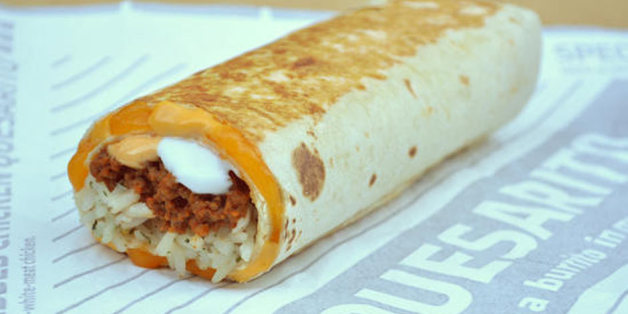 Taco Bell has mastered the food mashup. The chain took the fast food world by storm when it released its Doritos Locos Tacos two years ago, and created another splash most recently with its breakfast Waffle Taco. On Monday, Taco Bell will add another mashup to its permanent menu: the Quesarito. It's a burrito wrapped in a quesadilla, and it's about to blow Taco Bell fans and stoners everywhere away.
The L.A. Times reports that after trying out the Quesarito in select locations, Taco Bell is adding the burrito-quesadilla monstrosity/work of genius to its menu on Monday, June 9. It's a cheese quesadilla wrapped around a beef burrito with rice, chipotle sauce and reduced-fat sour cream, and you can also order it with shredded chicken or steak.
Before Monday, only the lucky Taco Bell-goers of Oklahoma City had the chance to try the Quesarito. The product did well enough, however, that the chain is releasing it nationwide. According to the L.A. Times, Taco Bell's chief marketing officer Chris Brandt said the Quesarito is the "bestselling product in a test market since the Doritos Locos Tacos." Bow down.
It looks like Oklahoma City was also the lucky guinea pig for Taco Bell's Breakfast Quesarito -- scrambled eggs and shredded cheddar cheese inside a quesadilla, available with sausage, bacon or steak. (So basically replacing the rice in the regular Quesarito with eggs.) There's no word yet as to whether or not this breakfast item will officially make it onto the menu.
The regular Quesarito will be $1.99 for the beef, $2.79 for shredded chicken and $2.99 for steak.
[h/t L.A. Times]
Want to read more from HuffPost Taste? Follow us on Twitter, Facebook, Pinterest and Tumblr.
BEFORE YOU GO
PHOTO GALLERY
Mind-Blowing Fast Food Inventions