World War II veterans returned to the beaches of Normandy this week for the 70th anniversary of D-Day, the historic day the Allies invaded Nazi-occupied France. The operation by British, American and Canadian forces on June 6, 1944, was credited with turning the tide in the war.
Getty Images photographer Peter Macdiarmid has created a powerful series of then-and-now photos that contrast scenes from 1944 with those of the present day. He pinpointed the locations of 1944 photos and traveled around England and France to recapture the same angles and scenery today.
"As a photographer, it was really fascinating to stand in the footprints of people who recorded history," he told The WorldPost.
Take a look below at Macdiarmid's striking series of images.

The color photo shows the Nan Red Beach in the Juno Beach area on May 6, 2014, in Saint Aubin sur Mer, France. The black and white photo shows Royal Marine Commandos of Headquarters, 4th Special Service Brigade, making their way from LCI(S)s (Landing Craft Infantry Small) onto 'Nan Red' Beach, St Aubin-sur-Mer around 9 a.m. on June 6, 1944. (Color photo by Peter Macdiarmid/Getty Images. Black and white photo by Lt. Handford/ IWM via Getty Images.)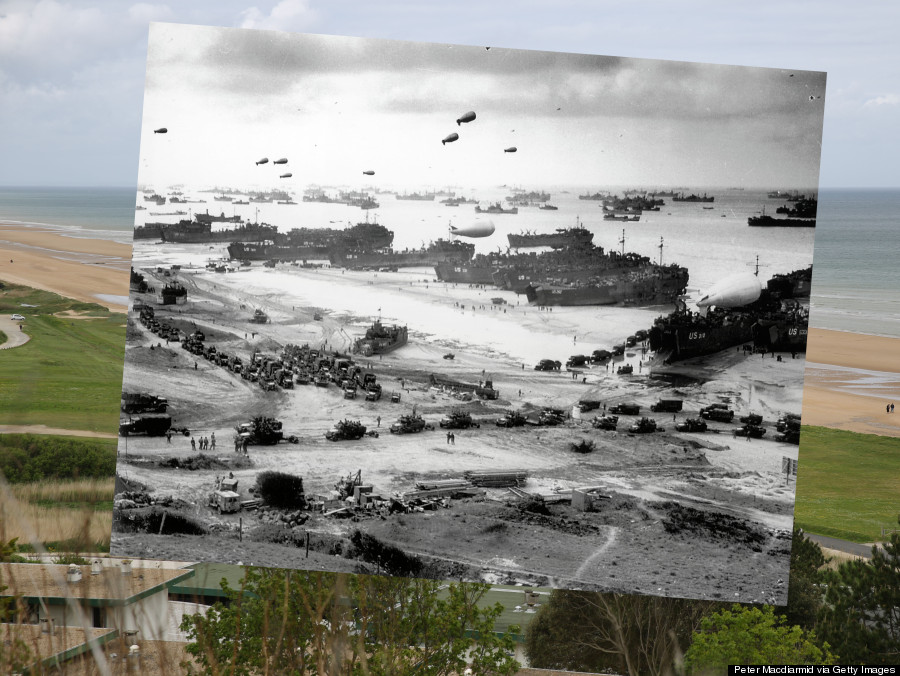 The color photo shows Omaha Beach on May 7, 2014, near Colleville sur Mer, France. The black and white photo shows American craft of all styles at Omaha Beach, during the first stages of the Allied invasion, June 6, 1944. (Color photo by Peter Macdiarmid/Getty Images. Black and white photo by Popperfoto/Getty Images.)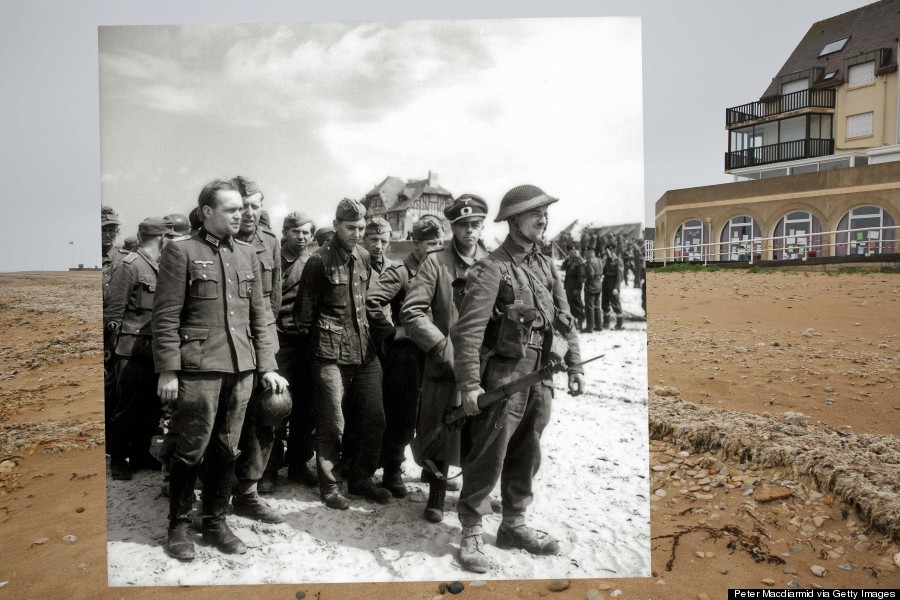 The color photo shows Juno Beach on May 8, 2014, in Bernieres sur Mer, France. The black and white photo shows German prisoners gathered on the beach of Bernieres sur Mer, guarded by British soldiers, June 1944. (Color photo by Peter Macdiarmid/Getty Images. Black and white photo by Galerie Bilderwelt/Getty Images.)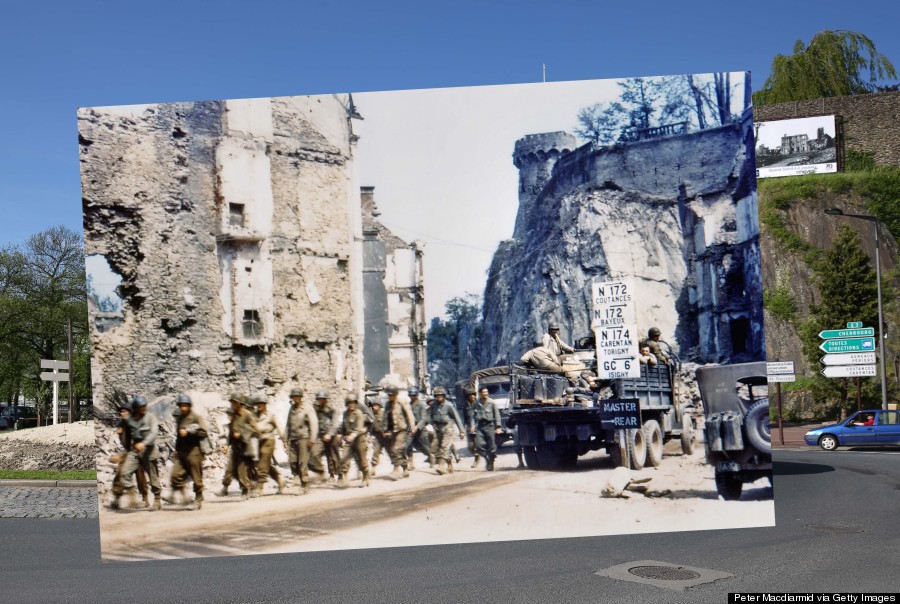 The color photo shows the roadway on May 7, 2014, in Saint Lo, France. The black and white photo shows U.S. Army jeeps driving through the ruins of Saint-Lo, as American soldiers walk along the street, July 1944. (Color photo by Peter Macdiarmid/Getty Images. Black and white photo by Galerie Bilderwelt/Getty Images.)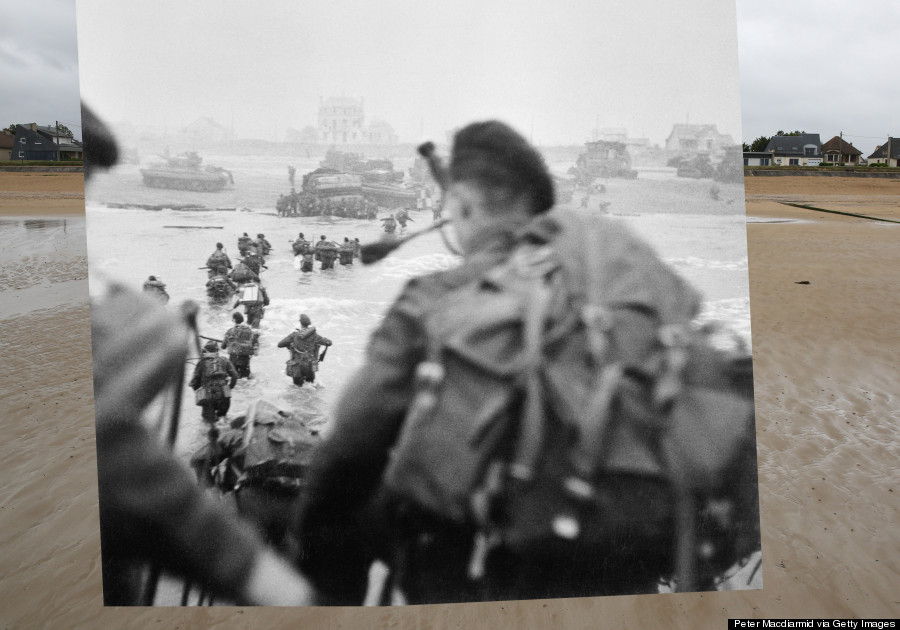 The background photo shows the seafront and Queen Red Beach on May 8, 2014, in La Breche, France. The front image shows British Commandos of 1st Special Service Brigade landing from an LCI(S) (Landing Craft Infantry Small) on Queen Red Beach at approximately 8.40 a.m. on June 6, 1944. (Background photo by Peter Macdiarmid/Getty Images. Front photo by Capt. J L Evans/ IWM via Getty Images.)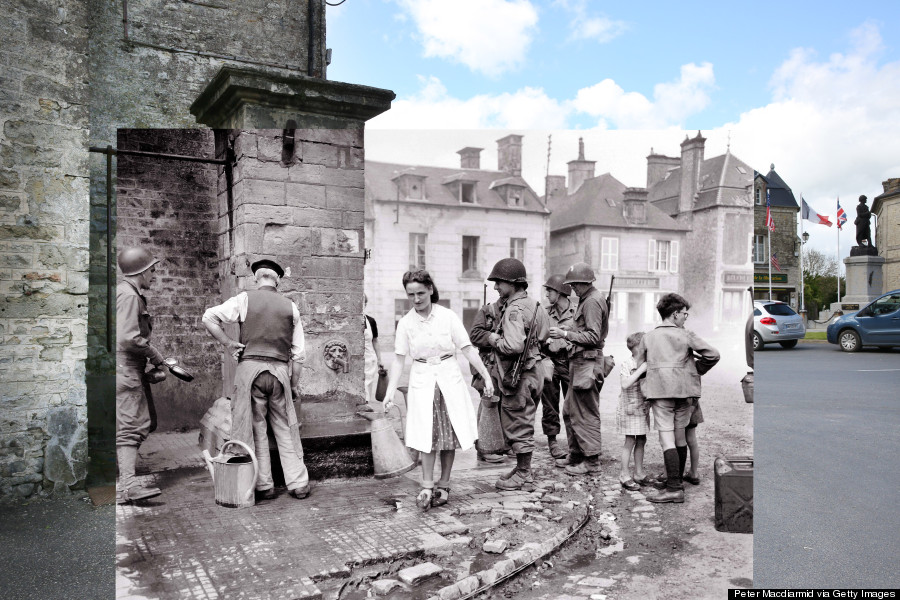 The color photo shows the old village fountain in Sainte Marie du Mont, France, on May 7, 2014. The black and white photo shows a group of American soldiers standing at the village fountain on June 12, 1944. (Color photo by Peter Macdiarmid/Getty Images. Black and white photo by Galerie Bilderwelt/Getty Images.)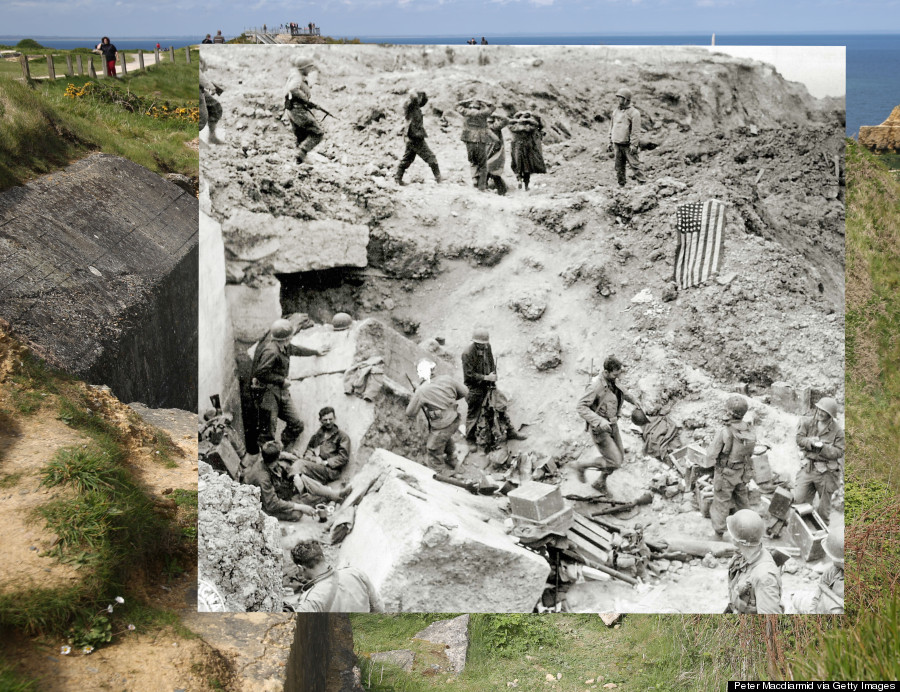 The background photo shows cliffs in Pointe du Hoc, France, on May 6, 2014. The front image shows a post established after the assault at the cliffs of Pointe du Hoc by the 2nd Ranger Battalion, June 1944. (Background photo by Peter Macdiarmid/Getty Images. Front photo by Galerie Bilderwelt/Getty Images.)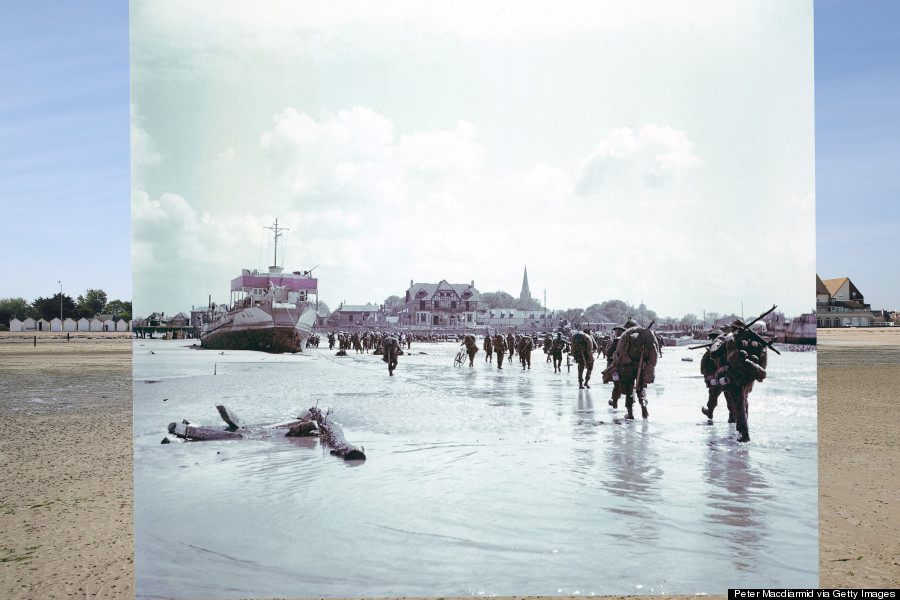 The color photo shows a view of the seafront and Juno beach on May 5, 2014, in Bernieres-sur-Mer, France. Troops of the 3rd Canadian Infantry Division land at Juno Beach on the outskirts of Bernieres-sur-Mer on D-Day, June 6, 1944. (Color photo by Peter Macdiarmid/Getty Images. Black and white photo by Galerie Bilderwelt/Getty Images.)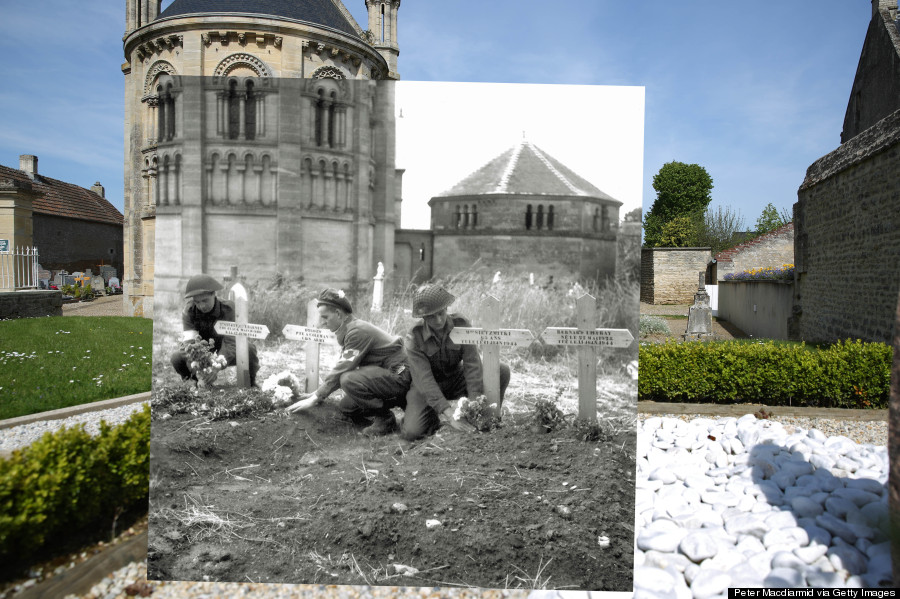 The color photo shows the graveyard with the church of Saint Georges de Basly in the background on May 5, 2014 in Basly, France. The black and white photo shows soldiers of the 23rd Field Ambulance Royal Canadian Army Medical Corps of the 3rd Canadian Infantry Division placing flowers on graves at the church, June 1944. (Color photo by Peter Macdiarmid/Getty Images. Black and white photo by Galerie Bilderwelt/Getty Images.)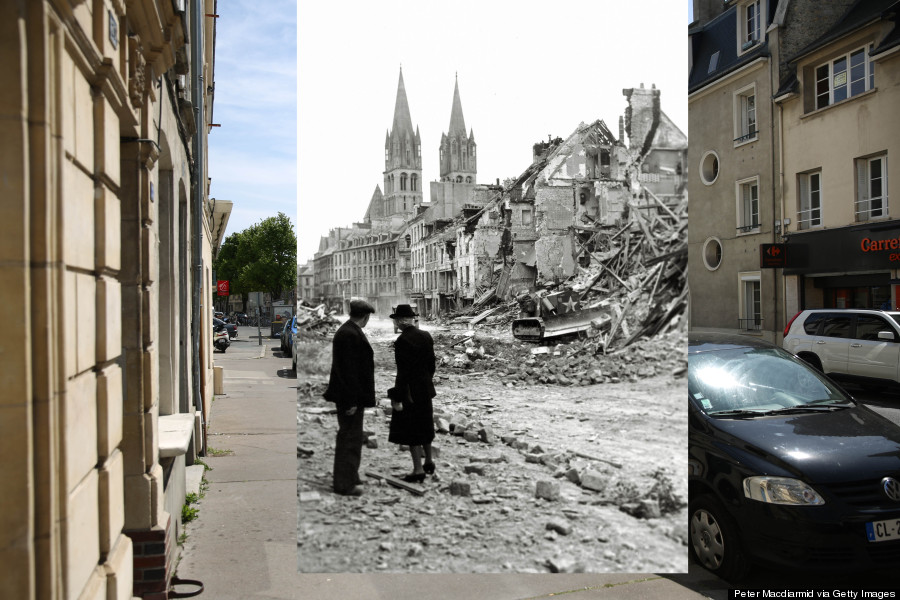 The color photo shows the rue de Bayeux on May 5, 2014, in Caen, France. The black and white photo shows a couple watching a Canadian soldier with a bulldozer working in the ruins of a house in the rue de Bayeux, July 10, 1944. (Color photo by Peter Macdiarmid. Black and white photo by Galerie Bilderwelt/Getty Images)