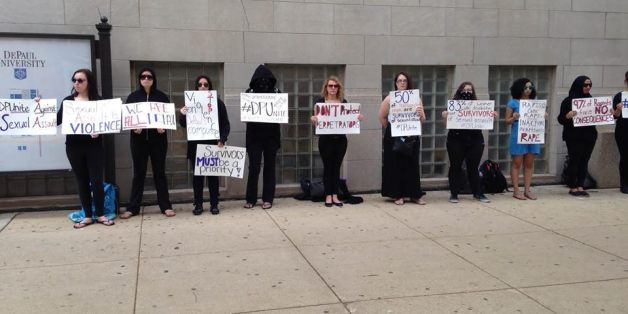 Student activists at DePaul University in Chicago are still disgruntled after the school reiterated in a campus-wide email last month that it will not release information on how sexual assault is punished on campus.
The email was originally sent a week after student activists publicly accused the school in April of engaging in a "cover up" of sexual assaults on campus, though the protesters have not identified any specific incidents.
In the email, which was sent May 1 and forwarded to The Huffington Post this week, DePaul President Rev. Dennis Holtschneider wrote the school "condemns any form of sexual violence," adding that "any reports of sexual violence are investigated thoroughly and addressed quickly through multiple university offices and staff professionals."
However, Holtschneider wrote, the school won't be coming forward with information on how students found guilty of sexual misconduct are punished.
"[W]e will not name names, and we will never discuss the outcomes and whether students were dismissed from or otherwise sanctioned by DePaul for such behavior," the message reads. "I know that some may characterize this as less than transparent, but in fact, it is the very foundation of creating a safe place where survivors are both willing and comfortable to come forward. A lack of public details about a case should never be misconstrued as a lack of action."
DePaul "respects and supports" survivors' decisions to come forward about their experiences or to seek privacy instead, Holtschneider wrote.
DePaul has roughly 26,000 undergrads and graduate students enrolled. Schools of comparable size, like Yale University, and those with far fewer than 10,000 students, like Dartmouth College and Williams College, regularly release anonymous information on sexual misconduct sanctions. No school releases the names of students responsible for sexual assault, but student activists around the country have asked their schools for the numbers of how many students are expelled, dismissed or suspended for sexual violence.
In April, a group of anonymous DePaul students released a statement alleging that the school, which is the nation's largest Catholic university, was covering up sexual assaults by not giving students enough information about incidents. The students also alleged the school made it difficult for students to report if they were assaulted, and said the school hadn't done enough to work with students to raise awareness about the problem on campus.
"All we want is to get at the root of sexual assault, and for the institution to be held accountable in order to promote awareness, and to stop enabling rape culture," the statement read.
The May 1 email from Holtschneider followed. On May 29, a separate group of student activists called DPUnite protested on the DePaul campus, wearing all black and carrying signs reading "What is DePaul doing to STOP VIOLENCE?" "DPUNite stands WITH Survivors" and "We Want ACTION."
The DPUnite protest was covered by the DePaulia student newspaper, but the paper's report on the activism has since been removed from the website. Editorials posted last week about the protests were also removed.
In a tweet Friday, the school paper blamed technical problems for the articles' disappearance. "We hope to have it corrected soon," the DePaulia wrote.
Information on how many students are found guilty of sexual assault and how they are punished is not protected by federal privacy laws, but the private university is not required to disclose the information either. The Education Department has previously told HuffPost that it suggests a university should only refrain from providing "identifying information" on student misconduct cases.
Update: 6:06 p.m. -- After publication, DePaul administrators responded to HuffPost and provided some details on campus sexual assault adjudications.
Four students were found responsible for "sexual offenses" in 2013-14, and four more were found responsible in 2012-13, according to Cynthia Lawson, the university's vice president for public relations and communications. In 2011-12, five students were found responsible. However, the university refused to comment on the sanctions levied in the cases.
"To retrieve any additional, specific details about the results of that adjudication process would, in our opinion, result in sharing information that would require additional explanation for context and therefore could be connected to specific cases or students," Lawson said.