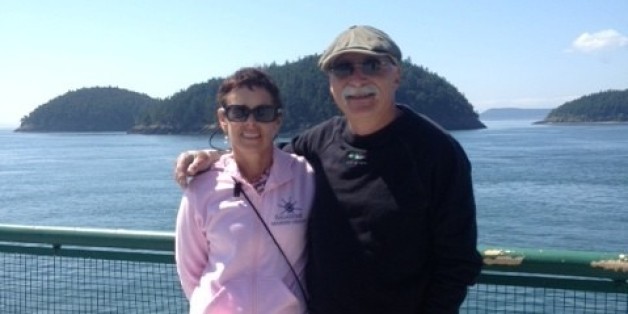 It used to be that come high school graduation time, the fattest gift envelope could be counted on coming from Grandma and Grandpa. In a good haul, there could be as much as $1,000 to commemorate the grandparental pride. Nowadays, that's peanuts.
Increasingly, grandparents are being called upon -- and stepping up -- when it comes time to pay for the grandkids' college. A recent study by Fidelity Investments found that 53 percent of grandparents, after presumably putting their own kids through school, are helping or planning to help foot the bill for their grandchildren's college costs. The median amount grandparents expect to donate to the cause is a whooping $25,000, according to the research. Why are they doing it? More than 70 percent of the respondents cited family responsibility and the desire to avoid any significant student loan debt as the primary reasons.
Evidence is being borne out anecdotally as well. As soon as Michael Botnick, 64, and his wife Susan Fabrikant, 62, learned that they were about to become first-time grandparents, the retired clinical social workers who have lived in the same Spokane Washington house for 30 years did what Botnick calls a "no brainer." They set up a "grandchild account."
"We're putting $100 a month into the account to be used by the expected grandchild and all future grandchildren's education," Botnick said.
Botnick says that he and his wife "are from a time and culture that valued a college education." When he was in college after graduating high school in New Jersey in 1968, he recalls paying "about $150 a quarter" to attend an in-state college. Between working part-time jobs and scholarship aid, he graduated with money still left in his pocket.
That's an unlikely scenario today. "College is expensive and jobs for graduates are limited," he notes. The College Board puts the cost of a "moderate" college budget for the 2013-2014 academic year at an in-state public college at $22,826. The same budget at a private college averaged $44,750. College costs are up 121 percent since 2000, while the overall cost of living rose 35 percent.
Botnick and his wife set up a college fund when his two adult children were born and by the time they graduated high school, both had more than enough to attend an in-state school. His daughter went to Washington State University, but still needed loans for the extras like joining a sorority and spending a semester abroad. His son attended community colleges but "didn't have a heck of a lot of interest and dropped out," said his Dad.
When his son and his girlfriend -- both just starting their careers -- announced their pregnancy, Botnick and his wife offered to set up the college fund for their unborn grandchild and future grandchildren "because we value education."
Back when he was saving for his own children's college, "We requested that all birthday gifts from grandparents and bar and bat mitzvah presents be directed to their education accounts." He notes that he won't have the same input to direct his future grandchild's gifts, "but I see this as a perfect way to celebrate their life and future."
That is precisely what respondents in the Fidelity survey said. The study found that many grandparents see college as an important component to providing young people with the best opportunity to succeed. They also recognize that as the cost of college continues to rise, parents and grandchildren face a big challenge in saving enough to cover costs, and that without help their grandchildren could face a significant financial burden after they graduate, said a press release on the study. More than a third (37 percent) say they worry about their grandchild's ability to attend college without incurring significant student loan debt.
Botnick has a leg up on the situation. He has a 2003 Miata in pristine condition that he intends to gift to his first grandchild upon high school graduation. Given the value of antique cars, that alone might cover the cost of college!
BEFORE YOU GO
PHOTO GALLERY
Sweet Reddit Grandparent Stories