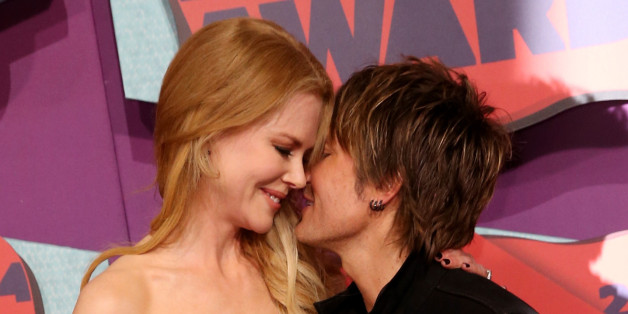 Meeting Nicole Kidman saved Keith Urban's life.
In an interview with Rolling Stone, the "Cop Car" singer said getting together with Kidman, now his wife of eight years, was integral to his overcoming a variety of addictions.
"Everything [was] about to come undone," he said of his situation early on in their relationship. "I [was] already in a bit of trouble."
Just a short time later, Kidman organized an intervention for the country singer, who then successfully completed a rehabilitation program.
"Meeting Nic and falling in love with Nic and starting a relationship with Nic became, I realize now in hindsight, my sobriety," Urban said. "That was how I was able to keep it together."
"I have a wife who is just from another planet. She is so celestial," he added. "I say that I was born into her. That is the best way I can describe how I feel about her and us ... It means that I felt like I was just sitting dormant, and she came along and I came to life. I was born into her, so who I am now was waiting the whole time."
The "American Idol" judge is not the only one who has affectionate words to say about his spouse. Kidman, the Oscar-winning actress whose film "Grace of Monaco," recently premiered at Cannes Film Festival, told the Associated Press: "I am married to a prince. A country prince."
Kidman wed Urban in 2006, six years after the actress ended her 11-year marriage to Tom Cruise. The couple splits their time between Sydney, Australia, and Nashville, Tennessee.
BEFORE YOU GO
PHOTO GALLERY
Nicole Kidman