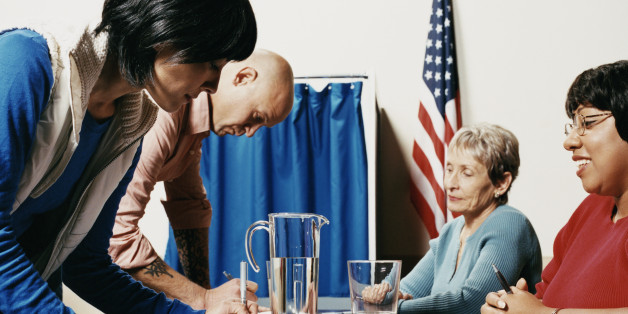 The polls get it right in Republican primaries. A majority of Americans say the Constitution supports gay marriage. And people increasingly think soccer is boring. This is HuffPollster for Friday, June 6, 2014.
POLL AVERAGES SUCCEED IN GOP SENATE PRIMARIES - Patrick O'Connor: "For all the focus on Republican infighting this primary season, one quiet winner has emerged from these intraparty contests: public-opinion polls…In addition to picking the winners of each competitive Republican Senate primary, Real Clear Politics predicted the top three finishers in Georgia, Nebraska and North Carolina. And in Mississippi, where the RCP average on Election Day showed Sen.Thad Cochran tied with his primary opponent, state Sen. Chris McDaniel, Mr. McDaniel finished a mere 0.7% ahead of the incumbent, forcing a runoff.….If there's a takeaway from these early primary results, it's that averaging a collection of disparate polls still tends to produce a pretty good glimpse of which way races are heading. Or, to paraphrase an old polling adage, 10 lousy polls equals one good one." [WSJ, see also HuffPost Pollster's correct predictions for Georgia, Nebraska, North Carolina; tossup in Mississippi ]
AND IT'S NOT TOO EARLY TO WATCH SENATE GENERAL ELECTION POLLING - Nate Cohn and Josh Katz: "The conventional wisdom holds that at this stage the so-called fundamentals of a race, like the partisanship of a state and incumbency, are more predictive than the polls. That assumption is based on data from presidential election cycles, but political scientists have not found, to our knowledge, any analogous research in Senate elections...In 114 Senate races since 2004, 83 percent of the candidates leading in the polls at this point have gone on to win, compared with 80 percent of candidates leading in the fundamentals alone. A full 92 percent of candidates ahead by 5 or more points in the polling averages go on to win, compared with 82 percent ahead on the fundamentals. That doesn't mean the fundamentals are useless, particularly in sparsely polled races. But the fundamentals contribute very little additional information in highly polled Senate races. That's one reason, in states with a large number of polls, that The Upshot's Senate forecasting model relies almost exclusively on polling data rather than fundamentals." [NYT]
If that sounds familiar - Fivethirtyeight's Harry Enten reported very similar findings back in April: "The average error between the early polls and the final results was 6.4 points. For comparison, in the 2012 Senate race, polls taken in the final month before the election still had an average error of 4.8 points. Overall, the president's party's candidate won 83 percent of the time he or she led in the early poll average and lost 88 percent of the time when he or she trailed." [538]
But what about both polls and fundamentals? - Via Twitter, the Upshot's Josh Katz explains that of 114 Senate races since 2004 that they examined, their model predicted different winners in June than early poll averages in only four cases, two of which were correct. "But by definition," he explains, "all 4 were essentially toss-ups." Although the model "reduced error" (in the predicted vote share percentages for all candidates in all races) by "incorporating a bit of the fundamentals," the Upshot model would have predicted exactly the same percentage of winners early in the campaign (83 percent) as polls alone. [@jshkatz]
One more thing - Election forecaster Drew Linzer: "If early Senate polls are predictive...then OR, NH, MI, IA, CO get Dems to 48; next 5 are tossups: GA, NC, AK, AR, LA" [@DrewLinzer]
ECONOMIC OPTIMISM INCREASES, BUT REMAINS LOW - Dana Blanton: "The National Bureau of Economic Research officially declared the recession over in June 2009, yet most people still think the nation's economy is hurting. The silver lining for President Obama is fewer feel that way today than at any time since he took office. That's according to a Fox News poll released Thursday. Two-thirds of voters say the economy is in bad shape, including 28 percent who say we're still in a recession. That's down from a high of 55 percent who felt that way in April 2010." [Fox]
MAJORITY SAY CONSTITUTION SUPPORTS GAY MARRIAGE - HuffPollster: "Most Americans agree with recent court rulings that gay marriage is a constitutional right, according to a Washington Post/ABC poll released Friday -- the latest in a slew of evidence that support for gay marriage has solidified as the mainstream position. Fifty percent of those surveyed agree that regardless of their own views toward gay marriage, they thought that the part of the U.S. Constitution providing Americans with equal protection under the law gives gays and lesbians the legal right to marry. Another 43 percent disagree." [HuffPost, via WashPost, ABC]
Opponents less likely to say the issue matters - Aaron Blake: " While 81 percent of strong gay marriage supporters say it's at least 'somewhat' important, just 50 percent of strong opponents say the same. Nearly half of those who strongly oppose gay marriage (48 percent) say it's not even somewhat important to them. Just 19 percent of strong gay marriage supporters are so casual about it....In politics, motivation is hugely important. And gay marriage opponents don't have it right now." [WashPost]
HUFFPOLLSTER VIA EMAIL! - You can receive this daily update every weekday via email! Just click here, enter your email address, and click "sign up." That's all there is to it (and you can unsubscribe anytime).
FRIDAY'S 'OUTLIERS' - Links to the best of news at the intersection of polling, politics and political data:
-SurveyUSA finds Jack Kingston leading David Perdue in the runoff primary for the Republican U.S. Senate nomination in Georgia. [SurveyUSA]
-Rasmussen finds a nearly tied race for Iowa senate, with incumbent Terry Branstad (R) leading the gubernatorial race. [Rasmussen Senate, governor]
-Loras College finds Joni Ernst (R) leading in Iowa. [Loras]
-The first Boston Globe/SocialSphere poll finds a potentially close general election race for Governor. [Globe]
-Vox Populi (R) gives Steve Daines (R) a lead in Montana. [VoxPop]
-Nicholas Goedert explains how Democrats won the popular vote but lost the Congress in 2012. [Research and Politics via @kwcollins]
-Sarah Kreps examines public opinion on drone strikes. [WashPost]
-The Democrat's "Arbor Project" aims to use data analytics to identify target precincts for voter registration campaigns. [MSNBC]
-Taegan Goddard talks to Nate Cohn about the New York Times/Upshot forecasting model. [Political Wire]
-Israelis conduct a poll of Iranian public opinion on a peace accord. [NYT]
-World War II remains one of only two wars of the 20th and 21st century that most Americans are sure weren't mistakes. [YouGov]
-Carl Bialik tells the story of the former librarian who counted every Allied soldier who died on D-Day. [538]
-An increasing number of Americans find soccer boring. [WashPost]