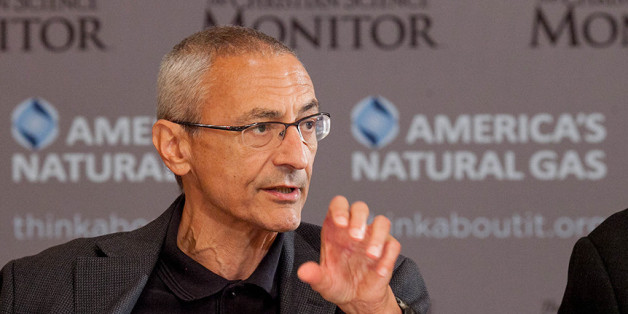 WASHINGTON -- White House senior counselor John Podesta challenged the assumption that new rules on carbon emissions from power plants, which the administration issued this week, would be a problem for Democrats in the fall elections.
"There's no doubt polluters will come after this rule. They'll try to attack it, and they'll try to put it squarely in the political context of 2014," Podesta said at a meeting Friday morning sponsored by The Christian Science Monitor and America's Natural Gas Alliance.
Podesta, whose tasks at the White House include shepherding the administration's climate change policies, cited a Washington Post/ABC News poll released earlier this week that found 70 percent of Americans favor limiting carbon emissions from power plants as a reason he's not particularly worried about attacks.
"People who deny the existence of climate change, who want to run suggesting that they don't really get it, they don't see what's going on around them, and they want to deny the public health effects pollution is having … I think that's the losing side of the argument," he said.
Podesta, whose arm is in a sling following hand surgery, joked Thursday on Twitter that it was a result of "fighting carbon pollution":
As you can see, polluters don't go down easy. But we're going to keep fighting carbon pollution. #ActOnClimate pic.twitter.com/BAePOSciSZ

— John Podesta (@Podesta44) June 5, 2014
At Friday's roundtable, Podesta also dismissed criticism over the rules from some coal-state Democrats, including Kentucky Senate candidate Alison Lundergan Grimes and West Virginia Senate candidate Natalie Tennant.
"This rule doesn't end coal in the electric system. It reduces the amount over a fairly long period of time," Podesta said. "The coal that will be burned will have to be done in a more efficient way, in a more effective way."
Podesta also said the administration is not overly concerned about attempts to block the rules in Congress. Among the options floated for thwarting the rules is the Congressional Review Act, a little-used law that allows legislators to overturn agency rules. Senate Minority Leader Mitch McConnell (R-Ky.) has sought to use that to block rules for new power plants, but the Government Accountability Office said last week that the rules must be finalized before Congress can attempt to block them.
Podesta expects that opponents in Congress will try to use the act to block the rules for existing power plants as well. "I have no doubt there'll be an attempt to try to overturn this through the Congressional Review Act," said Podesta, "but I am certain we'll have the votes to uphold it."
He also brushed off concern that the states, which will ultimately be responsible for implementing the rules, would not have plans in place by the time President Barack Obama departs the White House. States do not need to submit plans for meeting standards until June 2016, and the rules also extend the deadline to 2018 for states that want to meet the rules by forming or joining some manner of regional pact, such as the one that Northeastern states have already created.
But Podesta argued that a change in administration would not likely affect the implementation of the rules. "Anyone who wants to run as a climate denier in 2016, I think they're going to have a hard time running on that nationally," he said.
BEFORE YOU GO
PHOTO GALLERY
What Climate Change Just Might Ruin